Brave Guests Can Stay for Free in Hotel Room Made of Glass
A hotel room in Ibiza has captured viral attention online after a guest shared her experience staying in the one-of-a-kind, glass-wall room that is located in the center of the hotel lobby.
TikTok user Olympia Anley, who is from London, shared a video of her stay on the video-sharing app on Saturday where it has since received more than eight million views.
In the video, she shows off the room inside Ibiza's Paradiso Art Hotel and wrote: "POV: you can stay in this hotel for free but the room has glass walls to the lobby."
Anley told Newsweek: "I was inspired to stay because I saw it on TikTok and I thought it was a really cool concept."
The Paradiso Art Hotel, part of Concept Art Hotels, is a "media-friendly" hotel including an art gallery, exhibitions in the lobby, a tattoo studio, and the type of Art Deco detail normally found on Ocean Drive in Miami.
The hotel was built in 2018 and the unusual room—named the Zero Suite—was installed at the same time.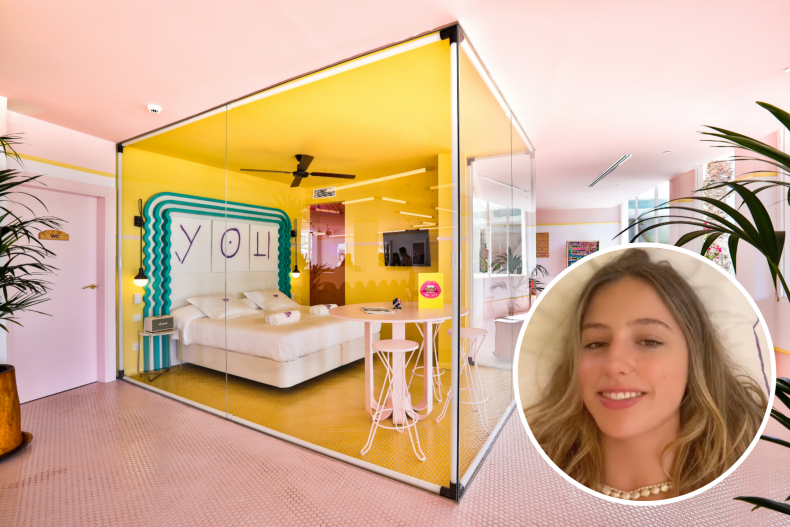 Concept Art Hotels told Newsweek: "Each one of our hotels has a wow factor or unique feature that makes the hotel much more than just a building with rooms in it, and creates experiences that the guest will remember long after they check out."
The room is located on the ground floor of the hotel, close to the main entrance: "Its walls are entirely made of glass. It's a completely furnished room with a bed, a table, chairs, and a bathroom with a toilet and shower," explained the hotel chain.
While the bathroom is private, the rest of the space offers a room to stay with the twist of being completely visible to anyone who enters the hotel.
Anyone can book to stay in the Zero Suite for one free night, but there is a few restrictions. You'll have to sign a release form, with the right to use your image as you could be filmed and photographed in the room. Guests can only stay one night and a maximum of two people are allowed to sleep in the room.
You are also not able to repeat your stay in the same calendar year.
"Is this actually a thing?" asked one commenter. While another TikTok user wrote: "My question is, why is this a thing?"
"This would be my worst nightmare," shared another TikTok user.
"Why on earth would anyone stay in a room like that. Even if it's for free. Immediately no," said one comment. Meanwhile, another user said: "Oh gosh I would be running away."
While not everyone was keen on the concept, some viewers of the viral video said they would be more than interested in staying.
"Am I the only one who literally wouldn't have a problem with it?" said one commenter. While another wrote: "An extrovert's dream."
"It was definitely a really individual experience," said Anley: "Probably not one that I would do again, but one that I would recommend."
Despite the divisive reaction online, the hotel says that a stay in the Zero Suite is very popular: "This year we've had to turn people down due to the high demand," it said. "We've also had brands such as Levi's create installations and pop-ups in the room throughout summer."
Update 07/05/22, 6:10 a.m. ET: This article was updated with a new image.
Update 07/05/22, 8:10 a.m. ET: This article was updated with a new headline and new comments within the main body.