Ramblin' Rabbit and Huskus the Pig Appear Backstage on SmackDown and RAW
Another week, another week of Bray Wyatt not appearing on WWE television. But his Firefly Fun House puppets continue to lurk backstage on both Monday Night RAW and SmackDown Live.
Ramblin' Rabbit popped up backstage on the July 9 episode of SmackDown Live while Bayley was walking to the ring to sign the contract for her match at Extreme Rules against Alexa Bliss and Nikki Cross.
Check out Ramblin' Rabbit's cameo on SmackDown below.
Just one night earlier, on the July 8 episode of Monday Night RAW, Huskus the Pig appeared briefly backstage when Ricochet was walking to the ring to prepare for this match with Luke Gallows and the rest of The Club.
Check out Huskus' appearance on RAW below.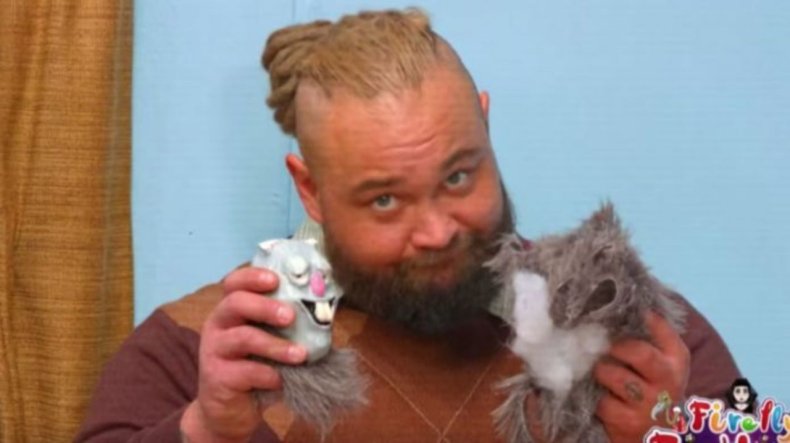 This is the second consecutive week that only one Firefly Fun House puppet showed up backstage at either RAW or SmackDown Live. Last week, Mercy the Buzzard was the lone puppet on RAW while Abby made sure the WWE Universe remembered Wyatt and the Fun House on SmackDown Live.
While the WWE superstar the puppets appear next to is probably random, it's interesting to think who Bray's first opponent in-ring will be.
The Miz has been the only superstar, so far, who has been visited by multiple puppets. It's also interesting to note that Ramblin' Rabbit appears only when the women superstars are around.
Here's who each Firefly Fun House puppet have made cameos with the last few weeks.
Miz - Abby the Witch, Mercy the Buzzard
Apollo Crews - Abby the Witch
Kofi Kingston - Mercy the Buzzard
Daniel Bryan and Rowan - Huskus the Pig
Ricochet - Huskus the Pig
Carmella, Mandy Rose and Sonya Deville - Ramblin' Rabbit
Bayley - Ramblin' Rabbit
The Firefly Fun House segments ended three weeks ago when "The Fiend" - Bray's alter ego - seemingly escaped from the children's show. While the man behind the mask has yet to arrive, it seems aspects of the Firefly Fun House are spilling into WWE television.
Bray Wyatt and his new revamped character made its debut on the April 22 episode of Monday Night RAW after weeks of video teases.
For nine weeks, a new episode of the Firefly Fun House aired introducing new characters like Mercy, Abby the Witch and even a "Devil" Vince McMahon puppet. It also gave nods to different points in Wyatt's career including his older gimmicks as well as past feuds.
What do you think of Bray's puppets appearing backstage? When do you think Wyatt will return? Let us know in the comments section below.