It's the final SmackDown Live before the Extreme Rules pay-per-view this Sunday, but the card isn't finalized so there are still some matches that may be set up tonight.
Intercontinental Champion Finn Balor has been absent all but one week since Super ShowDown on June 7, but after teasing a confrontation with Shinsuke Nakamura last week the two will finally square off on Tuesday night.
It isn't a title match, but a victory tonight could lead to one for Nakamura on Sunday. And WWE fans will want to see what these two superstars can do in the ring.
Kevin Owens' slow face turn will likely continue tonight as he goes one-on-one with Dolph Ziggler. After the duo lost their shot at the SmackDown Tag Team Championships last week, KO took his frustrations out on Ziggler. The winner of this bout will climb up the card to a midcard or even a shot at Kofi's WWE Championship.
In the women's division, Nikki Cross will go one-on-one with Carmella before her match on Sunday. Cross will team with Alexa Bliss in a two-on-one handicap match for Bayley's SmackDown Women's Championship. Carmella has been friendly with Bayley as of late, but will she be able to help the champion this Sunday, or will Nikki take her out?
Finally, the three tag teams going at it at Extreme Rules for the SmackDown Tag Team Championships will have a summit on SmackDown to discuss the match. Will a stipulation be added? How will current champions Daniel Bryan and Rowan react to The New Day and Heavy Machinery looking to take the tag titles away from them?
Here's everything that happened on the July 9 episode of SmackDown Live.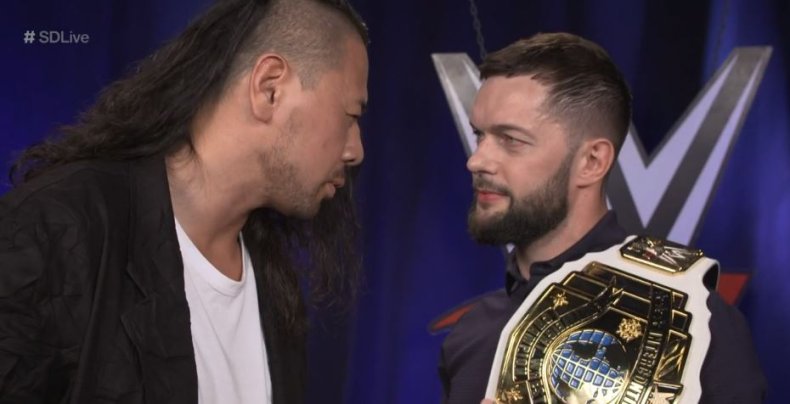 SMACKDOWN LIVE RESULTS
Opening Segment
Show begins with a video of Dolph Ziggler being interviewed in the parking lot from earlier in the day. Kevin Owens comes in and the two start arguing before fighting. The two are separated with Shane McMahon telling KO to leave the arena.
Shane McMahon is asked why he canceled the main event between KO and Dolph. He sent KO home because he instigated the fight, but when he was asked about what match will replace the main event. Shane says he has some ideas and he'll announce it later.
Kevin Owens shows up at commentary and gets on the mic. He says that he tried to be a company man, but he can't take it any more. He brings up when the McMahons were in the ring and said that they would listen to the fans, but since then Shane has gotten more power and been on television more and more and no one wanted it.
Shane comes out and cuts KO's mic. Kevin Owens gets another mic and then takes Byron Saxton's mic and security is called. KO says that Shane has taken time away from other superstars like Apollo Crews, Buddy Murphy, Ali, Liv Morgan, Asuka, AOP and Kairi Sane. Kevin Owens runs to the back when security gets close.
Shinsuke Nakamura vs Finn Balor
Nakamura wins via pinfall after a Kinchasa
The story of this match was Nakamura was being more brutal than usual and he would try to keep Balor on the outside for a count out. Finn can't powering out to get back in the ring, even getting back in after a Kinchasa on the outside. The second Kinchasa came when Balor tried to get back in the ring again.
Backstage
Shane talks to Drew McIntyre and Elias and say that Cedric Alexander got in the way yesterday. Drew says that they won and have the advantage going into Sunday.
Dolph Ziggler comes up to Shane and is upset that McMahon cancelled the main event. Shane says that Dolph Ziggler will go one-on-one with Roman Reigns. Shane says he'll be out there with him.
Samoa Joe Promo
Joe says that he will take all of his family and friends from Kofi Kingston and more importantly, he will take the WWE Champion.
Bayley and Nikki Cross Contract Signing
Bayley says she's happy to see Nikki to be at the signing. She says that they are alike. Bayley says that people manipulated her and took advantage of her when she first got to WWE.
Nikki Cross says that the Bayley who attacked her last night is the real Bayley.
Bayley tells Nikki to stop and asks if Cross is really ok with helping someone else win a championship. Bayley wonders what will happen when she defeats them and she blames Nikki.
Nikki says she wants to help her friend, but Bayley won't understand that because all of her friends abandoned her. She says that Alexa told her that they will be the first co-champions. Nikki tells Bayley to stick around for her match against Carmella.
Nikki Cross vs Carmella
Cross wins via pinfall after a swinging neckbreaker
Backstage
A recap package of the Kabuki Warriors defeating The IIconics in Japan, earning a future title opportunity.
The IIconics leave the female locker room when Paige, Asuka and Kairi Sane show up. They want to make a match for tonight, but Billie Kay says she's sick and they can't wrestle.
Paige runs down The IIconics before slapping Billie Kay. Kay wants to retaliate, but Paige reminds her she's sick and The IIconics walk away.
Roman Reigns Interview
Tag Team Summit
New Day come out first and Big E says he's disappointed because he thought he would be involved in a different three way this weekend. Xavier Woods and Big E says that they will be able to touch their championship tips when they become the six-time champions.
Bryan and Rowan come out and says that no one takes the New Day seriously.
Xavier says that he wants to hear from Rowan because they are confused. First Rowan was taking orders from Bray and now taking orders from Daniel Bryan. They want to know who his daddy is.
Daniel says that while the New Day are highly decorated and put on some great tag matches the division will suffer if they won. The only ones more of a joke are Heavy Machinery
Heavy Machinery comes out and say that they pushed Rowan and Bryan to the limit at Stomping Grounds. And even when they lost they went back to work to get another title shot.
Daniel Bryan vs Xavier Woods vs Otis
During the match, Tucker and Big E take out Rowan on the outside leading to the ref sending them to the back.
Otis pins Xavier Woods after a pop up slam
Backstage
Mandy Rose and Sonya Deville walk up to Ember Moon in catering. They said that she can't hide behind Twitter. Ember says that she beat Mandy last week so there's no need to hide. Sonya says that the loss brought her and Mandy closer together but if she still wants a fight they can have a tag team match. Ember has one week to find a partner, but she says that she will fight them both by herself if she can't.
Ali Vignette
Aleister Black Interview
Aleister is told that his opponent signed the contract but asked to remain anonymous. Black says he doesn't care who this person is.
Suddenly a man dressed in a white suit walks around the chair and sits down revealing him to be Cesaro. Cesaro says he is the one who's been knocking on his door and is looking to pick a fight with him.
Aleister laughs and says this is good and is ready for a fight.
Shelton Benjamin Interview
Shelton is asked about the main event, but he doesn't answer. He just looks around and walks off
Kofi Kingston Interview
Kofi is asked about his actions toward Joe last week. Kofi says Joe isn't in his head, in fact he flipped it on Samoa Joe. And he looks forward to facing off against Joe because that's the kind of competition that will help him become one of the best WWE Champions of all time.
Roman Reigns vs Dolph Ziggler (with Shane McMahon, Elias, Drew McIntyre)
Reigns wins via pinfall after a Spear
Finish was set up by Kevin Owens who hit Shane with the Stunner
It should be noted that Dolph kicked out of a Superman Punch
During the match, Elias and Drew got involved when the referee wasn't looking.
Uncommon Knowledge
Newsweek is committed to challenging conventional wisdom and finding connections in the search for common ground.
Newsweek is committed to challenging conventional wisdom and finding connections in the search for common ground.
About the writer
Phillip Martinez is a game and culture reporter for Newsweek. Prior to joining Newsweek in 2018, he was a reporter and editor for iDigitalTimes and Player.One. A Bronx native, he graduated with his Bachelor's degree in Journalism from St. John's University in 2010. An avid Nintendo fan and wrestling mark, he's always looking to become a Pokémon Master while fantasy booking this year's WrestleMania. You can contact him at p.martinez@newsweek.com