WWE Monday Night RAW Live Results: Extreme Rules Go-Home Show to Prep Superstars for Sunday
It's the go-home show before Extreme Rules this Sunday, and the WWE is setting the stage for some potentially great matchups.
The first confirmed match for tonight is a mixed tag match between Seth Rollins and Becky Lynch versus Andrade and Zelina Vega from SmackDown Live. Rollins and Lynch are getting ready for their "winner takes all" match this Sunday against Baron Corbin and Lacey Evans.
After dispatching of Mike and Maria Kannellis last week, the WWE's power couple looks to continue their momentum heading into their high-stakes match on Sunday.
Another match confirmed tonight is the tag match between Shane McMahon, Drew McIntyre and Roman Reigns and a partner of Shane's choosing. This Sunday, Shane and Drew are taking on Roman and a returning Undertaker so it'll be interesting to see who will Roman be forced to team with on Monday night.
Rey Mysterio is making his return from injury tonight. After relinquishing the U.S. Championship to Samoa Joe a few weeks ago fans will want to know more about his next step on RAW. Will he try and get the U.S. Championship back off of Ricochet? Or will he look to capture something more?
AJ Styles shocked the WWE Universe by turning heel on Ricochet after their great match for the U.S. Championship last week. Aligning himself with Karl Anderson and Luke Gallows to reform The Club also means the faction will now look to run the show and take out anyone in their path.
Fans will also want to tune in to see how Monday Night RAW is changed with Paul Heyman at the helm. Last week we saw signs of change with Braun Strowman and Bobby Lashley having an explosive opening segment.
Will the momentum from last week's show continue tonight as we head to Extreme Rules? Here's everything that happened on the July 8 episode of Monday Night RAW.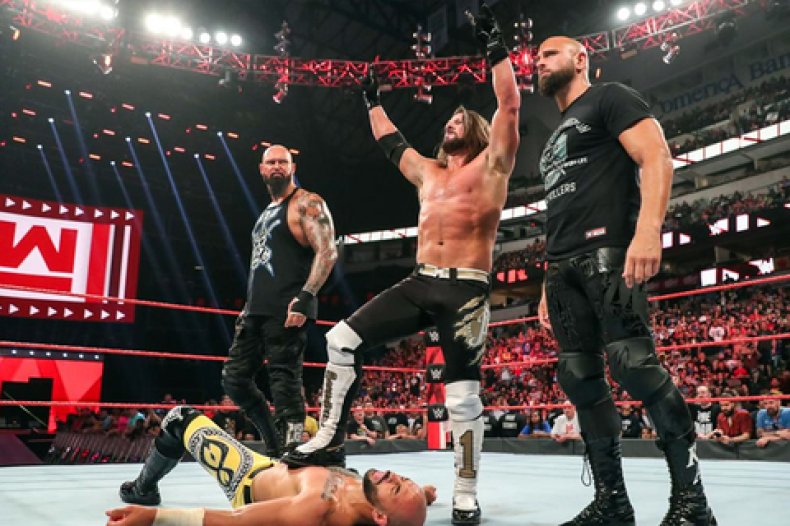 MONDAY NIGHT RAW RESULTS
Becky Lynch and Seth Rollins vs Zelina Vega and Andrade - Elimination Mixed Tag Match
Lynch submits Zelina Vega with the Dis-Arm-her
After the fall, Lacey Evans appears ringside and Lynch starts fighting with Lacey in the stands. Rollins pulls Becky off before going to commercial.
Zelina hits Seth with a Hurricarana on the outside when the referee wasn't looking. This calls Becky to attack Vega. Andrade tries to pull Lynch off, which brings Seth to push him off. Becky pushes Seth out of the way when Andrade goes for a charge and takes the brunt. Seth goes wild and throws Andrade off. While Rollins checks on Becky, Andrade attacks and almost gets the fall in the ring after the knees in the corner.
Seth Rollins pins Andrade after a Stomp.
After the match, Baron Corbin hits Rollins. Becky starts to attack Corbin, but Lacey hits Becky with the Women's Right. Baron and Lacey stand over Becky and Seth. Seth checks on Becky when Paul Heyman walks out and smiles at Rollins as he walks to the ring before the next commercial break.
Backstage
Baron tells Lacey that it was easy to manipulate Becky and Seth. Lacey says that all these feelings are a liability.
Paul Heyman Promo
Heyman says that on Sunday there's a pay-per-view and that Brock Lesnar will cash-in on either Kofi Kingston or Seth Rollins and that's not a prediction, that's a spoiler. He says that he hasn't been wrong since before WrestleMania 30 and if he wanted to lie it would be now. So he could be telling the truth or messing with Kofi and Seth.
Braun Strowman/Bobby Lashley
After a recap package of what happened last week, it's announced that Strowman and Lashley will go one-on-one at Extreme Rules in a Last Man Standing Match.
Backstage
Shane McMahon and Drew McIntyre walk up to a custodian named Tony. Shane asks if he wants to be Roman Reigns' partner tonight. Tony says he would. Shane and Drew walk away pleased with themselves.
The Miz and The Usos vs Elias and The Revival - 2 out of 3 Falls Tag Team Match
Before the match, Usos tell the Revival that they'll become seven-time Tag Team champions on Sunday.
Wilder pins Jimmy Uso after a Shatter Machine. The pin was set up when Miz and Elias began fighting on the outside, distracting The Usos. Elias left the match and never came back. (commercial break)
Miz pins Dawson after a Skull-Crushing Finale
Jey pins Dawson after a Frog Splash
24/7 Segment
After a recap of Drake and Renee's "honeymoon," Renee is seen backstage sitting on some crates. Drake peeks out of one of them and asks if the close is clear. Renee isn't happy to be there, but Drake promises that he can prove to her that he is the man she married, he just needs to do this. Renee says ok but only when he proves to her that she is number one in his life that they can consummate their marriage. Drake yells in excitement, which gives his location. He runs away as the locker room runs after him.
Backstage
Shane and Drew are talking to a vendor and say that he may be who they choose to be Roman's partner tonight.
Rey Mysterio Open Challenge
Rey says that the doctors told him he will be on the shelf for a long time. But he beat the predictions and he's hungrier than ever. He issues an open challenge to anyone in the back.
Bobby Lashley answers the call. Commentary plays up the fact that Lashley is returning to the ring a week from the fight with Strowman.
Lashley pins Mysterio after a Spear
After the match, Lashley throws Rey out of the ring and drags him up the ramp. Lashley picks up Rey and tries to throw him through the titantron but the refs stop him. Lashley picks up Mysterio again and throws him at the referees. Lashley gets on the mic and says that last week he was the only man standing and he will be the last man on Sunday.
Backstage
AJ Styles and The Club are walking to their locker room when he's asked why he did what he did to Ricochet. AJ says he doesn't owe anyone an explanation and walks away.
No Way Jose vs Cesaro
Before the match, Cesaro chases the conga line away giving Jose a chance to get the upperhand.
Cesaro wins via submission after a Sharpshooter
Street Profits
The Street Profits are backstage beatboxing when they start hyping up Extreme Rules. They talk about the tag match between Roman and a mystery partner and Shane/Drew. They ask who will Shane pick before they ask for a transition.
Mike and Maria Kannelis Segment
Mike brings Maria flowers and apologizes for what happened last week. Maria accepts it but says that she wants ice cream and pickles. Mike runs to get them but while she's alone, Maria asks "what kind of man taps to a woman?"
Bayley and Nikki Cross Interview
With Alexa Bliss out of action tonight, Nikki will take her place for the "Beat the Clock Challenge." The winner will pick the stipulation at Extreme Rules.
Nikki says she doesn't know where she'd be without Alexa and that she has a lot of pressure to win tonight.
Bayley says that Nikki is the reason Alexa has this rematch and that Cross needs to figure it out. Nikki says that the more Bayley bashes Alexa, the more motivated she is.
Bayley's opponent tonight will be Sarah Logan while Nikki Cross will take on Dana Brooke. Bayley says that she's not afraid of Sara or chaos. Nikki says that Dana is stronger but she needs to win for Alexa Bliss.
Backstage
R-Truth and Carmella are looking for Drake Maverick. Truth says he wants his baby back. Drake runs past them, quickly followed by others in the locker room. Carmella jumps on Truth's back and they run the opposite way.
Viking Raiders vs Local Enhancement Talent
Viking Raiders win via pinfall after the Viking Raiders.
After the match, the locker room who were chasing after Drake come to the ring, and the Viking Raiders start laying out superstars. Truth gets in the ring and he looks at the Raiders before he runs off with Carmella
Roman Reigns Interview
Roman is approached in the locker room and is asked about Shane's mind games. Roman says he doesn't care about Shane's games.
Ricochet vs Luke Gallows (with Karl Anderson and AJ Styles)
Before the match, Ricochet says that he looked forward to facing AJ Styles but he had the biggest beating of his life last week. He knows that Gallows won't be alone tonight but that's ok because he'll have to beat them all.
AJ Styles says that in the WWE they move quickly. He tells Ricochet to slow down and appreciate things because Gallows is going to stomp a mudhole in him.
Ricochet wins via pinfall after a roll up
After the bell, AJ Styles gets on the apron and says that since Ricochet said he'd beat all of them he should take on Karl Anderson (commercial break).
Ricochet vs Karl Anderson
During the match, Gallows and AJ Styles try to get involved but Ricochet takes them out.
Ricochet wins via pinfall after a 630
Immediately after the bell, AJ Styles and Gallows jump Ricochet. The Club finish Ricochet off with a Magic Killer. Styles teases the Styles Clash from the top rope again but decides not to do it. AJ Styles gets on the mic and says that he's a good guy. He's leaving Ricochet with something left so there's no excuses on Sunday. Ricochet gets up when Styles and Club leave, angrily they get in the ring and AJ hits the champ with the Phenomenal Forearm.
Backstage
Drake Maverick runs to his wife and screams that he has survived the night as 24/7 champion. Somehow, the crate Renee is sitting on jiggles revealing R-Truth and a referee hiding inside. Truth tells Drake he wants his baby back, Carmella comes out of the other crate and tells Truth to get him. Drake grabs Renee's arm and they run off with Truth putting the referee on his back.
Elsewhere, Shane and Drew see a janitor with a noticeable limp walking backstage. Shane says this is their guy.
After the commercial break, Shane tells the janitor (named Gary) he'll pay him $5000 to be Roman's partner and just stand there. Gary accepts.
Bayley vs Sarah Logan - Beat the Clock Challenge
Bayley pins Logan after a corner bomb (4:32)
Nikki Cross vs Dana Brooke - Beat the Clock Challenge
When the bell starts, Dana Brooke starts to hang out with Bayley ringside while the clock ticks down.
Nikki wins via pinfall after a swinging neckbreaker with 1:52 left.
After the match Nikki gets on the mic and calls Bayley into the ring. She tells Bayley that for weeks she's been telling her how bad of a friend Alexa is but she thinks Bayley doesn't know what friendship is. Nikki makes the match on Sunday a 2 on 1 handicap match. She says she will help Alexa win the title but she suggests Bayley gets a friend to smack some sense into her.
Bayley slaps Nikki and then hits Cross with the Belly to Bayley and then a Flying Elbow.
Backstage
Mike comes back to Maria with ice cream and pickles. Maria says she can't eat that because she'll get fat. Maria asks if Mike would impregnate her again. Mike says he would but Maria says that she's not sure he impregnated her this time and that he will never do it again. Mike leaves the room.
Seth Rollins and Becky Lynch Interview
They are asked if their personal relationship will affect their match on Sunday. Becky says that on Sunday there are new rules and that her handcuffs will come off and Baron and Lacey won't know what hit them.
Shane McMahon vs Roman Reigns and Mystery Partner
Before the match, Shane gets on the mic and introduces Roman's partner. Gary "the goat" Garbutt. Gary comes out in a lucha mask and walks to the ring (commercial break)
Gary inadvertently gets tagged in, but it's revealed that Gary can actually wrestle doing flips and all sorts of top rope maneuvers. However, Drew hits Gary with the Claymore.
Shane pins Gary.
After the bell, Roman takes out Drew. Roman unmasks Gary to reveal it was Cedric Alexander.