Brazil Elections 2018: Polls, Candidates, Results Time as Jair Bolsonaro, Haddad Vie to Become New President
Brazilians will head to the polls on Sunday to vote for president in the first presidential election since the country impeached its first female head of state, Dilma Rousseff, in 2016.
A far-right candidate, who has spoken fondly of the country's two decades of military dictatorship as well as of torture, is currently leading in the polls. The results of the election in Latin America's largest economy could have major implications for the country's and the region's future. With an economic crisis, rampant corruption and high crime rates plaguing the country, Brazilians remain starkly divided on the way forward.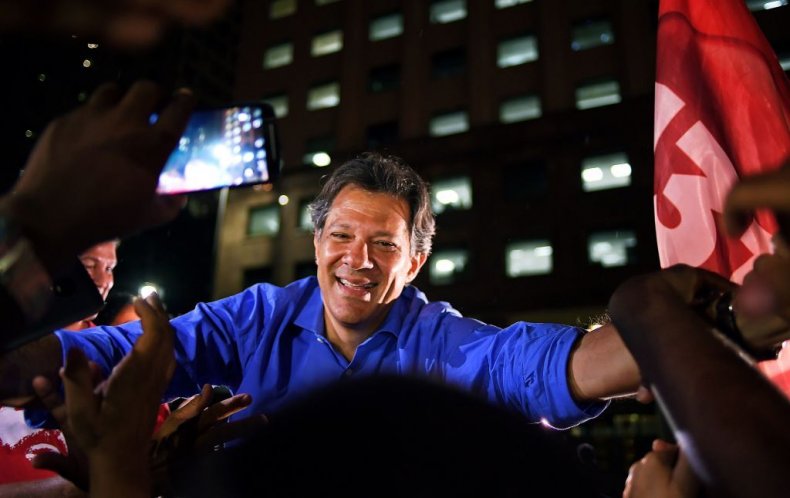 The Candidates
Social Liberal Party's Jair Bolsonaro, 63, has positioned himself as an outsider candidate, ready to drain the political swamp and get extremely tough on crime. The congressman and former army captain currently leads in the latest polls, trailed most closely by 55-year-old Fernando Haddad, the former mayor of Brazil's largest city Sao Paulo. Haddad hails from the same Workers Party (PT) of Rousseff and jailed former President Luiz Inácio Lula da Silva, who many analysts and polls suggest would have won the election if he had not been imprisoned on corruption charges.
Trailing the two men are former senator and environment minister Marina Silva, former governor and finance minister Ciro Gomes and Geraldo Alckmin, who also worked as governor of Sao Paulo. While none of these candidates are polling high enough to pose a serious challenge, the votes they take could potentially, although not likely, draw enough support away from Haddad to allow Bolsonaro to win with an outright majority on October 7.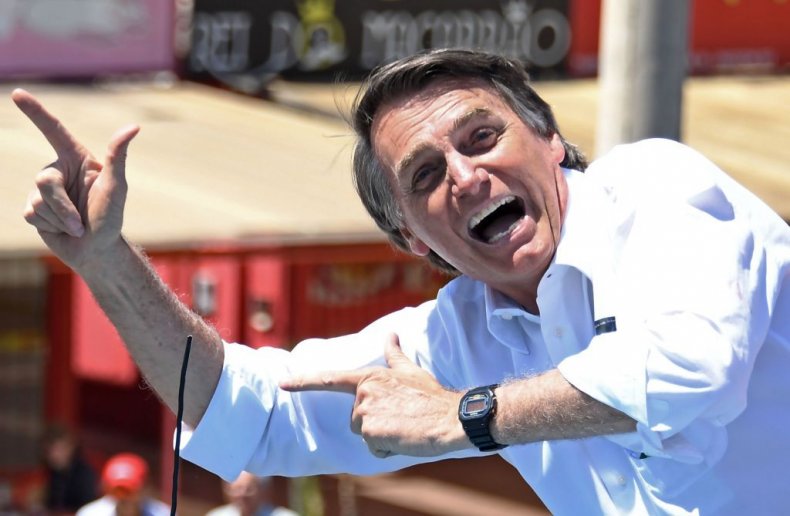 Polls and results
As the most recent polls stand, Bolsonaro is predicted to take 32 percent on election day, with Haddad taking 23 percent. If no candidate reaches more than 50 percent of the vote, a runoff will be held on October 28. Currently, polls show a tight race for the final vote, with Haddad narrowly beating Bolsonaro by just 2 percent, or 43 to 41. Others have suggested a tie or even a win for the right-wing candidate.
Recent poll data has also revealed that Bolsonaro has gained ground among women, despite widespread opposition from feminist groups and his overtly sexist remarks. Some say they will vote for him out of "protest," opposing the alternative of another PT presidency, Reuters reported.
Despite the right-wing candidates homophobic, sexist and racist comments, he has garnered significant support as an outsider among Brazilians who are sick of the rampant corruption endemic to their nation's politics. Haddad, while popular with many, is seen by others as merely part of the same corrupt class who have long governed the country.
"The Brazilian political establishment has been struggling with major political crises over the past few years," Raphael Tsavkko Garcia, a journalist and Human Rights Ph.D. candidate wrote for Al Jazeera this week. "Huge corruption scandals have shaken the very foundations of political institutions, feeding growing public anger which has often spilled into the streets."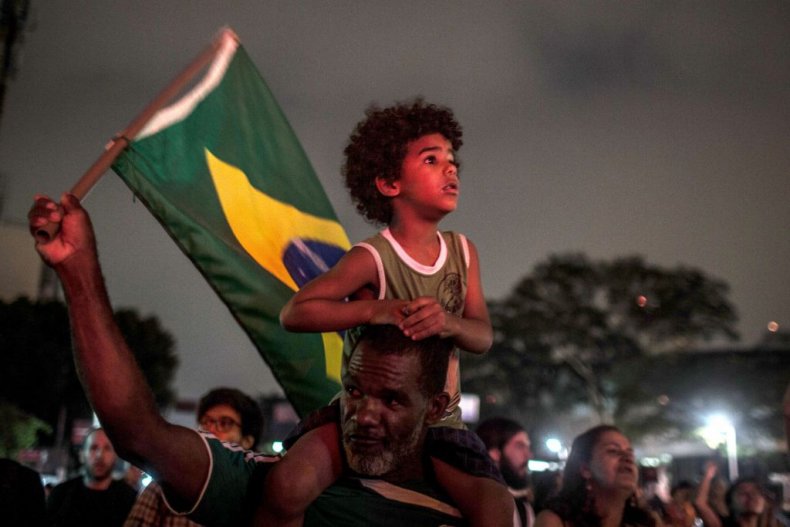 The Brazilian Trump?
"Bolsonaro is a Brazilian version of Trump," Allana Ferreira, a journalist from the capital Brasilia told Newsweek. She explained that many people think Brazil needs someone with "a strong hand" to remove the current political class.
Conversely, those who support Haddad are nostalgic for the era of Lula, when the country experienced significant economic growth and millions were brought out of poverty. Despite the former leader being jailed, he remains widely popular. His supporters and many outside observers view his detention as based on "trumped up charges" and a plot by the financial elite against his socialist policies.
Many also feel disillusioned altogether and have resigned to not vote for either candidate.
"I will vote for Ciro Gomes," Melito, a photographer from Curitiba told Newsweek, but he said he isn't passionate about his decision. "I don't [fully] support any candidate."
At the same time, Melito said he believes there is a very real possibility that Bolsonaro could win. "We are dealing with the real possibility [that we could] have a president that loves right-wing dictatorships [and] torture," he said, pointing out that Bolsonaro speaks "against human rights."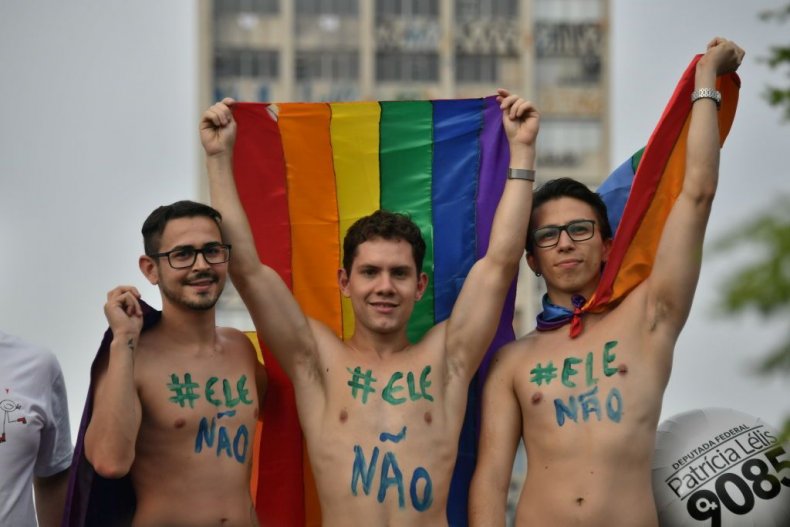 Although many have compared Bolsonaro to Trump, James N. Green, the director of Brown University's Brazil Initiative, thinks the comparison is too generous.
"Bolsonaro is much more of a wild card than Trump is," Green told The Guardian.
"Trump built an empire on charlatanism and faking it and deceiving people and did this quite successfully over quite a period of time and therefore has done this quite successfully as president," he explained. "Bolsonaro's only claim to fame is his ability to say horrible things about people, and to insult people and to provoke people."
A "fascist hero"
Maiassa Chaar, a graduate student and teacher from Sao Paulo, told Newsweek that she favors Haddad and Gomes, but explained that many see "the fascist" Bolsonaro as a "hero." She pointed to the economic problems and corruption plaguing her country as the reason, saying people see him as an alternative.
"I am proud of Brazilian women," Chaar said. "[We] did one of the biggest protests against [Bolsonaro] last Saturday." The protest used the hashtag "#EleNao" or "not him" and gathered Brazilians in 300 cities around the world, she explained.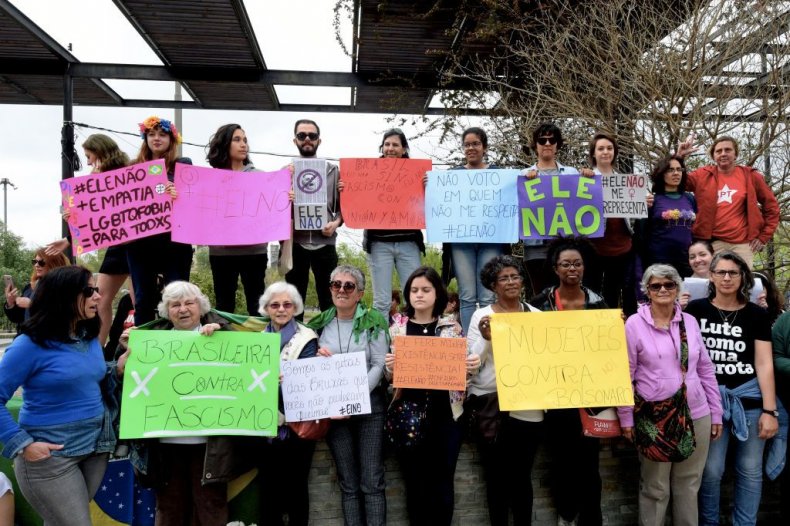 However, many also see Haddad as failing to address the country's concerns. Ferreira, who said she does not support either frontrunner, argued that Haddad has done little more than praise the era of Lula, using his connection to the former president to shore up support.
"Haddad looks really smart in the way he talks," she said, "but whatever he says, he turns to Lula."
Politics aside, many in the financial investment and business sectors see Bolsonaro as a more friendly alternative to another PT-led government.
"If I was a Brazilian investor, who would I want to win? I don't know Bolsonaro, but I know the PT and what it stands for," Phil Torres, a Chicago-based fund manager with Aegon Asset Management, a $400 billion investment firm that owns Brazilian bonds in their life insurance accounts portfolio, told Forbes.