Brazil Governors Put Together One-Page COVID Relief Plan as Country's Hospital System Collapses
Brazil's governors presented a plan for COVID-19 relief on Wednesday: a one-page document with broad guidance on restricting activities that provided little support to a nation crippled by the rapid spread of the virus.
"The state is pretty much collapsing," Dr. Pedro Hallal, an epidemiologist at Universidade Federal de Pelotas said to the BBC World Service. Intensive care unit capacity has reached over 90 percent in 15 of the nation's 27 capital cities, and in some states hundreds of people are waiting for ICU beds, according to the Associated Press. The nation reported over 2,000 deaths in a day on Wednesday.
The nation's governors gathered to draft a COVID-19 plan of action, which Brazilian President Jair Bolsonaro has rejected doing with receiving the COVID-19 vaccine. While hopes the governors' plan would address restrictions such as curfews, limits on large gatherings and nonessential services, the one-page document was vague and lacked directives, the Associated Press reported. Six governors declined to sign the plan.
"We have reached the limit across Brazil; rare are the exceptions," Governor Wellington Dias, who leads the governors' forum, said to the Associated Press. "The chance of dying without assistance is real."
Brazil's national council of state health secretaries released a statement last week calling for more urgent steps from officials such as closing all bars and beaches, expanding testing, adopting remote work for non-essential workers, implementing a national curfew and closing schools.
"The absence of a unified and coherent national approach made it difficult to adopt and implement qualified measures to reduce social interactions that intensified during the electoral period, at the end of year, summer and carnival meetings and festivities," the statement said.
The country never really enforced a lockdown, Hallal said, but even if it did close all businesses and enforce curfews, that would not be enough to curb the spread of the virus. But he added that while the Brazil variant of the disease is contributing to the spread, it's not the sole factor in the mass infection occurring.
"If we do not start vaccinating the population here very soon it will become [a massive] tragedy," Hallal said. Only about 5 percent of the nation's population has been vaccinated, according to the Associated Press.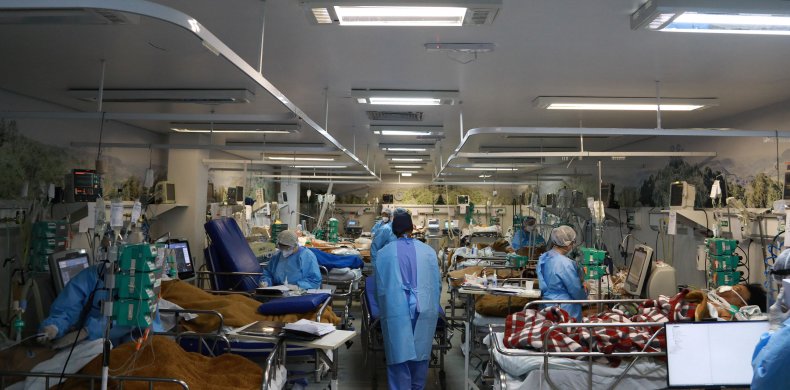 For more reporting from the Associated Press, see below.
When Brazil's national council of state health secretaries last week called for the establishment of a national curfew and lockdown in regions that are approaching maximum hospital capacity, Bolsonaro again demurred.
"I won't decree it," Bolsonaro said Monday at an event. "And you can be sure of one thing: My army will not go to the street to oblige the people to stay home."
Restrictions can already be found just outside the presidential palace after the Federal District's governor, Ibaneis Rocha, implemented a curfew and partial lockdown. Rocha warned Tuesday that he could clamp down harder, sparing only pharmacies and hospitals, if people keep disregarding rules. Currently, 213 people in the district are on the wait list for an ICU bed.
Bolsonaro told reporters Monday that the curfew is "an affront, inadmissible," and said that even the WHO believes lockdowns are inadequate because they disproportionately hurt the poor. While the WHO acknowledges "profound negative effects," it says some countries have had no choice but to impose heavy-handed measures to slow transmission, and that governments must make the most of the extra time provided to test and trace cases, while caring for patients.
Such nuance was lost on Bolsonaro. His government continues its search for silver-bullet solutions that so far has served only to stoke false hopes. Any idea appears to warrant consideration, except the ones from public health experts.
Bolsonaro's government spent millions producing and distributing malaria pills, which have shown no benefit in rigorous studies. Still, Bolsonaro endorsed the drugs. He has also supported treatment with two drugs for fighting parasites, neither of which have shown effectiveness. He again touted their capacity to prevent hospitalizations during a Wednesday event in the presidential palace.
Bolsonaro also dispatched a committee to Israel this week to assess an unproven nasal spray that he has called "a miraculous product." Fiocruz's Dalcolmo, whose younger sister is currently in an ICU, called the trip "really pathetic."
Meanwhile, the city of Araraquara, in Sao Paulo's interior, has seen new cases turn downward weeks after declaring lockdown amid a crippling surge dominated by the P1 variant. Mayor Edinho Silva told the AP in a message that, without mass vaccination, there was no alternative.
Camila Romano, a researcher at the University of Sao Paulo's Institute of Tropical Medicine, hopes a test her lab developed to identify worrisome variants, including P1, will help monitor and control their spread. She also wants to see stricter government measures, and citizens doing their part.
"Every day is a new surprise, a new variant, a city whose health system enters collapse," Romano said. "We're now in the worst phase. Whether this will be the worst phase of all, unfortunately we don't know what's yet to come."