What Breaking Down Harry Styles 'Spit' Incident From New Angle Reveals
Social media users are working hard to find a definitive answer as to whether Harry Styles did in fact spit on Chris Pine, and a new angle may shed new light on the incident.
A video surfaced online showing Styles sitting down next to his Don't Worry Darling co-star Pine. As he took a seat next to him at the Venice International Film Festival, viewers claimed they saw the One Direction singer "spit" on the Star Trek actor, who reacted in an amusing way.
Pine's representatives have strongly denied the incident, calling it a "complete fabrication" and the result of "an odd online illusion."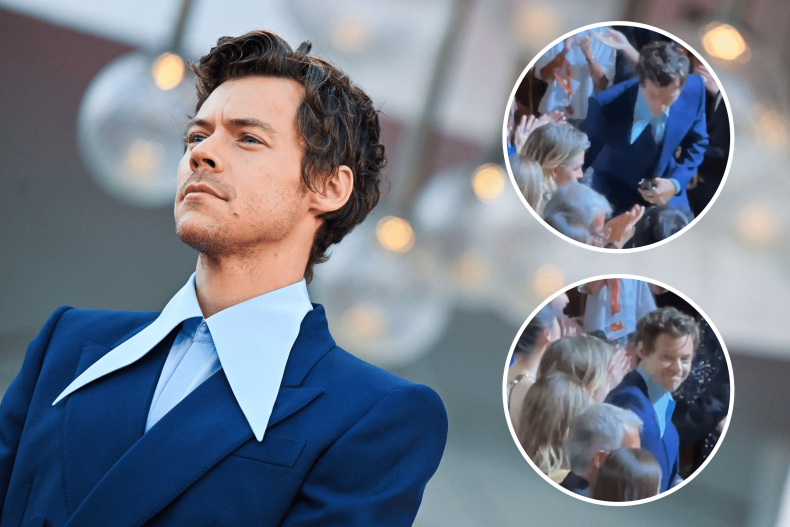 After the moment became a major talking point across social media, a second video of the same incident emerged, showing a fresh angle on the alleged "spit."
The original video, which has amassed millions of views across social media, was taken from in front of the pair, as we see both Styles and Pine's reactions in the moment. The new angle is take from slightly behind them, to their right, and it reveals more about Style's movement during the alleged "spitting."
A video posted by Variety's Co-Editor-in-Chief, Ramin Setoodeh was viewed over 2.2 million times. At the moment Styles sits down, he seems to jerk forward slightly at a moment which was then dissected by thousands of Twitter users.
"wtf why would he spit on him?" Twitter user @wtchusmokedrink wrote with a crying emoji, "at this point you guys are just doing everything you can to make him look bad like its sad." In response to this comment, @osborne_kaitlyn gave her evidence to accuse Styles of spitting.
"idk but look right under his hand." She continued, including a video which includes still frames of the moment, "i love harry [so much] and ive been a fan since 2010 but cant deny that it looks like he did spit. idk!!!" The Twitter user claimed you could see "a lil white dot right between their hands that shows up right after u see his mouth move like he's spitting."
Styles fans leapt to his defense in response to this fresh claim. "You really think harry would spit on someone. when THOUSANDS of cameras are rolling???" Wrote @karsyn_fields, adding that people who think he did spit can't call themselves a fan. @teddyjstevenson weighed in with, ""What a ridiculous reach. He absolutely did not spit on him."
The new video couldn't give concrete proof as to whether the spit did take place.
Hulu writer Piya Sinha-Roy stated that there was "zero spit." Sharing the new angle, she added: "Pine found his glasses on his seat as he was clapping, hence his pause as he spaced out again. How is everyone going nuts?!"
Setoodeh initially shared the video without addressing what has been dubbed "#SpitGate" but later weighed in, sharing all he could say. "There are no trash cans in the Sala Grande — not in the lobby or in the mezzanine where these seats are located. So hypothetically, if you were chewing a piece of gum, there'd be no place to put it," he wrote.
When replying to a request for comment, Styles representatives pointed to a statement made by Pine's team: "This is a ridiculous story—a complete fabrication and the result of an odd online illusion that is clearly deceiving and allows for foolish speculation," they told People magazine.
"Just to be clear, Harry Styles did not spit on Chris Pine," the rep continued. "There is nothing but respect between these two men and any suggestion otherwise is a blatant attempt to create drama that simply does not exist."
Newsweek reached out to Chris Pine's representatives for comment.
Update 09/07/22, 11:15 a.m. ET: This article was updated to include a statement from Pine's representatives at the request of Styles' team.