Did Harry Styles 'Spit' on Chris Pine? 'Don't Worry Darling' Cast Drama
Adding to the rumors of cast tension, video footage has emerged that some people think shows Harry Styles "spitting" on his Don't Worry Darling co-star Chris Pine.
Social media was ablaze with speculation regarding the relationships between the stars of the movie on Monday, as they attended the 2022 Venice International Film Festival.
Since the incident and #SpitGate started trending online, Pine's team released a statement strongly denying the allegation of spitting. "This is a ridiculous story — a complete fabrication and the result of an odd online illusion that is clearly deceiving and allows for foolish speculation," a statement sent to People said.
"Just to be clear, Harry Styles did not spit on Chris Pine," the rep continued. "There is nothing but respect between these two men and any suggestion otherwise is a blatant attempt to create drama that simply does not exist."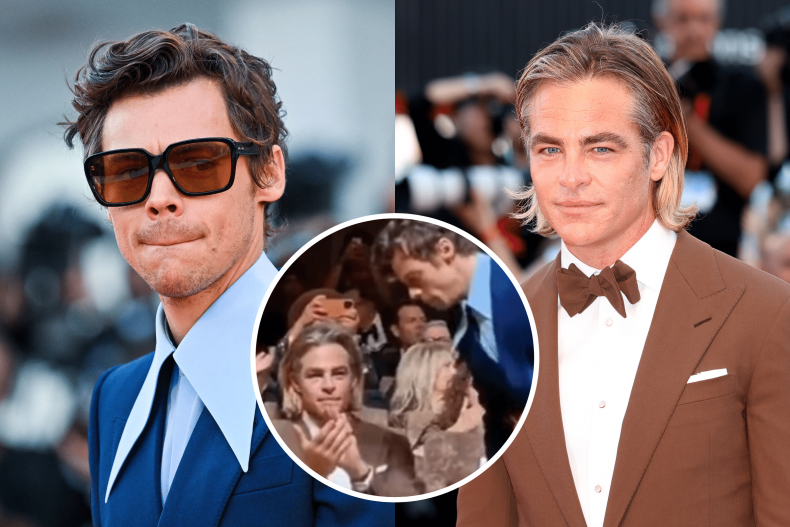 Styles' team also agreed with the statement made by Pine's team.
The internet has focused its attention on the interactions between stars Florence Pugh and Olivia Wilde amid rumors of a fallout, meanwhile, Styles and Pine have been dragged into the drama too. Styles and Wilde have also been under the microscope after the couple arrived separately at the events in Venice.
Twitter and TikTok users have been focusing on a clip of Styles sitting down for a screening of Don't Worry Darling next to co-star Pine. As he moves to sit down, social media sleuths claim that Styles "spits" on Pine, which leads the Star Trek actor to react in disbelief. The moment has been reviewed from different angles, with people debating whether or not it happened.
"Did Harry Styles just spit on Chris Pine??" asked journalist Matt Ramos, sharing the offending clip on Twitter. In various forms, the video has been viewed millions of times across social media. Ramos called Pine's reaction "the exact reaction of a man who knows he can't do anything in public."
New York-based writer Meecham Whitson Meriweather seemed furious on Pine's behalf. "Like I'm absolutely ready I fight. I cannot believe that. Spitting at someone is one of the worst things you can do," he said.
"Someone needs to begin a full fledged investigation into what happened on that Don't Worry Darling set," wrote @korysverse on Twitter, sharing a short gif of the moment when the alleged spitting occurred. They continued: "wdym Harry Styles spitting on Chris Pine on NATIONAL TELEVISION?"
Analyzing the moment on TikTok, @youmeandchisme claimed: "I can see it clearly. Harry Styles spits at Chris Pine." The user commends Pine in the moment as he reacts "in a funny way, in a cool way, in a Chris Pine kind of way."
Another angle emerged from the moment between Styles and Pine which some believed offered even more damning evidence.
Co-Editor-in-Chief of Variety, Ramin Setoodeh, also shared the moment Styles took his seat but made no reference to the alleged spit at the time. The clip, taken from a higher angle, was reshared by others as it showed Styles gesturing his head towards Pine as he sits.
Setoodeh later commented on the alleged moment and said: "There are no trash cans in the Sala Grande (the premiere's venue)—not in the lobby or in the mezzanine where these seats are located. So hypothetically, if you were chewing a piece of gum, there'd be no place to put it."
Many people online, including TV writer Dana Schwartz, compared the video to the "Zapruder" film, the dressmaker who inadvertently filmed the assassination of John F. Kennedy.
While many seemed to state that Styles did "spit" on Pine, others leaped to the British singer's defense and stated that nothing happened, as nothing could be seen leaving his mouth in the video.
Others offered up jokey explanations as to what had happened. "Chris Pine just wondered where his sunglasses were after the applause," wrote @cinemazietgeist. "So I am sorry to say Harry Styles did not spit on him."
The pair also turned heads for an interaction they had earlier in the day. Social media users focused on Pine's lack of reaction as they sat next to each other in an interview as Styles said his favorite thing about Don't Worry Darling is that it "feels like it's a movie."
Update 09/07/22, 11:15 a.m. ET: This article was updated to include a statement from Pine's representatives at the request of Styles' team.