Harry Styles, Olivia Wilde Arrive Separately to 'Don't Worry Darling' Panel
Olivia Wilde and Harry Styles arrived at the Venice International Film Festival separately for Don't Worry Darling's photocall amid rumored drama.
The actress, 38, and "As It Was" singer, 28, were spotted on different boats on September 5 ahead of the film's premiere, which will take place later on Monday.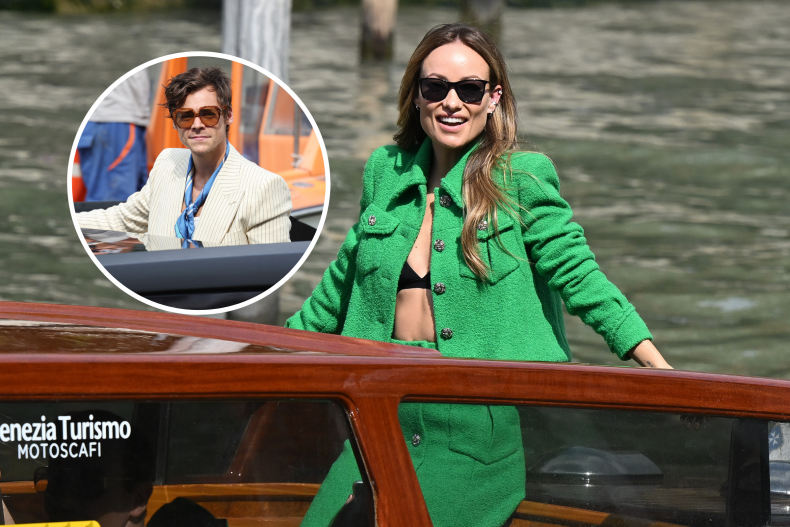 Wilde waved to the crowd in a green skirt and matching green blazer with a black bra underneath. She accessorized her look with tall black boots and sunglasses.
As for Styles, he came dressed to impress in a striped jacket, white tank top, wide-legged pants and a blue scarf.
The couple, who met on the set of the film, later appeared together on the red carpet to pose for photos alongside co-stars Chris Pine and Gemma Chan, though leading lady Florence Pugh skipped the press conference entirely.
News that the England native, 26, would not be on the panel began circulating amid reports of tension between her and Wilde on set.
The drama intensified when the film's director Wilde claimed Shia LaBeouf, who was originally cast in Styles' role, was fired from the project.
"[H]is process was not conducive to the ethos that I demand in my productions," Wilde told Variety in August. "I believe that creating a safe, trusting environment is the best way to get people to do their best work. Ultimately, my responsibility is to the production and to the cast to protect them."
LaBeouf, however, denied those claims telling the same outlet via email messages that he was "confused about the narrative that I was fired."
LaBeouf also provided Variety with a text message of his alleged exchange with the mom of two—who shares kids Otis, 8, and Daisy, 5, with ex Jason Sudeikis—after the interview.
"You and I both know the reasons for my exit," the 36-year-old LaBeouf said. "I quit your film because your actors and I couldn't find time to rehearse."
The Transformers star included a video as well, which showed the director asking him not to quit the project.
"I feel like I'm not ready to give up on this yet, and I, too, am heartbroken and I want to figure this out. You know, I think this might be a bit of a wake-up call for Miss Flo, and I want to know if you're open to giving this a shot with me, with us."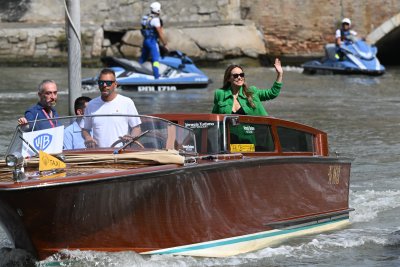 Despite the drama, Variety confirmed Pugh's absence from the panel was due to her flight arriving into Venice after the press conference. Pugh is set to walk the red carpet for the premiere.
During the conference, a reporter brought up the alleged feud. "Can you just clear the air and address whether there has been a falling-out there and if so why, because it's something that people are discussing?"
In response, Wilde said: "Florence is a force, and we are so grateful that she is able to make it tonight, despite being in production on Dune.
"I know as a director how disruptive it is to lose an actor even for a day, so I'm very grateful to her and Denis Villeneuve for helping us. We're really thrilled we'll get to celebrate her work tonight.
"I can't say enough how honored I am to have her as our lead," she continued. "She's amazing in the film and as for all the endless tabloid gossip and all the noise out there, I mean, the internet feeds itself. I don't feel the need to contribute. I think it's sufficiently well nourished."
Pugh has not yet commented on the feud rumors.
Newsweek reached out to Wilde's, Styles' and Pugh's representatives for comment.
Don't Worry Darling hits U.S. theaters on Friday, September 23.