What Styles, Pugh, and Wilde Have Said About 'Don't Worry Darling'
Mark your calendars, Don't Worry Darling will be hitting theaters worldwide on Friday, September 23.
The psychological thriller follows married couple Alice (played by Florence Pugh) and Jack (Harry Styles) who live in Victory, an experimental 1950s utopian community. There, the men work for a top secret project that promises to change the world, and their wives, who are at home, know none of the details.
Things in Alice's seemingly perfect life begin to crumble when she begins to suspect that Jack and the townspeople may be hiding a dark, disturbing secret.
Ever since the news that Styles and director and star Olivia Wilde were dating broke, there has been a heightened focus on the film.
Pugh was the first to share her thoughts on the movie in an interview with Harper's Bazaar. Since then, Styles and Wilde have also given their thoughts in separate interviews.
Newsweek has everything you need to know about what Styles, Pugh and Wilde have said about Don't Worry Darling.
What Harry Styles, Florence Pugh, and Olivia Wilde Have Said About Don't Worry Darling
Harry Styles
Styles has revealed he wrote an original song, sung by Pugh in the movie, which is described as the "trigger song."
Styles told Variety: "I wanted something that could be both sweet and creepy, entirely dependent on the context.
"I remember first playing it on the piano, and it had a sort of homemade nursery rhyme feel to it. Applied to the different moments in the film, I think it takes on a couple of different lives—I hope."
Styles also said that he will be tap dancing in Don't Worry Darling.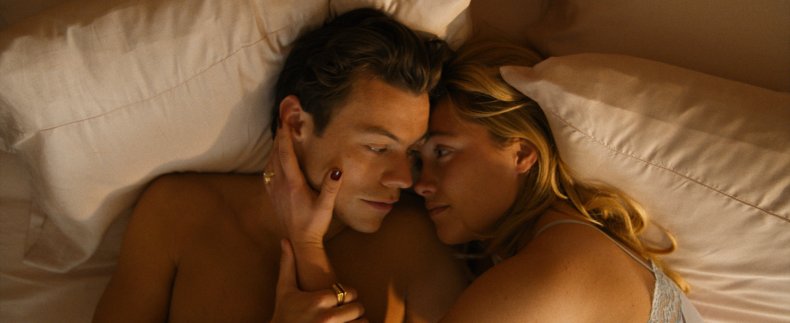 Florence Pugh
Originally, Pugh was offered the supporting role of Bunny, a neighborhood wife in Don't Worry Darling, but when the COVID-19 pandemic changed Pugh's filming schedule, she stepped into the lead role of Alice.
Speaking to Harper's Bazaar about taking on the role, Pugh said, "It was a different beast" adding, "I love playing a distressed woman."
In the same interview, Pugh addressed the uneven attention paid to the sex scenes included in the May 2022 trailer for the movie.
She said, "When it's reduced to your sex scenes, or to watch the most famous man in the world go down on someone, it's not why we do it. It's not why I'm in this industry.
"Obviously, the nature of hiring the most famous pop star in the world, you're going to have conversations like that. That's just not what I'm going to be discussing because [this movie is] bigger and better than that. And the people who made it are bigger and better than that."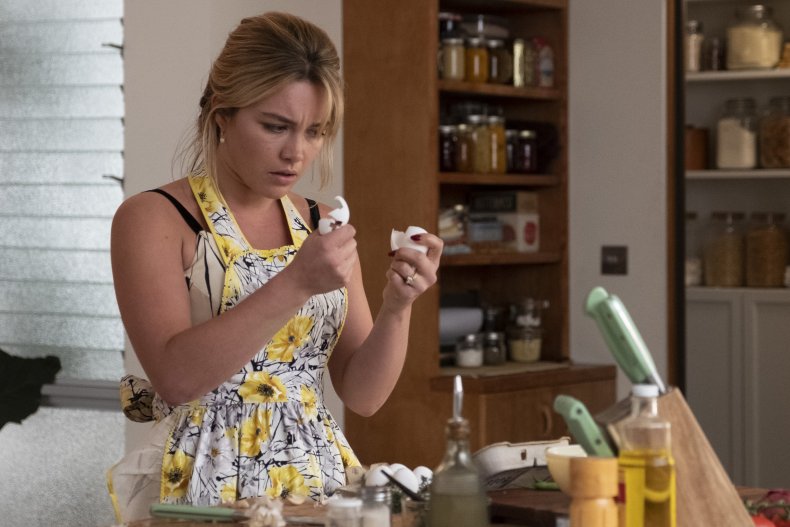 Olivia Wilde
In an interview with Variety, Wilde addressed a range of rumors surrounding Don't Worry Darling, including the false reports that Styles had received $2.5 million for the film while Pugh only got $700,000.
Wilde said, "The absurdity of invented clickbait and subsequent reaction regarding a nonexistent pay disparity between our lead and supporting actors really upset me. I'm a woman who has been in this business for over 20 years, and it's something that I have fought for myself and others, especially being a director. There is absolutely no validity to those claims."
Wilde also addressed internet rumors of tension between Pugh and her after Pugh has done very little promotion regarding the film. Rumors intensified when Page Six ran an anonymously sourced story alleging Pugh was unhappy about the blossoming romance between Wilde and Styles.
In her interview with Variety, Wilde said: "We were all brought so close by the bubble of the production. She was really a great supporter of [Styles] as someone who was newer to a film set. And he was such a great supporter of hers as someone who understood it was her film."
Wilde added that after watching Pugh in Midsommar, she was "blown the f*** away by her," adding, "I loved the film, but I loved her. I was just like, 'Well, she's extraordinary. She's clearly the most exciting young actress working today.'"
She also spoke out about making the decision to fire Shia LaBeouf from the role of Jack and eventually replace him with Styles. At the time, Warner Bros. cited his exit as due to scheduling conflicts, but Wilde has now spoken out about what really happened.
She said, "I say this as someone who is such an admirer of his work. His process was not conducive to the ethos that I demand in my productions. He has a process that, in some ways, seems to require a combative energy, and I don't personally believe that is conducive to the best performances. I believe that creating a safe, trusting environment is the best way to get people to do their best work. Ultimately, my responsibility is to the production and to the cast, to protect them. That was my job."
Newsweek has contacted LeBeouf's representatives for comment.
Don't Worry Darling is coming to theaters on Friday, September 23.