Former CIA director John Brennan was "too dangerous" and a member of the "deep state" who backed a "communist" for president, according to Fox News host Jeanine Pirro after President Donald Trump revoked Brennan's security clearance on Wednesday.
Pirro appeared to be referring to Brennan's admittance that he voted for Communist Party leader Gus Hall for president in 1976. While this vote has regularly been scrutinized by his critics, there is no evidence that he was a member of the Communist Party.
"John Brennan is too dangerous to have security clearance and he is the deep state 'personified' who voted for a communist for president Read abt him in my book," Pirro tweeted after the president's decision came out.
Like fellow host Sean Hannity, Pirro's often peddled similar conspiracy theories on Twitter or on her Fox program. She most recently claimed Obama and Hillary Clinton colluded with Russia during the 2016 and not the current commander-in-chief.
White House press secretary Sarah Huckabee Sanders announced Trump's decision during a press briefing and said the administration was still looking into the possible revocation of clearances for former FBI director James Comey, former director of national intelligence James Clapper and others.
Through Sanders, Trump stated he was protecting the country's national security by taking away Brennan's clearance and the review of former officials. The president said Brennan was showing "erratic conduct and behavior" as well as making "frenzied commentary."
The president immediately received criticism for going after his political opponents. He's often branded Brennan, Comey and others as liars with the intent on ruining his administration.
Sanders said last month the administration was probing whether or not to revoke the clearances of Brennan, retired general Michael Hayden, former national security adviser Susan Rice, as well as former deputy FBI director Andrew McCabe. The clearances for each, according to Sanders on Wednesday, are still for review, including former deputy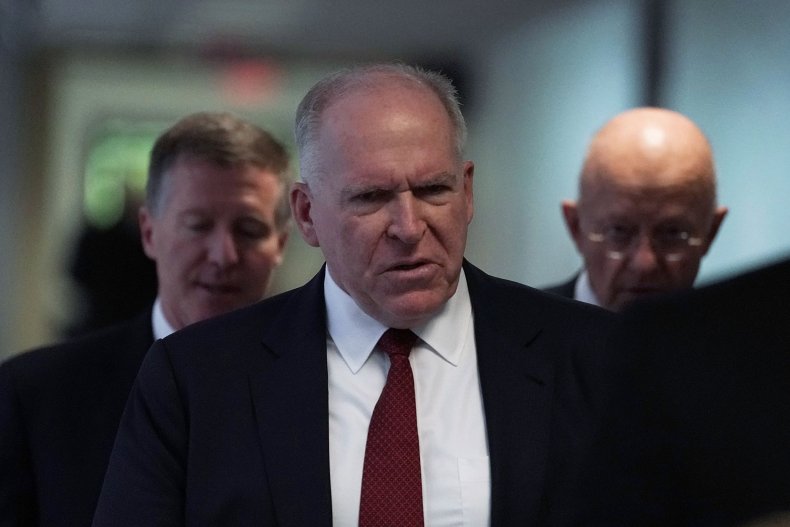 Comey, McCabe and recently fired FBI official Peter Strzok, who was also named by Sanders, do not presently have clearances.
Brennan, who served under President Barack Obama's administration and his campaign 2008, has been highly critical of Trump's actions in office. He often chastises Trump on Twitter and responded Tuesday to the president labeling former White House aide Omarosa Manigault Newman a "dog."
"It's astounding how often you fail to live up to minimum standards of decency, civility, & probity. Seems like you will never understand what it means to be president, nor what it takes to be a good, decent, & honest person. So disheartening, so dangerous for our Nation," Brennan said.
The president's personal attorney, Rudy Giuliani, told Fox News on Monday that Brennan should face a grand jury and alleged he was the "quarterback" behind the intelligence community's use of the Trump-Russia dossier to investigation Trump's accused ties with Russia.
Correction: This story originally suggested that Pirro was referring to Barack Obama when she claimed Brennan voted for a "communist." This has been corrected to show she was likely referring to Brennan's vote for Gus Hall.