Brett Kavanaugh Claims His 'Friends Paid a Heavy Price' for his Supreme Court Role in First Public Speech Since Confirmation
In his first public appearance since his confirmation to the Supreme Court, Brett Kavanaugh was given standing ovations at a conservative gathering, while outside protesters chanted.
His path to the top court was nearly derailed due to sexual assault allegations, including emotional testimony in 2018 from Christine Blasey Ford, who said Kavanaugh had attempted to rape her when they were in high school.
But Kavanaugh told the 2,300 people at the Federalist Society's annual Antonin Scalia memorial dinner in Washington D.C. on Thursday how grateful he was that people stood by him despite the allegations made about him.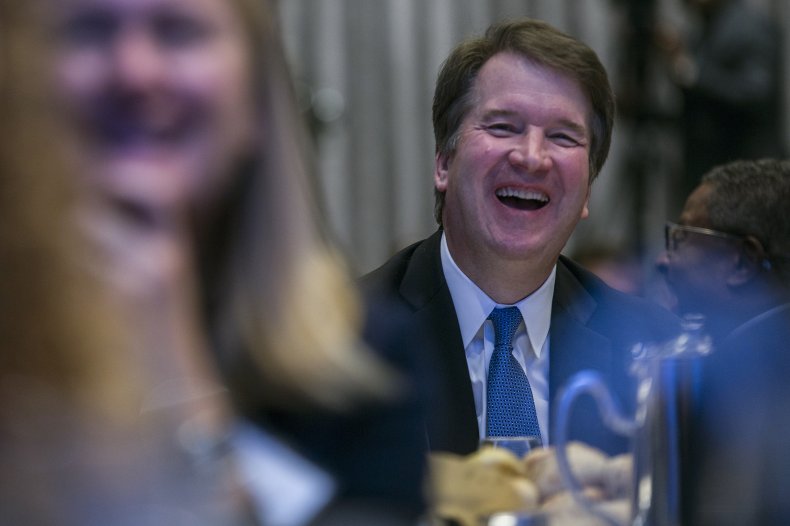 A number of protesters sitting in the room blew whistles as he started to speak, before they were escorted out while those remaining applauded at their exit.
"There's a saying that adversity introduces a man to himself, it also reveals your true friends," he said, according to CNN.
"My friends paid a heavy price—way too heavy a price. I'm well aware of that and it pains me daily," Kavanaugh said. "I signed up for what I knew would be an ugly process—maybe not that ugly—but my friends did not. And yet in the midst of it all they stood up and stood by me," The Hill reported.
He mentioned the other chief justices by name and thanked his family. With his voice cracking, he joked, "Matt Damon would have made it through this,"—a reference to the pastiche of him performed by the actor on Saturday Night Live.
However outside the event was a large electronic billboard replaying the congressional testimony from Ford, while protesters, some of whom were dressed as handmaids, chanted "I believe Dr. Ford."
The protest action was organized by the liberal group Demand Justice, which in the lead up to the event, had released an advert criticizing Facebook's links to the event. The social media giant was listed as a "gold circle" sponsor of the event.
Demand Justice called on supporters to "tell Facebook: stop funding the fight to normalize Brett Kavanaugh."
Katie O'Connor, the senior counsel for Demand Justice, told the Verge: "Facebook should not be sponsoring the rehabbing of Brett Kavanaugh's reputation when Dr. Blasey Ford remains unable to resume a normal life after bravely coming forward last year.
"You can claim to respect survivors of sexual assault or you can pay for a celebration of Brett Kavanaugh, but you can't do both."
Facebook has been criticized over its links with Kavanaugh before. The social media giant's head of global public policy, Joel Kaplan, was seen sitting behind Kavanaugh during his 2018 Senate judiciary committee hearing, which caused "anger and shock among many Facebook employees," according to The New York Times.
In a note to Facebook staff, Kaplan later apologized, stating: "I recognize this moment is a deeply painful one."
Facebook spokesperson Andy Stone told the investigative website Popular Information that his company supports a wide range of organizations including the American Constitution Society, the Federalist Society's liberal counterpart.
He said focusing on its backing of the Federalist Society was "to distract from our lengthy track record of supporting groups from across the political spectrum."