Christine Blasey Ford's Testimony Against Brett Kavanaugh Could Be Disastrous for the Republican Party
Judge Brett Kavanaugh's nomination to the Supreme Court was once seen as a big win for the Republican Party, providing a much-needed opportunity to energize its voter base before November's crucial midterm elections.
But now, confirming Kavanaugh may do the party more harm than good after the allegation brought forth by Christine Blasey Ford, who has accused the judge of sexually assaulting her during a party more than three decades ago.
Ford detailed the alleged assault in a confidential letter submitted months ago to a senior Democratic lawmaker. She alleged that Kavanaugh, then 17, was "stumbling drunk," pushed her down onto a bed and tried to remove her bathing suit and the clothes covering it as one of Kavanaugh's friends, Mark Judge, looked on. At one point, she said, she feared for her life.
Kavanaugh has vehemently denied the allegations, saying in a statement that he "did not do this back in high school or at any time."
The situation eerily echoes Anita Hill's testimony at the confirmation hearing of Justice Clarence Thomas in 1991, and not only because three senators who could question Ford on Monday were among those who questioned Hill 27 years ago: Chuck Grassley, Orrin Hatch and Patrick Leahy.
Hill, who accused Thomas of sexually harassing her while she worked for him, faced an interrogation that included everything from the size of Thomas's penis to his comments about women's breasts.
At one point, Republican Senator Arlen Specter asked Hill why she would have been upset if the judge had talked to her about "women's large breasts."
"That is a word we use all the time," Specter told Hill during the testimony. "That was the most embarrassing aspect of what Judge Thomas said to you?"
The exchange angered women across the country, and Hill's testimony is often credited with inspiring the "Year of the Woman" in 1992.
This year is also shaping up to be a historic one for women, as a record-breaking number of them are running for office in the upcoming midterms. Twenty-three women, 15 of them Democrats, are contenders for seats in the Senate this November, and more than 230 women, 187 of them Democrats, are competing for House seats.
Ford will also be testifying at a time when #MeToo is sweeping the nation, leaving behind a trail of once-powerful men like Harvey Weinstein and Bill O'Reilly. As one Republican strategist told Newsweek on Tuesday, women are already "angry as hell," and this time the damage to the Republican Party could be even more disastrous.
"Women are energized, they are angry, and they are fed up—and that was before #MeToo," Evan Siegfried, a GOP strategist, told Newsweek. In light of Ford's allegations, Siegfried, once an ardent supporter of Kavanaugh, has called for the judge to withdraw his nomination for the Supreme Court.
"If we go forward and rush through this confirmation or seem like we are not even sympathetic to Dr. Ford, I think it's more of that perfect storm of doing damage to the party not just in November but in the long term," he added.
Siegfried noted that the longer this confirmation goes on, the "fewer and fewer wins" he sees the Republicans gaining from the advantages of nominating a judge to a lifetime position.
Women are already abandoning the Republican Party in record numbers, and Siegfried said the Kavanaugh situation will only "add more fuel to the fire." The fact that all of the Republican senators involved in the questioning of Ford are male won't do the party any favors in making up for the female voters turned off by the election of Donald Trump.
The president has faced his own share of allegations of sexual misconduct and assault by at least 19 women, but he has denied any wrongdoing, calling the women liars. Accusations have ranged from alleged groping to peeping at teenage beauty pageant contestants. Republicans in Congress have largely failed to push Trump on the allegations, and even supported Senate candidate Roy Moore despite accusations of sexual misconduct or impropriety by eight women, six of whom were underage at the time of the alleged incidents.
Meghan Milloy and Jennifer Lim, the co-founders of the policy organization Republican Women for Progress, agreed that the allegations against Kavanaugh need to be taken seriously by conservative lawmakers.
"If the administration remains tone-deaf on this topic and follows the president's example so far of not really wanting to give Dr. Ford a chance to speak, I think we'll really see the results of that in November," Lim said.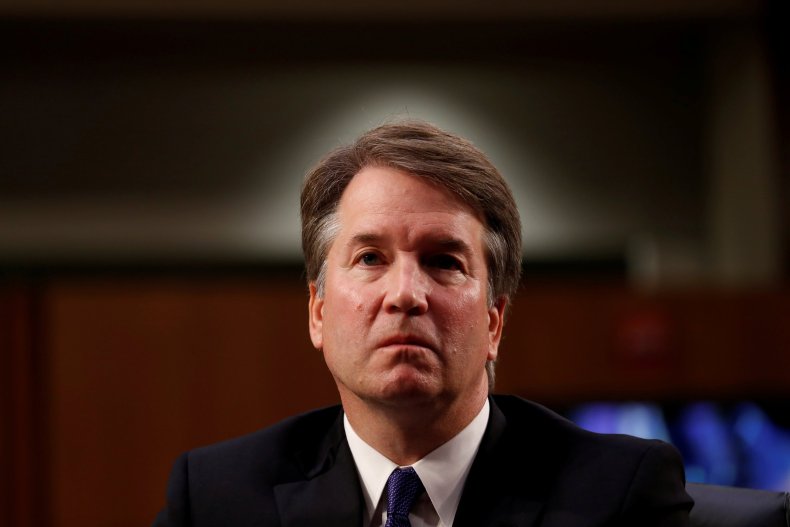 Recent polls have suggested that a large number of white suburban Republican women—a demographic that helped elect Trump in 2016—are questioning their place within the Republican Party. And according to a recent NPR/PBS/Marist poll, nearly six out of 10 suburban women strongly disapprove of the president's performance.
Republicans already got a glimpse of what can happen when they lose the vote of suburban women. In 2016 and 2017, the party lost major ground in Virginia, most notably the defeat of its Trump-supporting governor, Ed Gillespie.
"So many Republican women are so supportive of #MeToo, and now we're just seeing another middle-aged white guy being able to push through the system with no repercussions for bad behavior," Milloy said.
Regarding Ford's upcoming testimony, Milloy said that she wasn't "convinced that this will go any better than the Anita Hill hearings. And that's sad to say in 2018."
Ford was expected to testify as early as Monday, September 24, but has now requested that an FBI investigation be conducted before she sits down with the Senate Judiciary Committee. Ford's attorney argued in a letter addressed to the committee that "a full investigation by law enforcement officials will ensure that the crucial facts and witnesses in this matter are assessed in a non-partisan manner, and that the Committee is fully informed before conducting any hearing or making any decisions."
Representative Nita Lowey, who was among the seven female Democrats who stormed Capitol Hill in 1991 demanding that Hill be allowed to testify against Thomas, told Newsweek that everyone in Washington, D.C., is following the confirmation hearing "very carefully."
"The White House and Republican leadership cannot try to bulldoze the confirmation of Kavanaugh," she said. She added that because Kavanaugh and Ford would both be testifying under oath—which was not the case with Hill and Thomas—there is an "increased pressure" placed on the committee to make the right decision.
Lowey, who watched an all-male Senate Judiciary Committee interrogate Hill, emphasized the importance of now having women on the committee. Of the 21-member committee, four of them are now women, all of them Democrats.
"It was certainly different then without female members. [The men] certainly didn't take Thomas's rhetoric under oath, nor did they pay any attention to what Hill was saying under oath," she added.
Siegfried said there were five or six conservative lawmakers to keep an eye on during Ford's testimony, as they are the most likely to vote against Kavanaugh's confirmation. Those senators include Tim Scott, Ben Sasse, Susan Collins, Lisa Murkowski, Jeff Flake and Bob Corker. The latter two are retiring after their current terms, and do not have to worry about re-election in November.
"Republicans need to ask the right questions," Siegfried added about the expected hearing. "Because from the 30,000-foot view, it's a bad situation."
This story has been updated to include Ford's request for an FBI investigation and a statement from her attorney.