Brett Kavanaugh Has 'Energized' Donald Trump Impeachment Petition as It Nears 6 Million Signatures
A campaign pushing for President Donald Trump to be impeached has received a big boost from the controversy plaguing his Supreme Court nominee Brett Kavanaugh.
The Need to Impeach campaign received 10,882 signatures on its online petition urging Congress to begin impeachment proceedings against Trump on Wednesday alone, thanks to advertisements it ran against Kavanaugh, Kevin Mack, the campaign's lead strategist, told Newsweek on Thursday.
There was a roughly 20 percent increase in petition signers in the past week compared to the previous week, campaign spokesman Erik Olvera said. The anti-Kavanaugh ads have helped the campaign, which usually gets 3,000 new signers per day, come very close to reaching 6 million signatures.
The campaign has run more than 200 different ads against Kavanaugh on social media since July 10, according to Olvera. Some of the ads centered on a Senate Judiciary Committee hearing in which Christine Blasey Ford detailed being sexually assaulted by Kavanaugh at a high school party in the 1980s. Kavanaugh denied the allegations and played down his drinking habits as a teenager.
"We saw him mislead the Committee multiple times during his testimony, and we know he's committed to ruling that President Trump is above accountability. We cannot allow him to join … our nation's highest court," read one ad by Tom Steyer, the campaign's founder, and provided a link with information on calling senators. Steyer, a major Democratic donor, has invested more than $210,000 on ads denouncing Kavanaugh.
The ads have reached more than 1.7 million people, according to the campaign.
"Our basic message is that Kavanaugh perjured himself," Mack said. "He misled senators about his background, and this is just an outgrowth of what we see in Donald Trump's America: that people think it's OK to lie to achieve whatever goals they want to achieve."
Besides the petition to impeach Trump, the campaign circulated a second one, against Kavanagh's confirmation, that has received more than 297,000 signatures. The ads also brought more than 72,000 signatures from people who believe Ford and two other Kavanaugh accusers, and more than 51,000 emails to senators and 28,000 calls to senators.
"We've energized people across the country to take actions regarding Donald Trump," said Mack.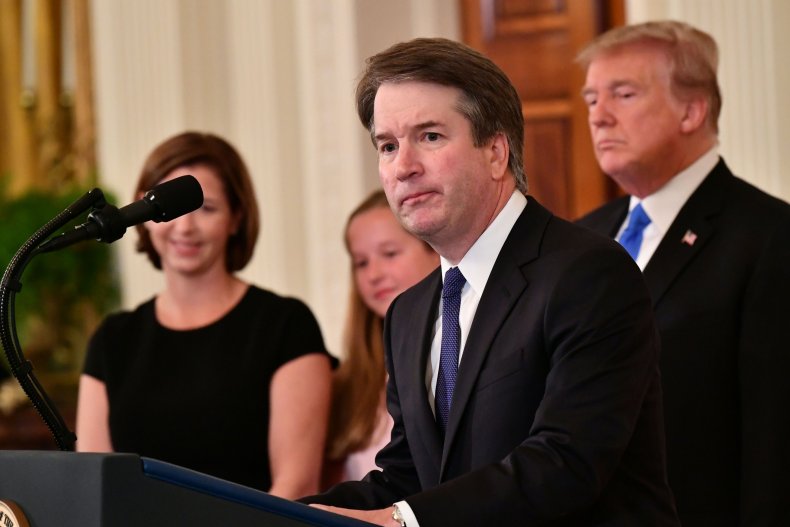 Debate surrounding Kavanaugh has sparked one of the biggest spikes, if not the biggest, in signatures for Trump's impeachment, Mack continued. Other events that drew petition signatures were a joint press conference in Helsinki in which Trump refused to criticize Russian President Vladimir Putin after Paul Manafort, Trump's onetime campaign chairman, was found guilty on eight criminal counts, and when Trump's former lawyer Michael Cohen pleaded guilty to federal fraud charges, including campaign violations he said were enacted at the direction of the president.
"The more crazy that comes out of the White House, the better it is for Democratic engagement across the country," Mack said.
However, the Kavanaugh storm has swung both ways. Republicans who support Kavanaugh have grown more enthusiastic about voting in the November midterm elections, which Democrats previously seemed to have an edge on, various polls this week showed.
"There are a lot of politics being played with the Supreme Court, which is unfortunate for our democracy," said Mack. "The more Trump and Kavanaugh and others play games with our democracy, the larger the price they'll pay on Election Day."