Brett Kavanaugh Hearing: These Are the Seven Senators Whose Votes Will Decide Whether Kavanaugh Will Be Confirmed
Christine Blasey Ford will testify, in a highly anticipated Senate hearing Thursday, that she believed Supreme Court candidate Brett Kavanaugh was going to rape her at a high school house party in 1982. She is now one of three women to have publicly accused the Judge of sexual assault or misconduct.
But despite high-profile Republicans (including President Donald Trump at a news conference Wednesday evening) indicating that they would make up their minds about the alleged attack after the hearing, Senate Majority Leader Mitch McConnell said that he had enough votes to proceed with Kavanaugh's confirmation on Friday.
There are currently 43 Republicans who have pledged their vote to Kavanaugh, seven short of the 50 votes needed in the Senate. There are 51 Republicans, 47 Democrats and 2 independents who caucus with the Democrats. Below are the Republicans, and Democrats, who could make or break Kavanaugh's lifelong appointment to the U.S. Supreme Court.
Republicans
Senator Lisa Murkowski, Alaska
Murkowski is a moderate Republican and often a swing voter on party-line issues, such as health care. She has said that she believes it is important to listen to both Ford and Kavanaugh before making up her mind about whether to confirm Kavanaugh.
"We are now in a place where it's not about whether or not Judge Kavanaugh is qualified. It is about whether or not a woman who has been a victim at some point in her life is to be believed," she told The New York Times onTuesday. She has also said she's in support of delaying a vote for an FBI investigation into the allegations against Kavanaugh.
Murkowski, a supporter of abortion rights, may also disagree with Kavanaugh's fundamental views on Roe v. Wade.
Senator Susan Collins, Maine
Collins, another Republican supporter of abortion rights, is considered the other Republican swing voter in the Senate.
Collins has said she believes that Ford and Deborah Ramirez, Ford's second accuser, should be heard by the Senate before there's a vote. Still, the senator has not indicated if she intends to vote one way or the other.
Senator Jeff Flake, Arizona
The outgoing senator was a friend and fan of Kavanaugh's until the sexual misconduct allegations became public. On the Senate Judiciary Committee he praised the judge and seemed to indicate he would vote for him.
After the allegations of sexual misconduct, however, he asked for a delay in the confirmation to allow the women who accused Kavanaugh of sexual assault to testify. On the Senate floor Wednesday, he indicated that his mind was not made up.
"I will have to listen to the testimony before I make up my mind about the testimony," he said. "I hope that tomorrow's hearing gives us some guidance on how we are to vote."
As an often vocal critic of President Donald Trump's and without the pressure of running for re-election, Flake has proved that he has no qualms about breaking with his party.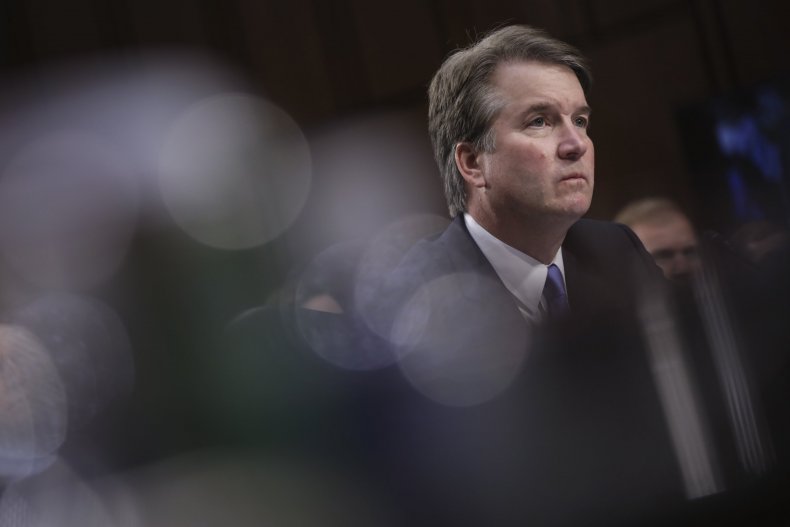 Senator Bob Corker, Tennessee
Corker is another outgoing senator who has had his fair share of disagreements with Trump. He has repeatedly called for Ford to testify to the Senate and indicated that he would wait to hear her speak to make up his mind on the confirmation.
But his vote seems to lean toward Kavanaugh. He's said he has no reason not to believe the judge's denials, and that he doesn't know if it's possible to investigate a claim from 1982.
Democrats
There are currently 10 Democrats up for re-election in red states that voted for Trump in the 2016 presidential election. Some of these Democrats have indicated that they're still undecided on Kavanaugh.
Senator Joe Manchin, West Virginia
The moderate Democrat faces a tough re-election this year, and may need to cross party lines to remain in the Senate. He was one of only three Democrats to join Senate Republicans in affirming Trump's previous Supreme Court nominee, Neil Gorsuch, last year.
The senator has indicated that his mind is not yet made up about Kavanaugh.
"All this is extremely serious, and we take it very serious, but again these are allegations that are made and they have to come forth and prove their statements and he has a right to clear himself," Manchin told Talking Points Memo Tuesday.
Senator Heidi Heitkamp, North Dakota
Heitkamp also voted Gorsuch onto the Supreme Court last year and faces an uphill election in her home state this year. Republicans see her as a Democratic swing vote and have been pushing for her to confirm Kavanaugh.
She has said her mind is not yet made up on Kavanaugh. "It takes courage for any woman to speak up about sexual assault, and we need to respect Prof. Ford by listening to her and hearing her story," she wrote on Twitter.
The candidate has been relatively tight-lipped on how she intends to vote, while her Republican competitor, Kevin Cramer, has pledged his full support for Kavanaugh.
"This is a very serious allegation, which should be thoroughly investigated, and it's up to the Senate Judiciary Committee to do just that," said Heitkamp last week.
Senator Joe Donnelly, Indiana
Donnelly also voted for Gorsuch last spring, and the anti-abortion rights Democrat likely has no difficult with Kavanaugh's views on Roe v. Wade.
Still, he has said that he's keeping an open mind.
"The allegations raised by Dr. Ford and Ms. Ramirez against Judge Kavanaugh are serious, merit further review, and I believe should be investigated by the FBI," he said in a statement. "I will continue to get as much information as I can, including by following Thursday's scheduled hearing."