Democrats Cry Foul, but Brett Kavanaugh's View of Independent Counsels Is Unrelated to Mueller Probe, Experts Say
Donald Trump's Supreme Court nominee Brett Kavanaugh dislikes independent counsels and told a group of conservatives in 2016 that he wanted to "put the final nail" in the ruling that upheld their constitutionality.
Now, leading Democrats including Chuck Schumer and Cory Booker are using Kavanaugh's statement to spark an outcry before his Senate confirmation hearing. The senators have argued that if he were appointed to the Supreme Court, Kavanaugh would aim to declare Robert Mueller's special counsel investigation on Russian election meddling unconstitutional.
But law experts told Newsweek that Kavanaugh's view on independent counsels has nothing to do with special counsels or Mueller's probe and, in fact, the two types of federal investigations are completely different.
Kavanaugh first said that he would support overturning the ruling on independent counsels during an event hosted by American Enterprise Institute, a right-leaning Washington think tank.
"It's been effectively overruled but I'd put the final nail in," Kavanaugh responded in comments reported by CNN Wednesday, resulting in a small cheer from audience members.
Morisson v. Olson is a 1988 ruling that effectively upheld the constitutionality of the creation of independent counsels to investigate and possibly prosecute government officials for violating federal criminal laws. The law was challenged as a violation of the separation of powers but the justices voted overwhelmingly in favor of upholding the law in a 7-1 decision. The sole dissent came from late Justice Antonin Scalia, who argued that independent counsels would result in a severe imbalance of powers.
The law expired in 1999 and the responsibility of appointing special counsels became regulated by the Department of Justice.
Kavanaugh's comment is receiving more attention as he faces Senate confirmation and as Robert Mueller's special counsel team continues its investigation into Russian interference in the 2016 presidential election and possible collusion with the Trump campaign.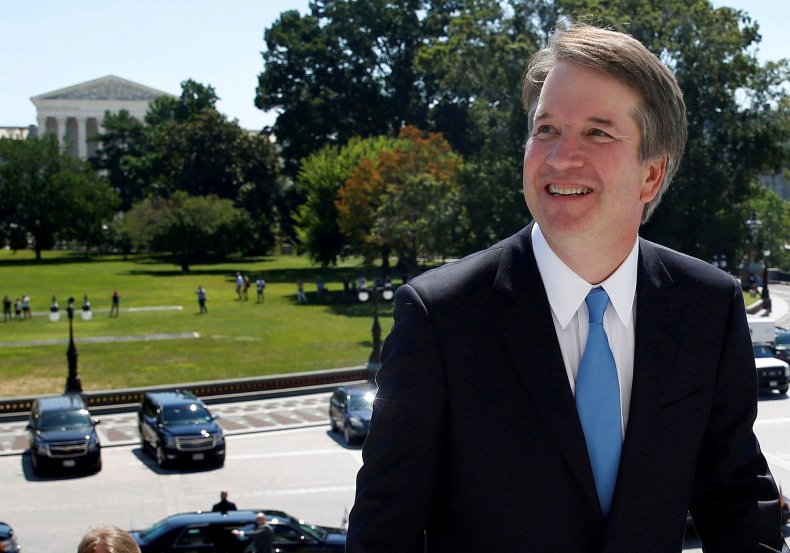 Since Trump announced Kavanaugh as his top pick to replace retiring Justice Anthony Kennedy, Democrats have been eager to halt his nomination and are using Kavanaugh's statement on the ruling to warn of the possible consequences of his appearance on the high court.
Booker, a senator from New Jersey, tweeted the video of Kavanaugh's 2016 interview to his social media followers and has been outspoken in his criticism of Kavanaugh when it comes to independent counsels.
The senator immediately responded to Kavanaugh's nomination by releasing a statement slamming Trump for nominating a judge who has a "long-established view" that presidents should not be criminally investigated while in office.
Booker wrote that the nomination of Kavanaugh essentially means that "Trump has just nominated a justice who has already reached conclusions on these serious questions. That should raise enormous red flags."
Senate Minority Leader Chuck Schumer echoed Booker's sentiments on the matter, saying on Wednesday that the fact that Morrision v. Olson is the first case Kavanaugh would think to overturn is "deeply, deeply troubling" and called for the nominee to "recuse himself from having anything to do with the Mueller probe.
But law experts want to make it clear that there are critical distinctions between an independent counsel and a special counsel, as is the case in Mueller's investigation.
"Special counsels are an entirely different creature," Jonathan Turley, a law professor at George Washington University, told Newsweek. "They are special but they are not independent."
What Turley means is that the1988 ruling that Kavanaugh is referring to gave a large amount of freedom to the counsel in its investigation, with barely any rules or oversight in how the counsel proceeded with its examination. Special counsels, on the other hand, are regulated and consistently checked on by the attorney general within the Department of Justice.
While the expert says that there is "no doubt that this is likely to be a significant subject" in Kavanaugh's confirmation hearing, it is important lawmakers recognize these differences before making assumptions that Kavanaugh would automatically deem Mueller's investigation unconstitutional.
Still, Turley said people are correct in assuming that Kavanaugh would be very supportive of Donald Trump in this probe if he were to be appointed to the Supreme Court.
"There's no question Kavanaugh has a robust view of presidential power and he is sympathetic to presidents who face criminal or civil investigations," he said. But that deference is also matched by Kavanaugh's loyalty to federal agencies.
David Fontana, a law professor at George Washington University, agreed with Turley and said that there is no way to possibly say that Kavanaugh would automatically view the Mueller probe as unconstitutional. Even if a five-justice majority featuring Kavanaugh were to overrule the Morrison v. Olson decision it is still likely that Mueller's investigation will be found constitutional, Fontana told Newsweek.
Plus, one of the only ways that the Russia investigation will make its way to the Supreme Court any time soon will be if Mueller decides to issue a subpoena or if Mueller were to be taken off the case and could argue wrongful termination before the court, experts say.