Republican Senator's Staffers Receive Violent Threats, Vulgar Calls Over Brett Kavanaugh Nomination: Report
The offices of Republican Senator Susan Collins of Maine have reportedly been fielding threatening, profanity-laced phone calls and letters, telling her to vote against the confirmation of Brett Kavanaugh to the Supreme Court.
With Kavanaugh's testimony to the Senate Judiciary Committee completed, Senate Majority Leader Mitch McConnell said he planned to hold the judge's confirmation vote near the end of September. The new Supreme Court session begins on October 1.
At the center of Kavanaugh's hearing were abortion rights, and the Court's landmark decision in Roe v. Wade. In leaked emails that were originally deemed "committee classified," Kavanaugh suggested the ruling could be overturned, saying he was "not sure that all legal scholars refer to Roe as the settled law of the land." It raised the hackles of critics and abortion rights advocates, and contradicted Kavanaugh's previous statements to the Court.
Although Collins has not said which way she planned to vote, she's viewed as a crucial GOP swing vote against Kavanaugh's confirmation. Although representing a primarily blue state, Collins won re-election in 2014, receiving more than double the votes of her Democratic challenger. She has been a supporter of abortion rights, and has pledged to oppose candidates who don't support Roe v. Wade.
Her office and its staff have received threats over how she might vote in Kavanaugh's confirmation, according to voicemails and letters obtained by NBC News and local NBC-affiliate WCSH.
"If you care at all about women's choice, vote 'no' on Kavanaugh. Don't be a dumb bitch," one caller said. "F**k you, also. "
Another caller said Collins was "a feckless, feckless, feckless woman standing there letting Trump and his appointees steal the right to choose what women do with their bodies. And you stood by, 'Oh, I don't know. I'm so naive.' F**k you. F**k you," the caller said.
A letter sent to her office in Portland, Maine, read: "If you vote for Kavanaugh, EVERY waitress who serves you is going to spit in your food, and that's if you're lucky, you f**king c**t! Think of that every meal."
Another caller told one of Collins's 25-year-old female staffers that he hoped she would be raped and impregnated, according to another voicemail that was provided to The New York Times by Collins's spokeswoman Annie Clark.
Collins's office has also received more than 3,000 coat hangers from protesters, symbolizing the abortion methods women were forced to resort to before Roe v. Wade, when abortion was illegal.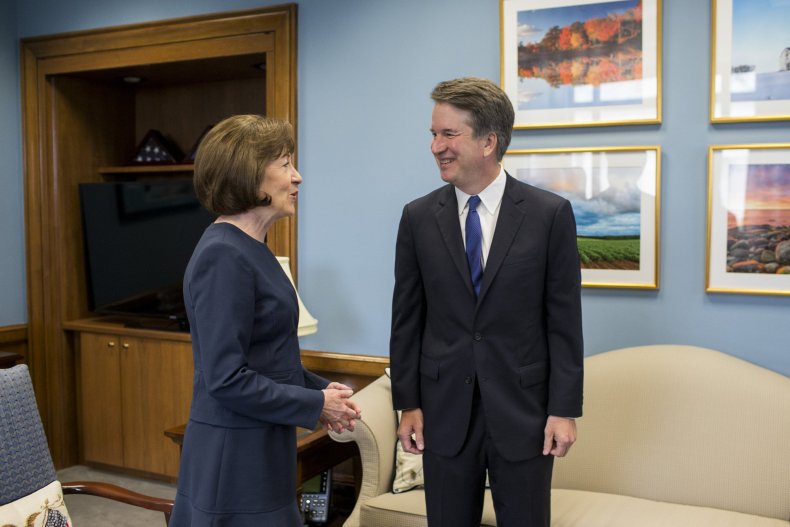 A crowdfunding campaign has pledged to donate whatever it raises to Collins's opponent in 2020 if she votes "yes" to confirm Kavanaugh. As of Tuesday, the "Be a Hero" campaign had raised more than $1 million. The campaign, which has pledged to return the money to donors should Collins vote against Kavanaugh's confirmation, was organized by Mainers for Accountable Leadership, Maine People's Alliance and ALS patient and advocate Ady Barkan.
"Your swing vote could decide whether a rubber stamp for Trump's anti-health care, anti-woman, anti-labor agenda gets confirmed to the Supreme Court—costing millions of Americans their health care, their right to choose, and their lives," the campaign said online. "If you fail to stand up for the people of Maine and for Americans across the country, every dollar donated to this campaign will go to your eventual Democratic opponent in 2020. We will get you out of office."
In a statement, Clark called the crowdsourcing fund's methods "bribery" and "extortion."
"Bribery will not work on Senator Collins. Extortion will not work on Senator Collins. And anybody who thinks these tactics would work on Senator Collins obviously doesn't know her," Clark said. "Senator Collins will make up her mind based on the merits of the nomination. Threats or other attempts to bully her will not play a factor in her decision making whatsoever."