Brexit Architect Dominic Cummings Going Leaves 'Power Vacuum' in Government
British Prime Minister Boris Johnson's chief adviser Dominic Cummings will leave his position at the end of 2020, Sky News and BBC News have reported.
Cummings, who was integral to the Vote Leave campaign in the Brexit vote and in the 2019 election result, was Johnson's right-hand-man and is seen as having a major hand in big policy decisions across government. His departure, swiftly following the resignation of ally Lee Cain, Johnson's director of communications, leaves a hole at the top of the prime minister's team.
"It matters hugely... this has created a huge power vacuum at the heart of Number 10," Sir Craig Oliver, former Prime Minister David Cameron's director of communications, said. "There'll be a huge number of people trying to advise the prime minister on how you fill that vacuum and what direction you take. What needs to happen is Boris Johnson be the person to fill it. He needs to make clear that there is this new direction, that there is control at the center."
Cummings was a polarizing figure and was loved by certain sections of the government while being despised by other parts of it. Johnson's fiancee Carrie Symonds - a former head of media for the Conservatives - is rumored not to be a fan of Cummings and many Conservative MPs have been openly critical of the way he operates.
"The Conservative Party is not a happy place at the moment," Sir Craig said. "There are many parts of it that feel they've not been listened to by the government, often the tone from Number 10 is dismissive and aggressive. One of the challenges Boris Johnson is going to have going forward is making sure those groups feel listened to but also led, that there is a clear direction.
"Sometimes, campaigning goes too far, and [the idea that] the ends justify the means come across too often but he's definitely an incredibly effective person. There will be elements of him that are missed and elements that people will celebrate going."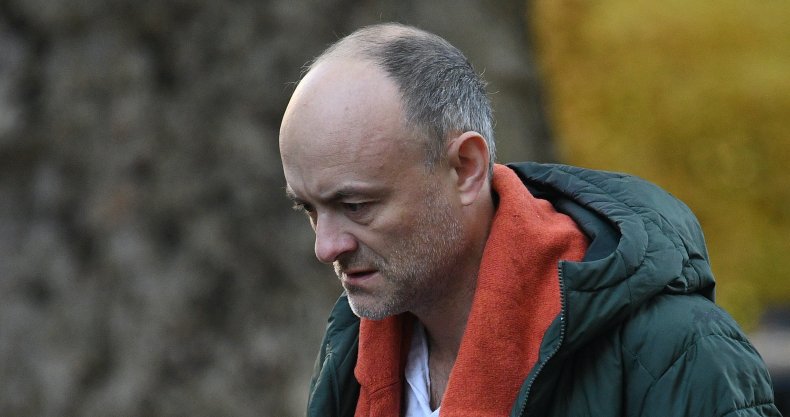 There are a number of different whispers circulating Westminster about the reason behind the timing of his exit. The "Vote Leave gang", made up of leaders of the Brexit campaign close to Johnson, were upset by the hiring of Allegra Stratton, a former ITV political correspondent, as government spokesperson in a similar role to White House press secretary Kayleigh McEnany. Some commentators saw this hire as the beginning of the end of Cummings' unquestioned power.
Cummings himself has said that he always intended to leave this job at the end of 2020. It is unclear if this is really the case, with rumors around Westminster alleging that he is jumping before he was pushed as Johnson looks for a "reset" to his leadership and to get all members of Parliament back onside as Brexit deals are finalized and the full economic effects of COVID-19 will be felt.
Johnson is facing pressure from all sides on his leadership, with some rumors - which Newsweek reported first in September that are now more widespread - that the party may remove him as leader before the next general election. Cummings' going makes party cohesion easier but policy direction and clarity more difficult, Johnson critics have said.
After the decisive election result at the end of 2019, Cummings had hoped to take more of a backseat and focus on rewiring the structure of government and centralizing much of its operations. There was particular criticism for his investigations into how arms-length bodies were operating.
"We want to improve performance [in government] and make me much less important, and within a year largely redundant," Cummings wrote in a blog post in January 2020. "At the moment I have to make decisions well outside what [American investor and Warren Buffett ally] Charlie Munger calls my 'circle of competence' and we do not have the sort of expertise supporting the PM and ministers that is needed. This must change fast so we can properly serve the public."
His desire to take a backseat was harmed after he took the driving seat all the way from London to the north of England when he had a suspected case of COVID-19. After calls for his resignation, officials said he did what any father would do. Then he held a press conference where he apologized if anyone was upset by his actions but said he did not regret what he did. Given the public reaction around this story, it is surprising that he stayed then and is now choosing to go.
"The reality is that he was extremely effective in persuading people to vote leave," Sir Craig says. "He was also extremely effective in the last general election. There are real achievements to him
"Do the tactics that work so well in a campaign actually work well in government, where things are nuanced, go on longer and you have to build relationships? If you have enemies then it's a problem because people are around for a long time. There needs to be a shift in how you govern and how you approach things rather than this relentless campaign. If Boris Johnson is to prosper, that's what's needed."