BBC's Brexit Debate: Five Things We Learned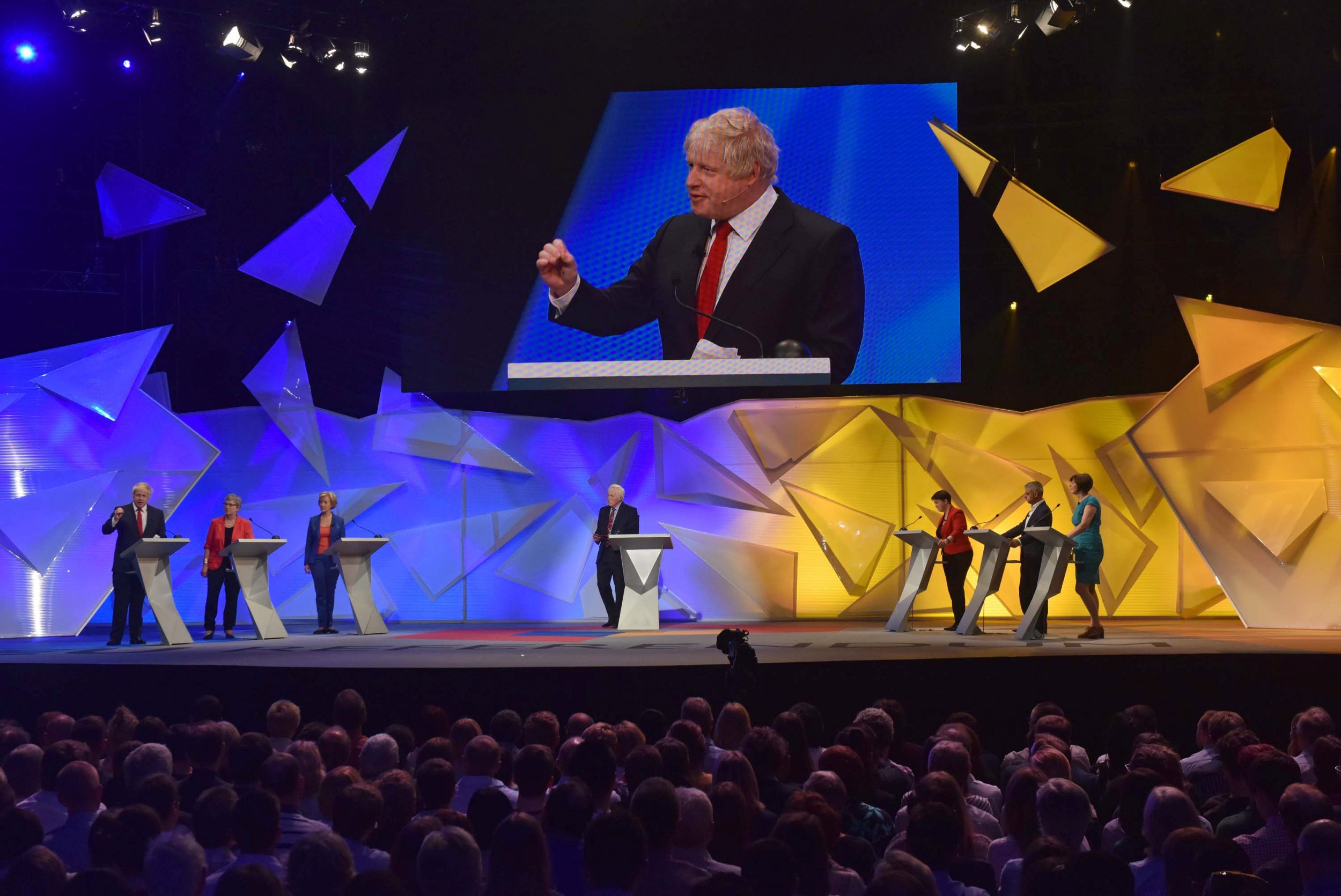 Tuesday saw the two sides of Britain's EU referendum debate squaring off at Wembley Arena in London, in front of an audience of thousands of voters—pro-Leave, pro-Remain and undecided.
Leave put up ex-London Mayor Boris Johnson , Labour MP Gisela Stuart and Energy Minister Andrea Leadsom to fight their corner, while the pro-EU side had newly-elected Labour London Mayor Sadiq Khan, Scottish Conservative leader Ruth Davidson, and Frances O'Grady, General Secretary of the TUC. Here's five things we learned:
The people against the elites?
One of the "Leave" campaign's favorite lines of attack is that "Remain" represents the interests of the elite; the government, big corporations, and the international political and policy establishment. Tonight, the pro-EU side had a good shot at combatting that; all three of their main panellists grew up on a council estate, and a senior source in the campaign told Newsweek before the debate that, where the BBC had requested a business voice, they pushed for trade unionist O'Grady to highlight the jobs they say depend on the EU. O'Grady certainly lent the campaign some much-needed grit, railing against the "bankers" who "crashed the economy" and warning that Brexit would be a "gamble" with livelihoods. The question is whether it will be enough to coax Labour voters to the ballot box, and have them vote to stay in the bloc.
Project fear forever
Boris's railing against "project fear" got one of the biggest cheers of the night from the crowd. And while Khan began the debate claiming his side would "make the positive and patriotic" case for a remain vote, it didn't take long for the warnings/scaremongering (delete depending on which side you're on) to come out. In particular, the pro-EU side have been doubling down in recent days on the line that a vote to leave is irreversible, something that David Cameron hammered home in a campaign appearance in front of Downing Street today. On Tuesday night, it fell to Davidson to push this line as often as she could, insisting that "You cannot change your mind on Friday," and claiming more times than Newsweek could possibly count that Leave did not have a "plan" for a post-Brexit economy. "That's not good enough," she said. And repeated. And repeated.
Get Boris
An ITV debate earlier in the campaign saw pundits criticize the Remain campaign for focusing relentlessly on criticizing Johnson. There was less of that on Tuesday night, but Davidson in particular seemed keen to have a pop, railing at him almost every time he spoke in the debate's early sections. Characteristically strident and better-briefed than Remain's spokespeople have been in previous outings, she scored a good hit on him by quoting an LBC interview in which he claimed Turkey was unlikely to join the EU ("What's changed in two months, Boris?" Davidson cried). But Boris, whose own performance was characteristically ebullient, did a good job of laughing off the attacks. "I'm a Turk!" he grinned, when he was accused of stoking anti-Turkish sentiment. And, wearing a wry smile, he hit back at Davidson's claim that there is no "silver bullet" for controlling immigration with the shameless, simple message: "take back control!"
What's the point?
Both sides made points on a theme that makes you wonder why Britain is even having this debate at all: a lot of what's being talked about rests in Westminster, not Brussels. Leadsom responded to the Remain campaign's questions on workers' rights by pointing out that much legislation that protects workers and safeguards equality was passed by the British government (or, as Stuart put it, "I find it extraordinary that I'm being told that I can't trust you the voter to actually get a government in that protects workers' rights.") Meanwhile, O'Grady punched back at the Leave campaign's griping about immigration depressing wages by pointing to the impact of Conservative cuts passed by the British parliament on public sector pay and calling for more action in Westminster to help workers.
Something to prove
Both Khan and Davidson are rising stars of their parties, occasionally mentioned as having Prime Ministerial potential, and both showed why on Tuesday. Khan walked in to the biggest cheer, and confirmed his new status as a political A-lister with a strong, combative performance. He had some of the better hits on Boris, with the audience loving his admonishment of the Leave camp's "project hate" on immigration. But Davidson was probably the standout performer. Her cry of "You deserve the truth!"—addressed straight to the audience—earned their biggest cheer.