Brexit Crisis: Will Theresa May Still Be Prime Minister When Donald Trump Visits?
The political chaos of Brexit is threatening to bring down British Prime Minister Theresa May, a matter of days before she is due to host President Donald Trump on his controversial first visit to the U.K. The sudden resignation of Brexit Minister David Davis over May's roadmap for leaving the European Union left the prime minister facing attacks from both inside and outside her Conservative Party.
Trump's visit already threatens to embarrass May as Trump is kept away from massive protests, forcing the president to spend most of his time outside London. But with the latest cabinet emergency, it is possible May will not even be prime minister when the unpopular president arrives.
The resignation of the Brexit minister threatens to open a chasm in May's Conservative—or Tory—government, with moderates calling for a "soft" Brexit on one side and extremists lobbying for a "hard" Brexit on the other. The split between the two camps has been evident since May replaced David Cameron in July 2016, but the lack of clarity around what Brexit actually means has forestalled a catastrophic schism and kept the Tories in power.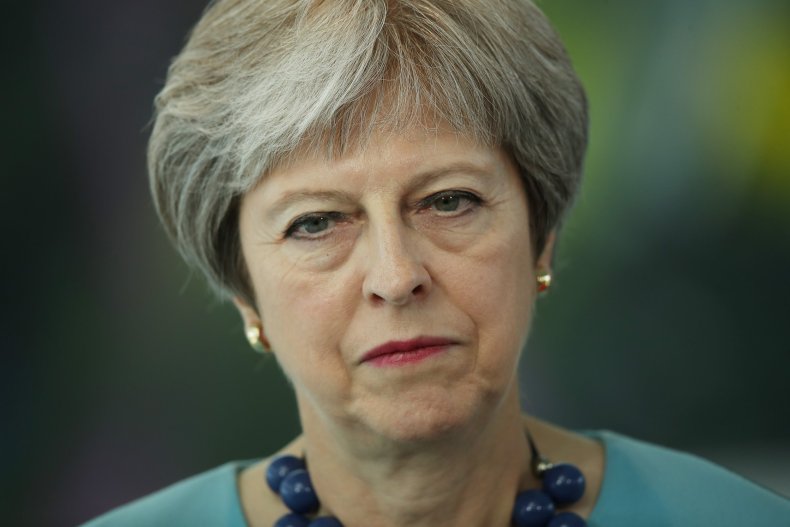 Davis had led the Brexit department since July 2016. Regularly blamed for Brexit's slow progress and a favored target of Remainers, Davis finally resigned after May presented her Brexit plan at the prime ministerial Chequers estate on Friday. Dominic Raab, a pro-Brexit MP who was previously housing minister, has been appointed as Davis' replacement.
The blueprint set out a soft Brexit in which the U.K. would remain closely aligned with EU legislation and trade policy. Pro-Leave lawmakers see the plan as a capitulation to EU interests, and believe such an arrangement would leave the U.K. as nothing more than a "vassal state." May and her Remain allies consider the approach "a precise and responsible approach to the final stage of the negotiations."
Davis' resignation was followed closely by that of his deputy Steve Baker, who was influential in the campaign to leave the EU and is a prominent member of the euroskeptic European Research Group—a powerful right-wing faction within the Tory party. Losing the support of this shadowy collective, which could have as many as 70 members in parliament, could threaten May's premiership.
Dissenters could trigger a Tory leadership contest if 15 percent of Conservative MPs—48 of the party's 316 MPs—submit letters of no confidence to the chair of the 1922 Committee Conservative parliamentary group.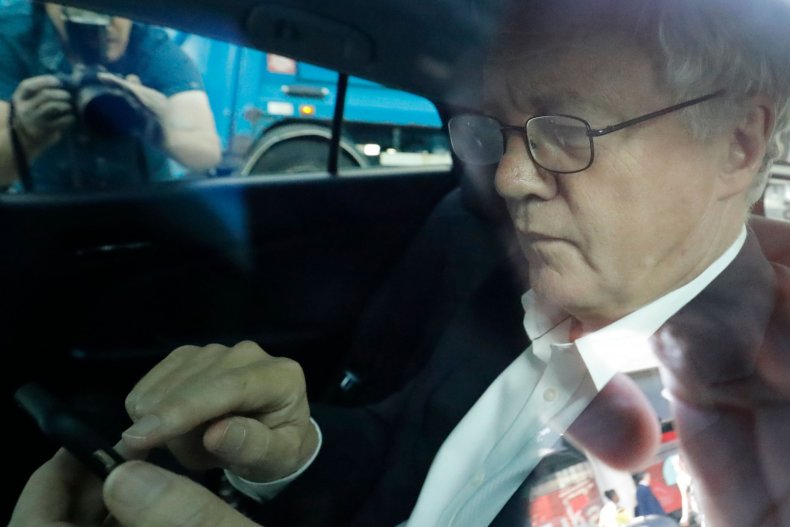 How many letters the chair has so far received is unclear and estimates vary significantly, from 25 to more than 40. May has struggled as party leader, suffering a humiliating election result in 2017 and being forced to fight several public battles with her own ministers over Brexit. As such, many of the letters will have been sent before Davis' resignation. The coming days will likely see the number of letters increase, though dissenting MPs can withdraw their letters if they no longer wish to challenge May's leadership.
May's opponents would still struggle to unseat her if a confidence vote is called. Her removal would require more than 150 MPs to vote against her, a number larger than the Leave or Remain devotees within the party.
But May will still need to push her Brexit plan through parliament. The prime minister managed to cobble together an alliance with the Northern Irish Democratic Unionist Party after her disastrous 2017 election result, giving her a governing majority. But if Davis' departure loses her the support of the hard Brexiteers, the prime minister may not have enough votes to get her vision across the line.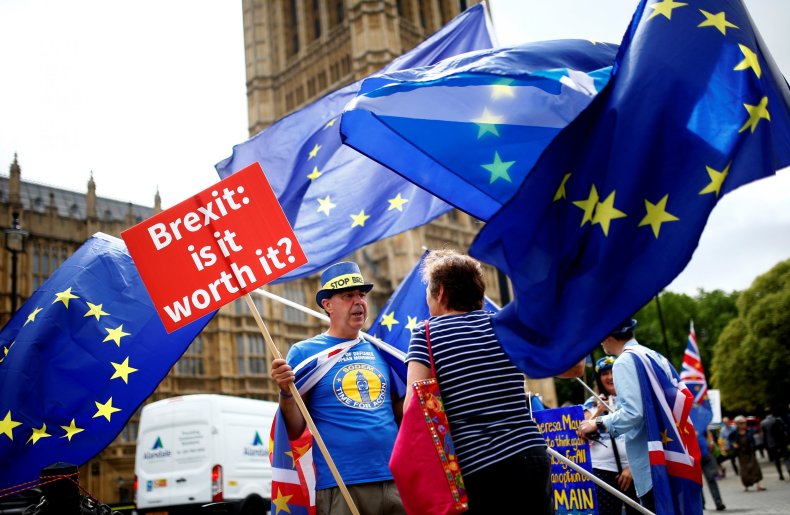 Tory MP Jacob Rees-Mogg, one of parliament's more prominent Brexiteers and considered a possible challenger for Tory leadership, told BBC radio "it would be very difficult" for May to secure enough support for her plan without Davis on side.
The other opposition parties smell blood. Labour leader Jeremy Corbyn claimed May is "incapable of delivering Brexit" while the Liberal Democrats lamented the "chaos of this Tory Brexit" and repeated calls for a second referendum. The Westminster leader of the anti-Brexit Scottish National Party, Ian Blackford, said there was "mounting evidence against a hard Brexit" and called on May to "see sense."
According to Sam Coates, a journalist at the Times newspaper, May's chief of staff will brief Labour Party MPs on the Chequers plan later today, in a sign that the prime minister realizes she needs votes from her opponents to secure parliament's backing.