Europe Washes Hands of Brexit Disaster, Demands Clarity: 'Time is almost up'
European Union officials reacted with dismay after British Prime Minister Theresa May's Brexit deal was comprehensively defeated in a Parliament vote on Tuesday night.
May was dealt a stunning parliamentary defeat as her Brexit blueprint was voted down, 432-202. This majority of 230 makes it the largest government loss for at least 100 years. The prime minister had already postponed the vote once in the hope that extra time would help her win over members of Parliament, but her efforts were in vain.
Read More: Brexit vote prompts British lawmaker to delay C-section
Fellow European leaders have voiced their disappointment that the deal—the product of two and a half years of tortuous negotiations between London and Brussels—was so resoundingly rejected.
The infographic below—created by Statista—illustrates the largest parliamentary defeats for British governments. As can be seen, May's loss on Tuesday was by far the largest.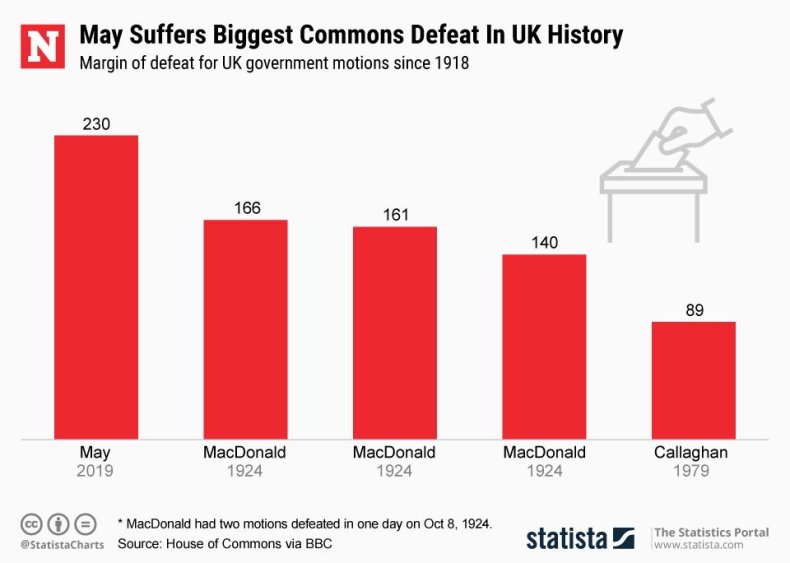 European Union officials had warned repeatedly that the agreement was the best one on offer for the U.K., but their encouragement and the threat of a chaotic no-deal Brexit was not nearly enough to get it over the line.
Diplomats in Brussels will now have to wait for clarification from London. May faces a vote of no confidence on Wednesday night, after Labour Party leader Jeremy Corbyn tabled the motion as soon as the result of the Brexit vote was announced.
If she survives—which appears likely—May will need to tell Parliament her proposed next steps, which may well include heading back to Brussels to try to eke out further concessions, or even delay Brexit Day, currently set for March 29.
EU Commission President Jean-Claude Juncker issued a statement on Tuesday night noting his "regret" at the outcome of the vote in London. He described the agreed arrangement as "a fair compromise and the best possible deal," arguing it is "the only way to ensure an orderly withdrawal of the United Kingdom from the European Union."
Juncker said the commission and chief negotiator Michel Barnier "have shown creativity and flexibility throughout" and urged the U.K. "to clarify its intentions as soon as possible."
"Time is almost up," he added, ominously.
Speaking in the European Parliament in Strasbourg, France, Barnier echoed Juncker's warning. He noted he and his colleagues "regret profoundly" the outcome of the vote, noting the agreement was "based on the red lines of the British government.
"It's up to the British authorities to indicate how we can take things forward," he said, according to The Guardian. "The agreement that we reached with the British government is a good agreement. It is the best possible compromise."
EU Council President Donald Tusk took an even more robust approach, seemingly suggesting it might now be time to cancel Brexit entirely. "If a deal is impossible, and no one wants no deal, then who will finally have the courage to say what the only positive solution is?" Barnier tweeted.
Other European leaders also weighed in on May's historic defeat, which has left British politicians desperately trying to bring clarity to a badly divided Parliament. French President Emmanuel Macron told reporters Tuesday he did not expect the EU to offer any sweeter deals. "I don't really believe in this, because we already went as far as we could," he said.
He then said British leaders must "figure it out yourselves" and wished them "good luck" in their efforts, The Associated Press reported.
German Chancellor Angela Merkel offered a more hopeful response to May's disastrous evening, the AP noted. Speaking to reporters in Berlin, she said she would "of course do everything to find an orderly solution.
"We still have time to negotiate," she added, "but we are now waiting to see what the British prime minister proposes."
With just 72 days to go until the U.K. is supposed leave the EU, time really is short. Before Tuesday's vote, there were whispers that Brexit Day could be postponed—a prospect that now seems more likely than ever.
This article has been updated to include an infographic.