13 Exasperated Tweets That Show Just How Done Brits Are With Brexit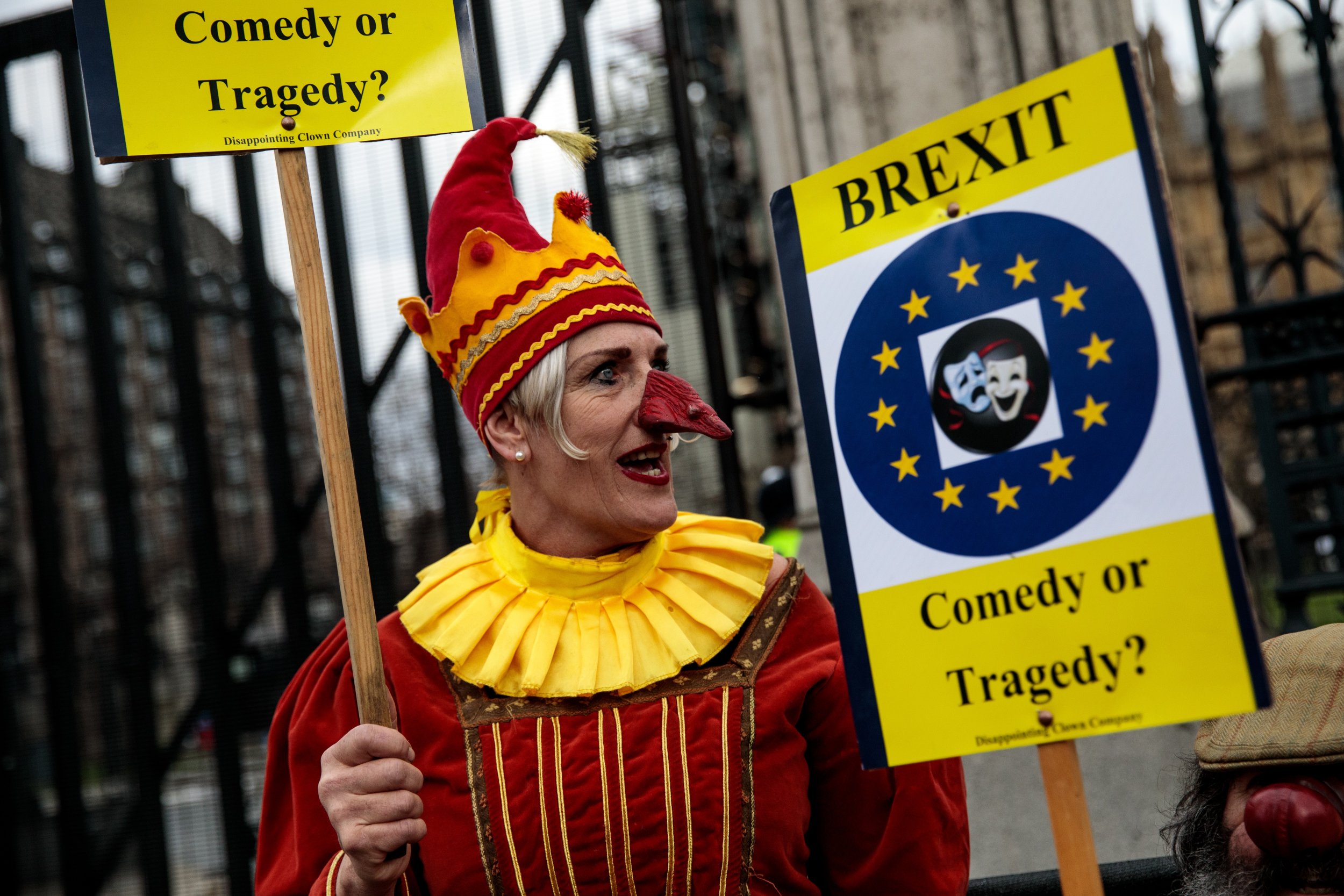 It has been a long, almost three years since Britain voted to leave the European Union. Days away from March 29, what was supposed to be the day Brexit would finally take hold, nobody seems to have any idea what is going on. In a nutshell, here's the situation:
Prime Minister Theresa May promised to resign if, on a third attempt, Parliament passes her much-hated Brexit deal, which in one vote suffered one of the biggest defeats in the legislative body's history. That's right: If she succeeds, she's out, but if she fails, she stays.
Parliament is sure about only one thing: It hates May's deal. Many Brexiteers say it will lock the country forever in the EU's power, while many Remainers want to have either a much softer Brexit, another referendum or revoke it altogether.
But general opposition to May's deal is where the consensus ends. On Wednesday, members of Parliament voted on eight different Brexit options—and rejected every single one of them.
The EU agreed to extend the Brexit deadline to May 22 if the prime minister's Withdrawal Agreement passed Parliament. Any later, and the British would have to take part in the European Parliament elections, a situation neither side is currently willing to accept.
If May's deal does not pass, the new deadline is April 12, when the U.K. faces leaving the EU with no deal, raising the prospect of a hard border between Northern Ireland and the Republic of Ireland, breaching the Good Friday Agreement and risking another civil conflict.
To those who oppose Brexit, and many who support it but only with a deal, no deal is a dystopian scenario that threatens to bring a storm of problems to the country, ranging from food and medicine shortages to grounded planes to a full-blown economic crisis.
There are some who support no deal, however, and they dismiss the concerns as fear-mongering. To them, no deal is a clean break from the EU that will allow Britain to forge its own destiny in the world without the shackles of Brussels holding it back.
If May's deal falls for a third and probably final time, Parliament, which does not want to see no deal but cannot yet agree on how to avoid it, may have to hit the reset button and abandon Brexit to begin negotiations all over again, a terrifying prospect for worn-out Britons.
The years-long debate, the complexity and confusion, the fierce divisions in civil society— Britons are sick of Brexit. They want it all to be over with. Many are using Twitter to vent their frustrations in tweets—sometimes mustering the gallows humor to meme their way through the country's political and emotional crisis.
Here are some of the most exasperated—and funniest—tweets on Brexit from the past few days as the deadline approaches.