As Brexit Forces Theresa May Out, Meet the Favorite to Replace Her as Britain's Prime Minister
Britain's embattled prime minister Theresa May told her Conservative Party Members of Parliament on Wednesday that she would step down if they passed her unpopular and twice-rejected Brexit deal, a desperate final bid to win support from dissenting colleagues as her options run out.
On the same day, Parliament also rejected eight different Brexit options in a series of votes, deepening the U.K.'s political crisis over leaving the European Union, which the electorate voted to do by 52 percent to 48 percent in a 2016 referendum.
Although May gave no specific date for her departure, it is anticipated she will leave by the summer. She committed to resigning before the next stage of the Brexit process, which involves negotiating the terms of Britain and the EU's future relationship.
Originally planned for March 29, 2019, the failure of May to get her Withdrawal Agreement through Parliament left Britain requesting an extension from the EU, which agreed to a later date. If May's deal passes on the third attempt, Britain will leave the EU on May 22. If it does not, the date will be April 12.
May's waning support among her own supporters in Parliament sealed her fate some months ago, with Tory MPs publicly urging her to resign, and several ministers quitting in protest over her handling of the Brexit process.
Behind the scenes in the Conservative Party, potential post-May leaders began maneuvering, sounding out colleagues and trying to build support for when the moment finally comes.
And, according to the bookmakers, favorite among them all is Michael Gove. Ladbrokes has Gove at 3/1 to become the next prime minister. Paddy Power has him as the 4/1 favorite, as does Coral.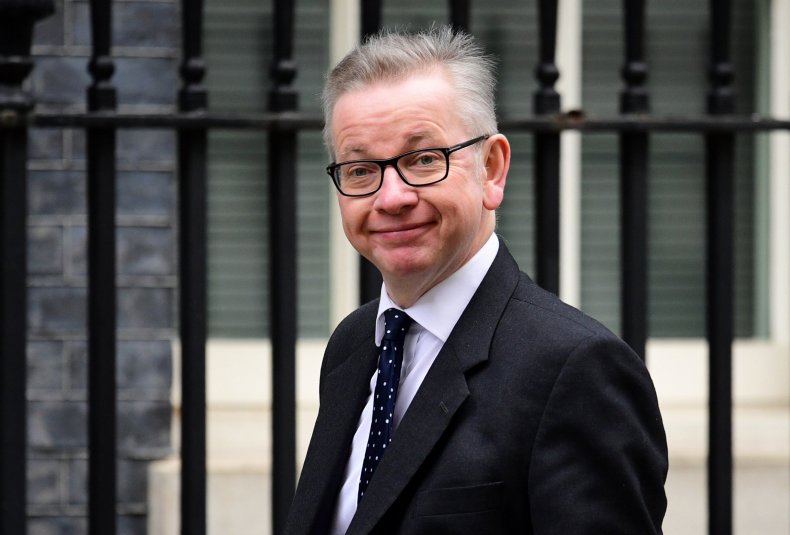 Gove, a Brexiteer with the official Vote Leave campaign, is May's secretary of state for Environment, Food and Rural Affairs. He is an experienced Cabinet minister having previously held the titles of justice secretary and education secretary.
The 51-year-old MP for Surrey Heath has a reputation as a Machiavellian figure, politically shrewd and willing to dabble in the dark arts of politics.
He is also known as a reformer, particularly in education, where he went to war with the teachers' unions, which he called "the blob," when restructuring the system to give schools greater independence from the state.
Former Prime Minister David Cameron once remarked that Gove was "a bit of a Maoist—he believes that the world makes progress through the process of creative destruction," The Times of London reported.
Despite his own views on Brexit, Gove has stayed surprisingly loyal to May throughout the turbulence of her government, perhaps heeding the warning of former Conservative Party Chancellor Michael Heseltine, who served in the Thatcher government: "He who wields the knife never wears the crown."
This was a warning Gove did not heed in the 2016 Conservative Party leadership election after Cameron resigned. Gove surprised his friend and Vote Leave colleague Boris Johnson, the former London mayor and now Conservative MP who had already put himself forward, by entering the race. Accused of stabbing Johnson in the back, and struggling to find support, Gove pulled out.
Born in Edinburgh, Scotland, Gove was adopted as a baby by a couple in Aberdeen. He later studied English at the University of Oxford before becoming a journalist and eventually working at The Times. He entered Parliament in 2005.
Gove is considered a liberal conservative, tolerant on social issues such as gay rights, a believer in free markets and low taxes, and an interventionist on foreign policy in line with American neoconservatives.
A 2014 profile of Gove in the Financial Times said that Cameron would not give him the foreign affairs brief "lest he provoked a war or pulled Britain out of the EU."
There are two big hurdles for Gove to jump over if he is to take May's place. The first is his own popularity, or lack thereof. Gove is a divisive figure not only in his own party but also throughout the country.
According to the pollster YouGov, Gove has an approval rating of just 12 percent while 51 percent of Britons have a negative opinion.
By comparison, May, herself deeply unpopular, stands at 27 percent approval and 49 percent disapproval, though more people have heard of her than Gove.
The Conservatives, having lost their parliamentary majority in a painful 2017 election called by May and bungled by her campaign advisers, are nervous about Labour leader Jeremy Corbyn, who has a YouGov approval rating of 29 percent—much higher than Gove's. Corbyn's negative rating is 50 percent.
In this context, and with an election looking all but certain within the coming year, Conservatives, having been in power since 2010, may think twice about choosing Gove as their next leader, perceiving him as too much of an electoral risk.
"That, I suspect, will be the biggest problem," Anthony Wells, director of political research at YouGov, told Newsweek. "Conservative MPs and members will want someone who is competent, someone who shares their views, but also someone who can win future elections."
Wells said Gove also faces the problem of being a Brexiteer who supports May's deal, which may lose him trust among both Tory Leavers and Remainers.
The second big hurdle is Boris Johnson, who is charismatic, has a very high public profile and an approval rating of 31 percent against a disapproval rating of 44 percent.
Johnson, MP for Uxbridge, has long desired the prime minister job, and after May promised to resign, perhaps sensing that his time may have finally come, switched to backing her deal after months of eviscerating it. He resigned as May's foreign secretary over Brexit last July.
Johnson, another Brexiteer, is set to run in any leadership contest, having lost out to May in 2016, when he could not summon enough backing from fellow MPs. A narrow second favorite behind Gove, and with May's downfall, he has a very good chance of winning this time around.
But Johnson has his critics, including within the Tory party, who regard him as a shameless self-interested opportunist with malleable values prone to controversy and gaffes. If Conservatives calculate that Johnson's upsides are not worth his downsides, then Gove will benefit.
There is, of course, the chance that another outside candidate will surge through in a leadership race. But Gove and Johnson are the two front-runners—at least according to the betting markets.
For Matthew Mokhefi-Ashton, a senior lecturer in politics at the U.K.'s Nottingham Trent University, Gove is unlikely to triumph in any contest, despite what the punters think.
"While it's possible that Michael Gove could replace May as PM, it's not likely to happen," Mokhefi-Ashton told Newsweek.
"This is mainly because he doesn't have a real base of support within the party, and is generally distrusted by senior figures due to his perceived betrayal of first David Cameron [by supporting Vote Leave], and then Boris Johnson.
"There is also the fact that there are stronger candidates who might run, and all the recent polling suggests he isn't well liked in the wider country. However, there is a possibility he could get the job if the other candidates end up canceling each other out, or split the vote in such a way that he squeaks through."
The graphic below, provided by Statista, shows U.K. Conservative politicians' approval ratings.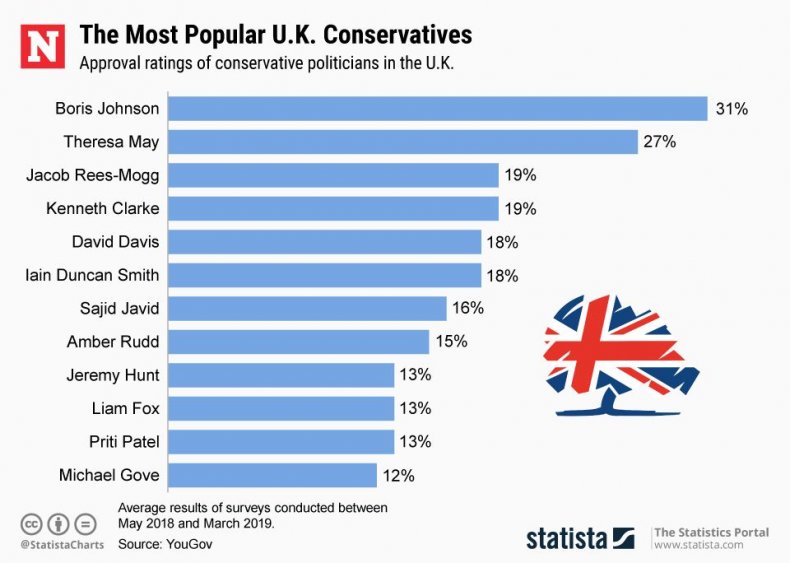 In a video shot by a friend, the right-wing commentator James Delingpole, Gove talks about his favorite Game of Thrones character, which is perhaps revealing. Gove spoke the words with self-awareness—and a hint that he knows what his image is, and is happy to stoke it.
"My favorite character in Game of Thrones is, undoubtedly, Tyrion Lannister. And the moment I love most is when he leads what's apparently a hopeless charge of his troops in defense of King's Landing against the forces of Stannis Baratheon.
"And you see there that this misshapen dwarf, reviled throughout his life, thought in the eyes of some to be a toxic figure, can at last rally a small band of loyal followers. And at the last moment, he suddenly hears the noise of the relief column coming.
"It's his father, a father with whom he has the most complicated of relationships, who then comes at the head of a relief army in order to defeat the Baratheon forces. And at that point, I'm reminded of the words of Winston Churchill: Never, never, never surrender."
This article was updated with comments by Anthony Wells and Matthew Mokhefi-Ashton and more information from YouGov.