Who Is Boris Johnson? U.K. Foreign Secretary Quits Amid Brexit Crisis
British Foreign Secretary Boris Johnson has resigned from the government as a new Brexit crisis threatens to bring down Prime Minister Theresa May.
Johnson is one of the government's most influential and visible ministers, and has long been considered a potential leader of the ruling Conservative Party. His resignation follows that of Brexit secretary David Davis late on Sunday night.
Johnson had dropped off the radar on Monday afternoon, prompting speculation he could be next to leave his post. The Prime Minister's spokesperson confirmed his departure, suggesting his replacement would be announced shortly, the BBC reported.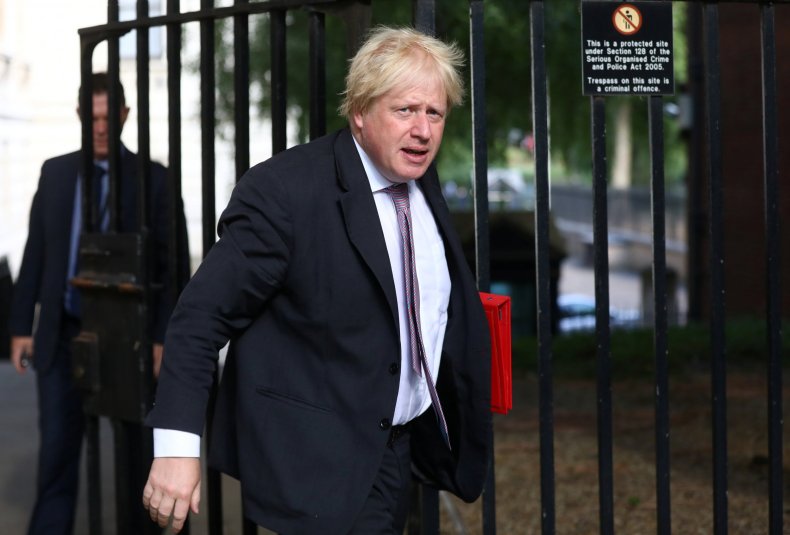 Johnson's resignation came just 30 minutes before May was set to address parliament on her plan for Brexit, which was announced to her cabinet on Friday. It was this plan that prompted Davis's resignation, laying out a Brexit option in which the U.K. would remain closely aligned with European Union legislation.
Johnson is well-known for his seemingly casual and buffoonish political style. His trademark floppy blonde hair and bombastic speeches give him a unique presence in British politics. But opponents have often argued this is a carefully cultivated persona, behind which hides a calculating and ruthless politician.
Johnson is inextricably linked to the U.K.'s Brexit saga. He sensationally threw his weight behind the Vote Leave campaign and became its most visible figure. Johnson famously stood in front of the "battle bus" that promised extra funding for the NHS in the event of a Leave victory, a promise that has since brought Johnson much ridicule.
As Britons narrowly voted to leave the bloc, then-Prime Minister David Cameron decided to resign, leaving the way open for a prominent Leaver to take the reins. Long-touted as a future prime minister, Johnson was seen to be in poll position for the top job.
But in a series of events befitting a Game of Thrones plot line, Johnson was out-maneuvered by his rivals, forcing him to back out of the leadership contest. Apparently deciding it would be prudent to keep Johnson inside the camp than outside, May offered him the job of foreign secretary.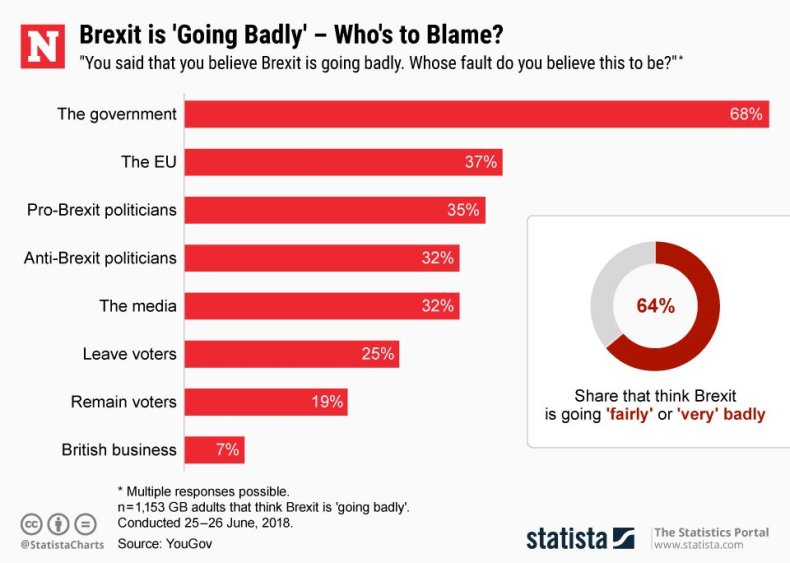 He may have nominally been part of the team, but Johnson became the figurehead of the "hard" Brexit camp as May struggled to deliver an exit palatable to all wings of the Conservative Party. The hard Brexit faction called for a bullish negotiation strategy in talks with the European Union and, if necessary, a total break with the bloc.
As was the case for Davis and his deputy Steve Baker, Boris considered May's Brexit blueprint to be unacceptable. Reports over the weekend quoted Johnson describing May's plan as like "polishing a turd."
British journalist Robert Peston reported that the prime minister's office pre-empted Johnson's resignation annoucement by releasing the news itself, indicating how acrimonious the relationship between May and the former foreign secretary has become.
Focus will now turn to other senior ministers including Michael Gove, currently the secretary for environment, food and rural affairs. There was speculation on Monday that Gove—a former candidate for party leader—would be the next Brexit minister. That job has gone to pro-Brexit MP Dominic Raab. If more senior ministers follow Davis and Johnson out the door, the picture will grow ever-bleaker for the embattled prime minister.
Though there have been no open suggestions from within the party that a leadership challenge is close at hand, Johnson offers Brexiteers an alternative option to May. In the meantime, opposition parties are circling. The Labour Party deputy leader Tom Watson described the day's event as "complete and utter chaos."