Trump's Favorite British Politician Boris Johnson in Trouble After Comparing Burka-wearing Muslim Women to Letterboxes
Boris Johnson, the British Conservative member of parliament whom President Donald Trump saluted as a potential "great prime minister," faces calls for his party to dump him after he wrote an article comparing burka-wearing Muslim women to letter boxes and bank robbers.
Johnson was until recently the British foreign secretary. He resigned from the government over its handling of Brexit, for which he was a campaigner in the 2016 referendum on Britain leaving the European Union. He recently met with Steve Bannon, Trump's former chief strategist, who is attempting to build a far-right political network across Europe.
Writing in his regular column for the Daily Telegraph, Johnson criticized Denmark's ban on face-coverings in public places as illiberal because it targets the religious freedom of Muslim women who wear ultra-conservative clothing, such as the burka and niqab. Both full-body garments cover either all, or all but the eyes, of a woman.
But Johnson also wrote that "it is absolutely ridiculous that people should choose to go around looking like letter boxes," and that women who wear such garments end up "looking like a bank robber," which prompted critics—including many within his own party—to accuse him of Islamophobia.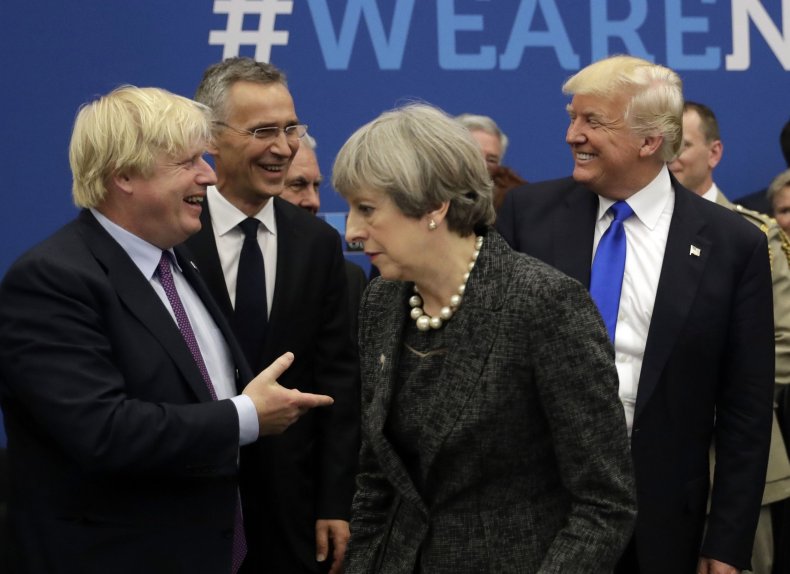 A 2005 article on Islamist terrorism written by Johnson for the political magazine The Spectator, which he edited while an MP, has also resurfaced. In that piece he said, "Islam is the problem."
"To any non-Muslim reader of the Koran, Islamophobia—fear of Islam—seems a natural reaction, and, indeed, exactly what that text is intended to provoke," Johnson wrote in the days following the July 7, 2005, suicide bomb attacks in London, in which 52 were killed.
"Judged purely on its scripture—to say nothing of what is preached in the mosques—it is the most viciously sectarian of all religions in its heartlessness towards unbelievers."
British Prime Minister Theresa May called on Johnson to apologize for his use of language, which he is refusing to do, reportedly dismissing the furor around him over the article.
Conservative Muslim Forum founder Lord Sheikh told the BBC's Newsnight program that Johnson should be kicked out of the party. "The party must take action," Sheikh said. "I don't think an apology is enough. I think we should take more severe action against this man."
Sayeeda Warsi, a Conservative baroness in the House of Lords and a Muslim, wants Johnson to apologize and, if he doesn't, for him to be disciplined.
"I refuse to accept that these phrases were some kind of mistake, and the offence inadvertent—Johnson is too intelligent and too calculating for that," Warsi wrote in The Guardian.
"No, this was all quite deliberate. His refusal to apologize supports that. And the purpose was to mask the argument he was making.
"He set out a liberal position, but he did it in a very 'alt-right' way. This allowed him to dog-whistle: to say to particular elements of the party that he's tough on Muslims."
The Muslim Council of Britain, a group that represents more than 500 Islamic organizations, including mosques, charities and schools, said in a statement that Johnson's comments "are particularly regrettable in this current climate, where Islamophobia and anti-Muslim hatred is becoming worryingly pervasive with disappointingly little action from this current government."
"Muslim women bear the brunt of hate on the streets. Just this week, two people were jailed for torturing a Muslim convert and a bookshop was attacked by Islamophobes," the statement said. The council called for "an inquiry into Islamophobia in the Conservative Party."
Johnson did not immediately reply to a request for comment.
In July during his visit to the U.K., Trump created a political storm when he undermined Prime Minister May by praising Johnson—seen as her rival for the Conservative Party leadership—in an interview with The Sun, a tabloid newspaper.
"I have a lot of respect for Boris. He obviously likes me, and says very good things about me," Trump said. "I was very saddened to see he was leaving government, and I hope he goes back in at some point."
Though Trump said he was "not pitting one against the other," he said: "I am just saying I think he would be a great prime minister. I think he's got what it takes."