President Donald Trump has dismissed his controversial interview with The Sun newspaper in which he criticized British Prime Minister Theresa May's handling of Brexit and praised her Conservative Party rival Boris Johnson, as "fake news."
Trump and May were speaking to reporters at a press conference following bilateral talks at Chequers, the prime minister's country residence. The president suggested not all of his comments about May were printed by The Sun, and that the newspaper had omitted the positive things he said about the prime minister. In fact, the Rupert Murdoch–owned tabloid had included positive comments made by Trump about May.
"I didn't criticize the prime minister," Trump said. "I have a lot of respect for the prime minister. Unfortunately, there was a story that was done, which was generally fine, but it didn't put in what I said about the prime minister, and I said tremendous things.
"Fortunately we tend to record stories now so we have it for your enjoyment if you'd like it. But we record when we deal with reporters. It's called fake news. We solve a lot of problems with the good old recording instrument."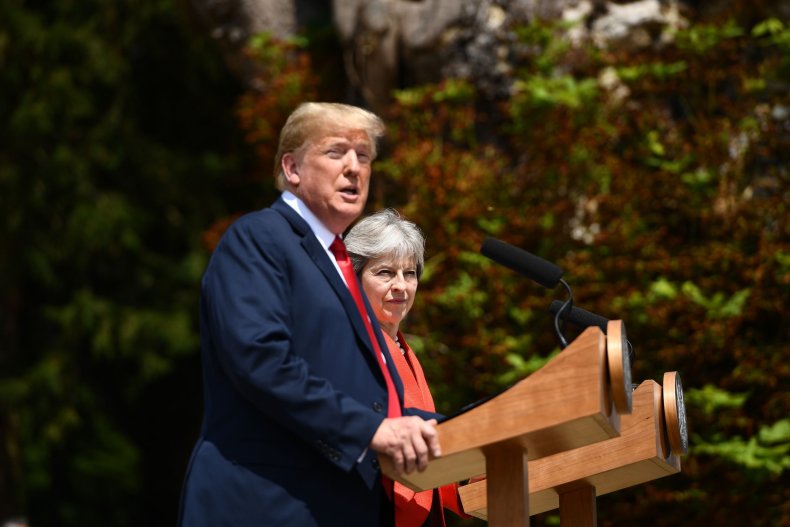 Live Updates: President Donald Trump in the U.K. to Meet Prime Minister May and the Queen
Trump later got The Sun journalist who conducted the interview, Tom Newton Dunn, who was sitting in on the Chequers press conference, to agree that he had said nice things about May, though he complained that these were not in the headline. Trump said he did not realize the positive comments were in the article.
The president also said he apologized to May after the interview appeared. "'Don't worry, it's only the press,'" Trump said she reassured him.
A spokesman for The Sun said in a statement provided to the Press Association: "We stand by our reporting and the quotes we used—including those where the president was positive about the prime minister, in both the paper and in our audio—and we're delighted that the president essentially retracted his original charge against the paper later in the press conference. To say the president called us 'fake news' with any serious intent is, well… fake news."
The president had told The Sun that May's current plan for Brexit would "probably kill" any potential trade deal with the U.S. by keeping Britain too closely aligned with the European Union.
"I would have done it much differently," Trump said of Brexit negotiations. "I actually told Theresa May how to do it but she didn't agree, she didn't listen to me."
He added that he did not think the Brexit deal formulated by May was what "Leave" supporters in the 2016 referendum voted for.
The president also said he thought Boris Johnson, May's old rival for the Conservative Party leadership and her foreign secretary until he resigned last week in opposition to her Brexit plans, would "be a great prime minister."
"Well, I am not pitting one against the other," Trump said. "I am just saying I think he would be a great prime minister. I think he's got what it takes."
But he also told the newspaper that May is "a very good person," and that he "never said anything bad about her."
"I think she is a nice person. I get along with her very nicely," Trump said.
The interview has overshadowed what was an important visit by Trump for May's government. Central to plans for a post-Brexit Britain is a free trade deal with the U.S.
May also wants Trump to pressure Russia's Vladimir Putin, whom he will meet in Finland immediately after leaving Britain, about the Novichok poisonings on English soil in which intelligence agencies believe the Kremlin had a hand.
This article was updated to include a comment by a spokesman for The Sun.