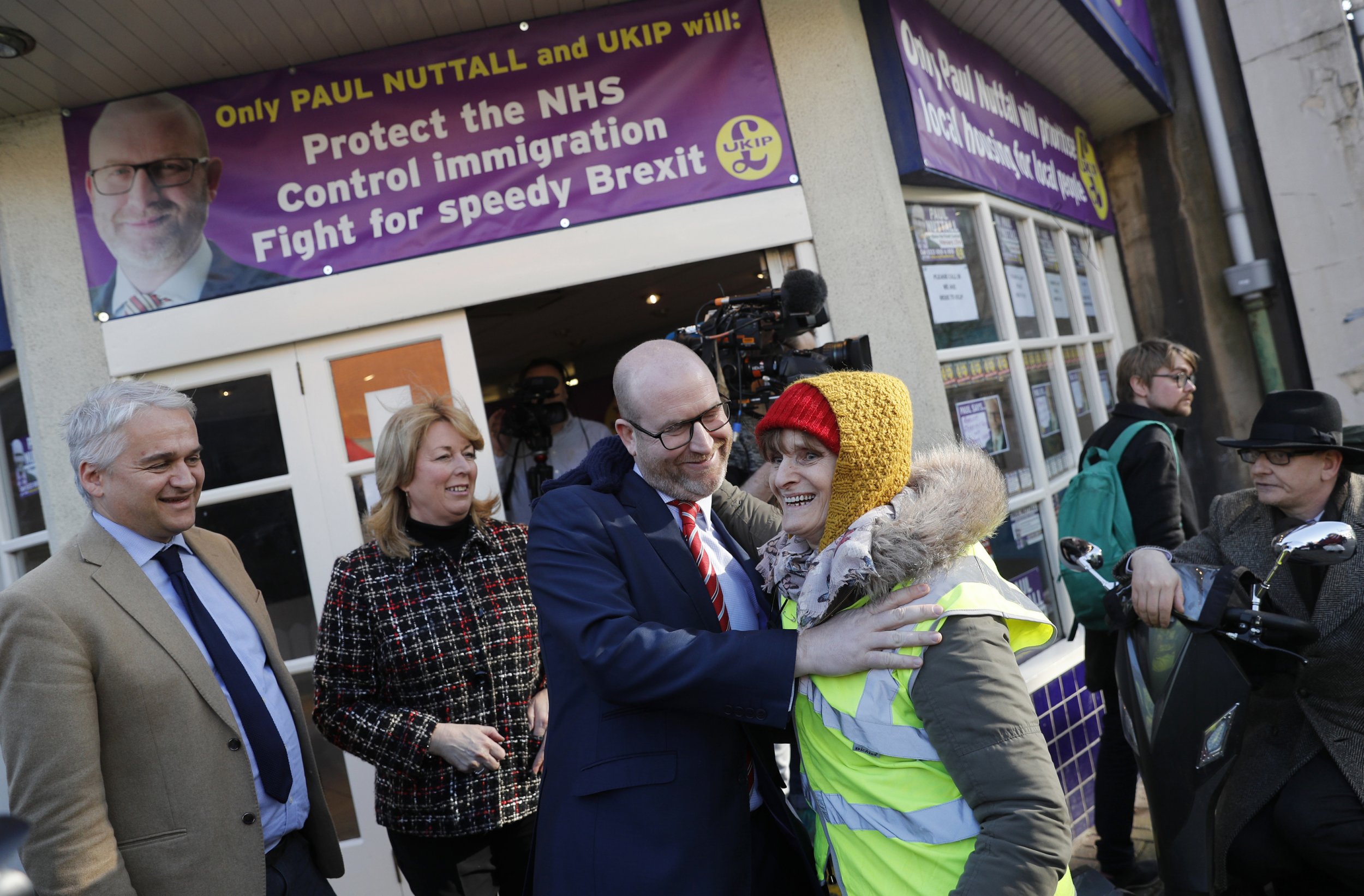 In Stoke, a small city in the middle of England peppered with the red brick skeletons of its days as a pottery industry powerhouse, the candidates for a February 23 by-election are bickering at increasingly shrill volumes in a battle for headlines.
Meanwhile, 10 days to go before the election, voters crowding the sunny market square are fed up. "It's all too terrible and mixed up, I can't make any sense of it," one woman says, scurrying away before Newsweek can probe further. Lin Fawcett, 65, who plans to vote but is unsure who for, has a more robust recommendation for the politicians of Britain: "Stick 'em in a tank in the middle of Afghanistan. See how they do there."
The anti-establishment rage is nothing new, especially in an area that voted for Britain to leave the EU in the country's June 2016 referendum. But the overriding sense of confusion here is a new phenomenon. In Stoke, after the sitting Labour Party MP Tristram Hunt resigned in January to run London's Victoria and Albert Museum, the party's new candidate, Gareth Snell, faces a battle against the populist, pro-Brexit UKIP to keep the Stoke Central seat it has held ever since its creation in 1950. Another by-election on the same day in Copeland, nearly 200 miles north, involves a similar battle, with Labour fighting to retain another of its seats, primarily against the governing Conservative Party. What happens in each election will hold valuable clues regarding the changing political landscape in Britain after the frenetic referendum.
"There's been a major political event in the form of the EU referendum that seems to have potential to realign voter preferences" says Rob Ford, a professor of politics at Manchester University. "In Stoke, and in Copeland, and in lots of seats all over the country, you've got all sorts of complicated flows of the vote that are possible, and it's very hard to see how they will net out."
In the chaos, the Labour Party—Britain's premier center-left party—is suffering most. One of the two main parties of modern British government, is, like many of its continental sister parties, in steep decline, hovering around 25 percent support in opinion polls.
It's fashionable to blame this on Jeremy Corbyn, its publicity-shy, hard-left leader, but the party's problems go much deeper, and Brexit is throwing them into relief. The last three times the party won elections—in 1997, 2001 and 2005 under former prime minister Tony Blair—it built and then held together a coalition of traditional working class voters, social liberals, and affluent, middle class people who once plumped for the Tories.
In recent years, it's become harder to please all of them. Now, with immigration named by voters as one of the top three issues facing the country according to the pollster Ipsos Mori (it was nowhere near the top in 1997), it's close to impossible. What do you do when some of your voters think curbing the free movement of people from the EU would be borderline racist, while others see Brexit as a last chance to curb mass immigration from Europe? Many Labourites fear a war on two fronts, where the party loses support both to UKIP and the anti-Brexit Liberal Democrats, a centrist party which is targeting pro-EU liberals.
Read more: After Brexit, Britain grapples with issues of immigration and integration
UKIP has long hoped to win over some of the more socially conservative working-class Labour vote—and in Stoke, it thinks it has a chance to steal victory. (The Conservatives are fielding a candidate, Jack Brereton, but the Huffington Post has reported they are not concentrating their resources on the fight.) UKIP Party leader and Stoke candidate Paul Nuttall, a red-faced, bald man in a striped tie, lacks the natural, swaggering charm of his party's last leader, Nigel Farage. One photographer at a photocall in Stoke spends minutes trying to coax Nuttall far out to the front of his campaign shop so he can shoot him at the right angle to ensure the frontage reads only "Nutta."
But Nuttall has long shown an intuitive sense for selling his party's policies outside its traditional conservative constituencies—with a broad accent that signals his roots in a working class family from Liverpool, in the north of England. "[Labour is] very much a London-centric party which seems to have lost touch with what's going on in constituencies north of the Watford Gap [the traditional dividing line between England's more prosperous South and the rest]," Nuttall tells Newsweek in Stoke.
Labour, for its part, points out the contrast between Nuttall, parachuted in from elsewhere, and Snell's local roots. "I am Potteries for life," Snell writes on his website, using a local nickname for the city, "It's where I met my wife and it's where my daughter was born and goes to school."
In any case, UKIP has its own troubles. Having now completed the mission for which it was founded in 1993, the anti-EU party is struggling to keep voters interested, with a series of lackluster performances in local elections and a drop to around 12-14 percent support in national polls from its pre-referendum peak of 18-19 percent.
Speaking to Newsweek, Gerard Batten, the UKIP's Brexit spokesman and a founding member, insists the party has a future beyond a protest vote. "It was always intended to become a force in national politics," he says. "Why would I vote for parties that have betrayed this country consistently for the last 40 years?" Party activists will tell you Brexit is a big issue in Stoke, which Nuttall calls "the Brexit capital," a city where about twice as many people voted to leave the EU as to remain. Labour supporters, whose candidate voted to remain, will say the opposite; it's all about local issues. We won't know who's right until the day, and Labour are in any case hedging their bets, with Snell making clear he will vote for an exit from the EU in recent campaign material.
So the stakes in Stoke are high. If UKIP's leader can't do well against an unpopular Labour party in a Brexit constituency, the party might never be a serious force in parliament. (Despite its outsize influence, at present it has just one MP in Westminster, the former Conservative Douglas Carswell). If Labour loses to UKIP, however, it would grant serious ammunition to critics of Corbyn's pro-immigration stance. Farage has said the result will be "fundamental" to UKIP's future.
Both sides have had their share of problems: Labour have had to fend off questions about a series of foul-mouthed tweets by Snell dating from long before he was a candidate in which he ranted about women on TV. Nuttall was forced to admit that a blog post about a famous footballing disaster at Hillsborough stadium in Sheffield on his website included false information. Meanwhile, the vitriol that comes with leading his controversial party is taking its toll; he has had to move out of the house he moved into for the campaign after he experienced threatening behaviour, transferring to another address in the constituency. "It's been horrible, to be absolutely honest," he says.
Meanwhile, up north in Copeland, the Conservatives are hungry. A governing party has not taken a seat at a by-election since 1982, but the fact Prime Minister Theresa May visited the area this week suggests the party thinks it has a chance. Here, too, a Brexit-voting seat pits a former Remain campaigner (Labour's Gillian Troughton) against a party pushing for Britain's swift exit from the EU.
But here, again, local issues get in the way of simple narratives: The Conservatives have made much of Corbyn's skepticism about nuclear power, a major local industry. And when interviewed on her visit, May declined four times to say whether she opposed the closure of a local maternity ward. It should trouble Labour that the race looks close, although a lack of detailed local polling makes it hard to know by how much.
So next Thursday could end in two seismic results, or a pair of bland Labour holds. Either way, though, the detail of the vote will be important. Will Stoke's not inconsiderable Conservative vote move to UKIP, or the other way around? Can small but resolute Remain-voting minorities in both seats be persuaded to jump from Labour to the Liberal Democrats? Even if Labour wins, how large will the combined, pro-Brexit vote for the Conservatives and UKIP be?
"It's not easy to tell a simple story about what the stakes are in these by-elections," says Ford, the politics professor, "and it's not [going to be] easy to draw simple conclusions from the results either." All Britain's parties should nonetheless play close attention: The U.K.'s post-Brexit political storm is only just beginning. Stoke and Copeland could help them figure out the best course through it.