Brian Kemp Has Huge Lead Over Stacey Abrams in Governor's Race: Poll
A new Republican poll has shown Georgia Governor Brian Kemp with a substantial lead over Democratic challenger Stacey Abrams in the race for governor of the traditionally red state.
The poll was conducted for Republican Senate candidate Herschel Walker's campaign and found that Kemp enjoyed 51 percent support, while Abrams had the backing of 44 percent of respondents. That gives Kemp a major 7-point lead.
Those figures offer a stark contrast to a Quinnipiac University poll published on Wednesday that found the governor's race to be a dead heat. That poll showed both Abrams and Kemp with 48 percent support.
The Walker campaign's poll was conducted by Moore Information from June 11 to 16 among 800 likely general election voters and had a margin of error of +/- 3 percent. The poll was shared on Twitter on Wednesday by Greg Bluestein, a journalist with The Atlanta Journal-Constitution.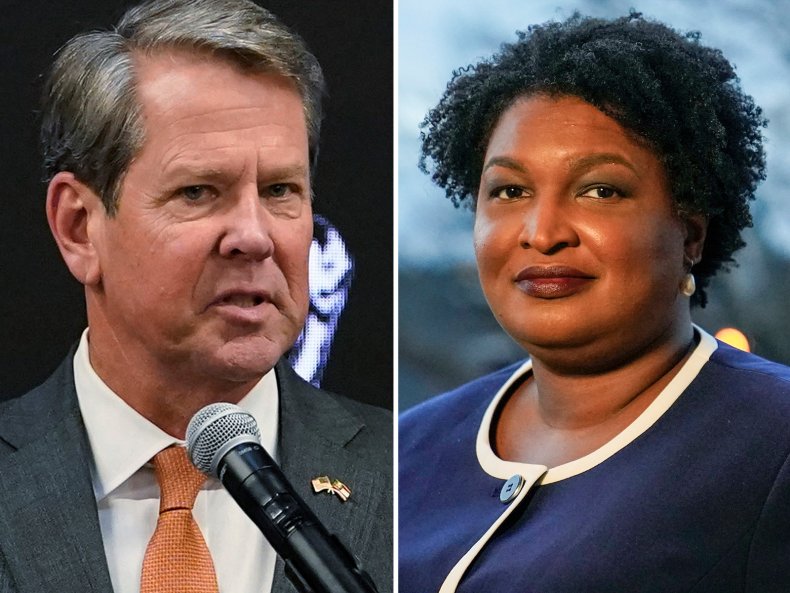 Georgia has long been considered a red state but it currently has two Democratic senators and voted narrowly for President Joe Biden in the 2020 presidential election.
Kemp and Abrams are facing each other for the second time after the Republican narrowly defeated the Democrat in the 2018 governor's race. Kemp won 50.2 percent of the vote in 2018 and Abrams, 48.8 percent.
Abrams acknowledged that Kemp had won the race but did not concede, citing allegations of voter suppression. She defended that position during an appearance on CNN in December, 2021.
"I, on November 16, 2018, acknowledged at the top of my speech that Brian Kemp is the governor of Georgia and I even wished him well at the end of the speech," Abrams said.
"And in the middle, I talked about the fact we had a system that he managed, that he manipulated, hurt Georgia voters and the responsibility of leaders is to challenge systems that are not serving the people," she said.
Newsweek has asked the Abrams campaign for comment.
The Moore Information poll also showed Walker and Democratic Senator Raphael Warnock running neck and neck in the race for a U.S. Senate seat. Both Warnock and Walker had 47 percent support.
That's also a major difference from the Quinnipiac University poll which found that Warnock had 54 percent support among registered voters compared to Walker's 44 percent—a significant 10-point gap.
Warnock's campaign manager, Quentin Fulks, took to Twitter on Wednesday and said the race would be close.
"There are going to be polls in all directions over the course of this campaign. Here's what we know: the #GASEN race will be close, which is why we can't take anything for granted & are working hard every day to reelect @ReverendWarnock," Fulks wrote.
Warnock was elected to the Senate by a narrow margin in a runoff election in January, 2021. He defeated Republican Senator Kelly Loeffler with 51 percent of the vote to her 49 percent.