Democrats' Chances of Beating Republicans in Georgia, According to New Poll
Prominent Democratic candidates Stacey Abrams and Senator Raphael Warnock appear better-positioned to beat their Republican opponents come November in Georgia, according to new polling released on Wednesday.
Abrams, the former state House of Representatives minority leader, aims to unseat incumbent GOP Governor Brian Kemp in what is shaping up to be a tight race. Abrams previously unsuccessfully ran against Kemp in 2018 during his first gubernatorial bid. She ultimately lost by a margin of about 1.4 percent or just under 55,000 votes.
Meanwhile, Warnock is defending his Georgia Senate seat against former football star Herschel Walker, who has been endorsed by former President Donald Trump and Republican Senate Minority Leader Mitch McConnell. Warnock narrowly flipped his Senate seat blue in a runoff after the 2020 election, as Democratic President Joe Biden and fellow Democratic Senator Jon Ossoff won in Georgia as well.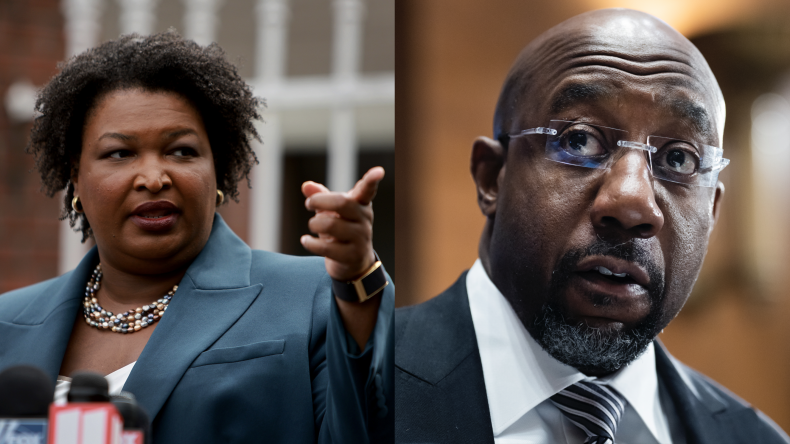 New polling conducted by Quinnipiac University from June 23 to 27 showed Abrams in a tied race with Kemp for the first time in a public survey of Georgia's voters. Previous polls all showed the Democratic candidate trailing the incumbent Republican by a range of 2 to 7 percent.
In the latest survey, Abrams had the support of 48 percent of registered voters, as did Kemp. Back in January, Quinnipiac's polling showed the Democrat at 47 percent and the current governor at 49 percent—a narrow lead of 2 percent for Kemp. The new poll's margin of error is 2.5 percent among 1,497 registered voters compared to 2.4 percent among 1,702 registered voters in the previous survey.
Notably, the latest poll shows Abrams ahead of Kemp by double digits among independents in Georgia. The Democrat was backed by 52 percent of independent voters and the GOP governor was supported by 42 percent—a lead of 10 points in Abrams' favor.
The current Real Clear Politics average of recent polls still shows Abrams trailing Kemp by about 4.8 points. The average shows the incumbent governor backed by approximately 49.4 percent of Georgians compared to about 44.6 percent who supported his Democratic challenger.
Another recent public poll carried out by East Carolina University from June 6 to 9 showed Abrams down by 5 points. The Democratic candidate came in at just 45 percent. Kemp was backed by 50 percent of registered Georgia voters in that previous poll, which included 868 respondents and had a margin of error of 3.9 percentage points.
Meanwhile, the new Quinnipiac survey shows Warnock double digits ahead of his Republican challenger, after Walker faced criticism when it was revealed he had multiple "secret" children. In mid-June, Walker confirmed to The Daily Beast that he had another son, age 13, as well as a now-adult daughter, whom the public did not know about. Until that reporting, Walker had said he had a 22-year-old son but did not publicly mention the other children.
The latest polling shows Warnock ahead of Walker by 10 points. The incumbent Democrat has the support of 54 percent of registered voters in Georgia compared to just 44 percent who support his Trump-backed rival. That's a notable shift from January when Quinnipiac's data showed Warnock down by 1 point, at 48 percent compared to Walker's 49 percent.
Now the Real Clear Politics average shows Warnock narrowly ahead of Walker with a lead of 1.6 points. Overall, the Democratic incumbent has the support of about 47.8 percent of Georgians and his Republican opponent is backed by 46.2 percent. Previously, the East Carolina University survey from early June showed the two candidates tied. Both Warnock and Walker had the support of 46 percent of registered voters.
Democrats aim to build on their momentum from 2020 and keep shifting Georgia blue in the coming November 8 midterm election. Biden became the first Democrat to win a presidential election in the state since 1992. The president won there by less than 12,000 votes. Georgia has not been led by a Democratic governor since 2003, and the last Democratic senator to represent the southern state—prior to Warnock and Ossoff—left office in 2005.