Herschel Walker Chances of Beating Raphael Warnock Amid Kids Scandal: Polls
As Georgia Senate candidate Herschel Walker faces criticism over his "secret" children, recent polls show the Republican appears roughly tied with Democratic Senator Raphael Warnock.
After disclosing on Tuesday he has a 10-year-old son, Walker confirmed to The Daily Beast on Wednesday night that he has another son, aged 13, as well as a now-adult daughter, whom the public did not know about. The GOP candidate said he fathered his daughter when he was about 20 years old and a star running back on the University of Georgia's football team.
Until this week, Walker, who has been endorsed by former President Donald Trump, had said he had a 22-year-old son but did not publicly mention the other children. A number of prominent Democrats and other critics have attacked the conservative ex-NFL star for hypocrisy, given his previous statements about "fatherless" homes in the Black community.
Although it remains to be seen how Georgia voters will ultimately respond to the news of the children and the criticism of Walker, recent polls show he is well positioned to challenge Warnock and possibly defeat him in the November midterm election. The current Real Clear Politics average of Georgia polls shows Walker and Warnock virtually tied, with the Republican ahead by less than 1 point (0.6 percent).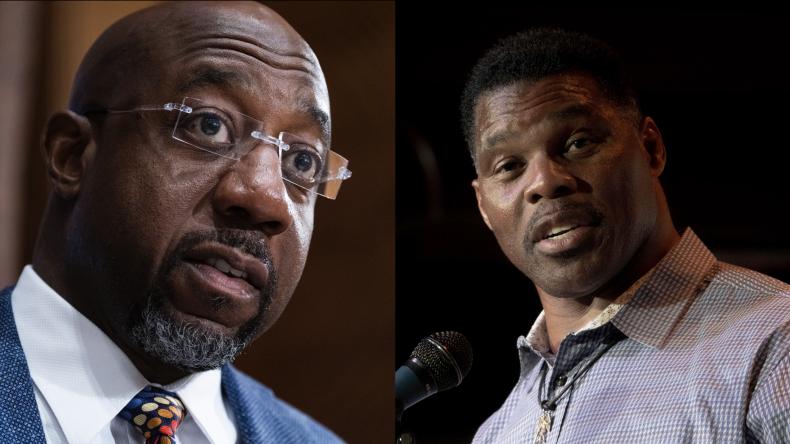 Meanwhile, the most recent poll released for the Georgia contest shows a tie between the Republican and the Democrat. The survey, conducted by the Center for Survey Research at East Carolina University, had both Walker and Warnock with the support of 46 percent of registered voters in the state. Meanwhile, 6 percent said they were undecided, and 2 percent planned to vote for other candidates.
In a potentially concerning sign for Warnock, a majority (54 percent) of Georgia voters also said they disapprove of Democratic President Joe Biden. Meanwhile, more of the survey respondents said they would cast their ballot for Trump than those who would vote for Biden in a hypothetical 2024 matchup. Trump had the support of 47 percent of Georgians while Biden was backed by just 40 percent in the poll.
The poll surveyed 868 registered voters and had a margin of error of plus or minus 3.9 percentage points.
A late-April poll carried out by WXIA-TV/SurveyUSA showed the Democratic incumbent 5 points ahead of his GOP challenger. Warnock was at 50 percent with likely voters, while Walker was backed by 45 percent. The poll surveyed 1,278 likely voters and had a margin of error of plus or minus 3.4 percent.
Earlier in April, however, a different survey showed nearly reverse results in Walker's favor. The poll, conducted by The Hill/Emerson College from April 1 to 3, showed the former football star at 49 percent, compared with Warnock's 45 percent—a lead of 4 points. Just over 1,000 registered voters were in the survey, which had a margin of error of plus or minus 3 points.
Democrats and Republicans both view the Georgia Senate race as vital in the upcoming midterms. Warnock managed to flip the previously Republican-held seat blue in a special runoff election in 2021. That victory came after Biden narrowly beat Trump in Georgia by less than 12,000 votes—or about 0.2 percent of the total number of ballots.
As the November election approaches, Democrats hope to maintain the energy from 2020 and keep the state's Senate seat blue. Republicans, meanwhile, aim to wrestle back control of the seat, which would potentially shift the evenly split Senate back under their leadership.