How Many Kids Does Herschel Walker Have? GOP Candidate Admits to Two More
Senate candidate Herschel Walker has admitted to fathering two more unknown children after a report earlier this week revealed he had a "secret" 10-year-old son.
On Wednesday night, the Georgia Republican confirmed to The Daily Beast, which broke the news Tuesday about his first unknown child, that he has another son, aged 13, as well as a now-adult daughter whom the public did not know about. He said he fathered his daughter when he was about 20 years old and a star running back on the University of Georgia's football team.
Walker, who was endorsed by former President Donald Trump, won Georgia's GOP primary last month, advancing into November's general election against Democratic Senator Raphael Warnock. Polling last month indicated that the former NFL star was slightly favored to beat Warnock.
Until this week, Walker had said he had a 22-year-old son, Christian Walker, whom he helped raise, but mentioned no other children.
"I have four children. Three sons and a daughter. They're not 'undisclosed'—they're my kids," Walker said in a statement shared with Newsweek. "I support them all and love them all. I've never denied my children, I confirmed this when I was appointed to the President's Council on Sports, Fitness and Nutrition."
Walker, who has been highly critical of absentee fathers, especially in Black households, defended his earlier decision not to publicly disclose his other three children, saying, "I just chose not to use them as props to win a political campaign."
He added, "What parent would want their child involved in garbage, gutter politics like this? I can take the heat, that's politics, but leave my kids alone."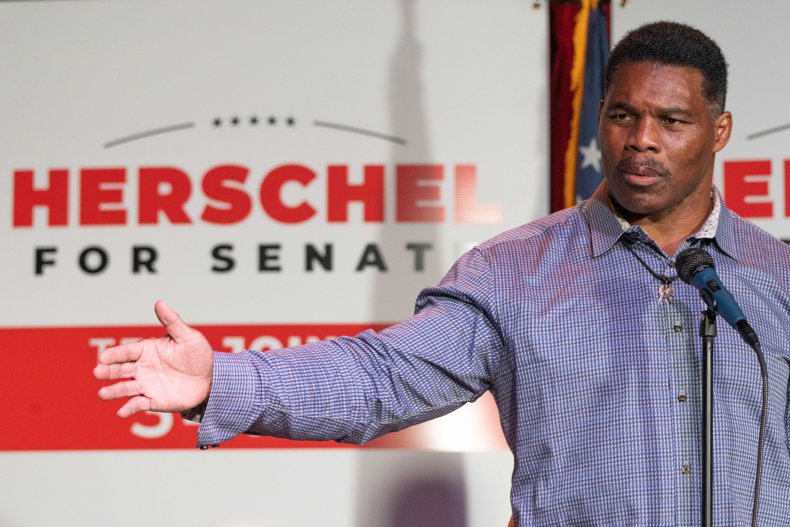 During a 2020 interview, Walker, who is Black, said, "I want to apologize to the African-American community because the fatherless home is a major, major problem." In another interview just months before, he said that if you have "a child with a woman, even if you have to leave that woman...you don't leave the child."
Such statements are now under scrutiny as the total number of his children has risen.
Walker's first "secret" son, whose name was withheld by The Daily Beast because of privacy concerns, was revealed on Tuesday after the outlet confirmed through public posts and court documents that the 10-year-old boy's mother had taken Walker to court a year after giving birth to secure a declaration of paternity and child support.
A person close to the family told The Daily Beast that Walker had sent Christmas and birthday gifts to the child but was not actively involved in raising him and did not introduce him to his other son, Christian.
"Herschel had a child years ago when he wasn't married," Walker's campaign manager, Scott Paradise, told the outlet. "He's supported the child and continues to do so. He's proud of his children. To suggest that Herschel is 'hiding' the child because he hasn't used him in his political campaign is offensive and absurd."
Paradise added, "Raphael Warnock is currently engaged in both a nasty mudslinging campaign and a nasty custody dispute with his ex-wife. He is trying to hide it from voters by sealing the case and even tried to hide from authorities. This is a complete double standard."
Newsweek reached out to Warnock for comment.
Warnock is facing his own custody battle with his ex-wife, whom he shares two children with. She has asked a family court in Georgia to adjust the senator's child support payments as a result of his election to Congress last year.
Walker's campaign did not respond when asked by Newsweek how many women he has had children with.