Brian Kemp Says Trump-Backed David Perdue's Run Helps Stacey Abrams' Odds
According to financial reports filed Monday, Georgia Governor Brian Kemp raised significantly more campaign money than David Perdue, his leading challenger for the GOP nomination. Kemp touted those numbers while calling on Perdue to drop out of the race, claiming his presence only helps the chances of Democrat Stacey Abrams.
The GOP primary race between Kemp and Perdue has become heated, especially due to the involvement of former President Donald Trump. Once a supporter of Kemp, Trump turned on the governor after he refused to contest the 2020 presidential election results in Georgia. Trump later endorsed Perdue, a former U.S. senator, on the same day he announced his gubernatorial campaign, a move which, Kemp says, complicates the situation and increases the odds of Abrams winning.
In a message to donors, Kemp's campaign pointed that he has $12.7 million in his account compared to the less than $900,000 reported by Perdue. "The numbers are crystal clear: David Perdue does not have the resources to win this primary, but he does have the ability to elect Stacey Abrams as our next governor," the memo read. "A brutal primary, where our campaign is forced to engage significant resources, is Stacey Abrams' surest path to victory."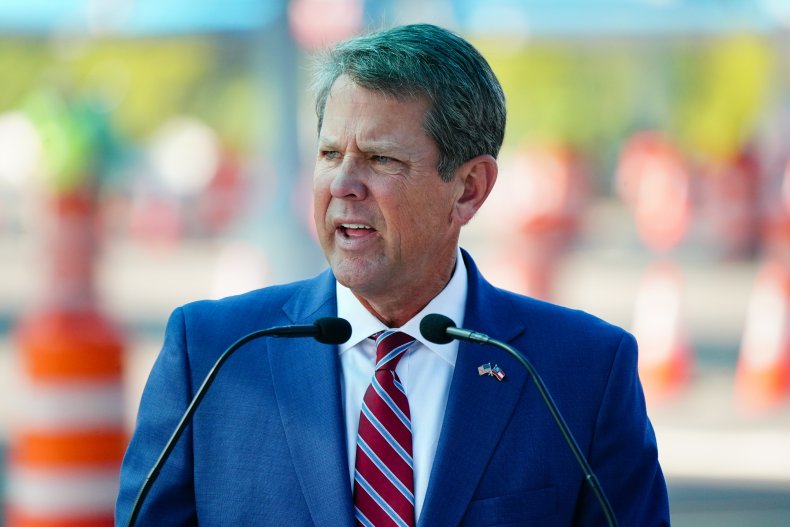 A recent poll showed Kemp also holds an edge with GOP voters. A Quinnipiac University survey released on January 26 of likely Republican primary voters found 43 percent said they would back Kemp, while 36 percent said they'd support Perdue.
Perdue did receive some good news this week when a judge ruled on Monday that Kemp could not use money from a special committee that can raise unlimited contributions. Perdue had filed the lawsuit last month, arguing a law signed by Kemp gave the governor an unfair fundraising advantage by allowing him access to the committee money.
During a campaign stop Tuesday, Perdue addressed Kemp's financial advantage.
"They think they're going to bully me out of this race, they don't know how to spell my last name.… This is an election about people versus politicians," Perdue told the crowd, according to The Atlanta Journal-Constitution.
He continued: "They said, 'Oh, we've got $13 million, and David's only got $1 million.' Well, I got outspent in 2014 by the same amount. [Note: Perdue won the U.S. Senate seat in Georgia in 2014.] This is an election about people versus politicians."
Abrams previously challenged Kemp in the 2018 election for governor of Georgia, a race she narrowly lost. She has since risen to national prominence as a voting rights advocate.
The financial filings on Monday showed that neither Republican could match Abrams' fundraising prowess. The Democrat raised more than $9.2 million since announcing her 2022 run in December, whereas Kemp raised $7.4 million between the months of July and January 31 to reach his $12.7 million total.
Newsweek contacted Kemp and Perdue for comment but did not hear back from either in time for publication.