Brian Laundrie Was at Fort De Soto Campsite With Parents Before Going Missing
The attorney for Brian Laundrie's family said Tuesday that all three members of the family camped at Fort De Soto Park in Pinellas County, Florida, one week before the 23-year-old went missing in early September.
According to a report from WFLA, Attorney Steven Bertolino said the Laundrie family went camping from September 6 to September 8, before leaving the park together.
The report comes one day after reality TV star Duane Chapman, otherwise known as "Dog the Bounty Hunter," told Fox News that he believes Laundrie may have been hiding in Fort De Soto Park with assistance from his parents after he returned to Florida without his fiancée Gabby Petito.
Laundrie, 23, has been named a person of interest in the disappearance of Petito, whose remains were found in Wyoming on September 19 after the two went on a cross-country road trip. Days after Petito's body was found, the FBI ruled her death a homicide.
Laundrie returned home to Florida without Petito on September 1, and was last seen on September 14. Three days later, his family reported him missing and told police they believed he went to Carlton Reserve, a nearly 25,000-acre preserve in Sarasota County.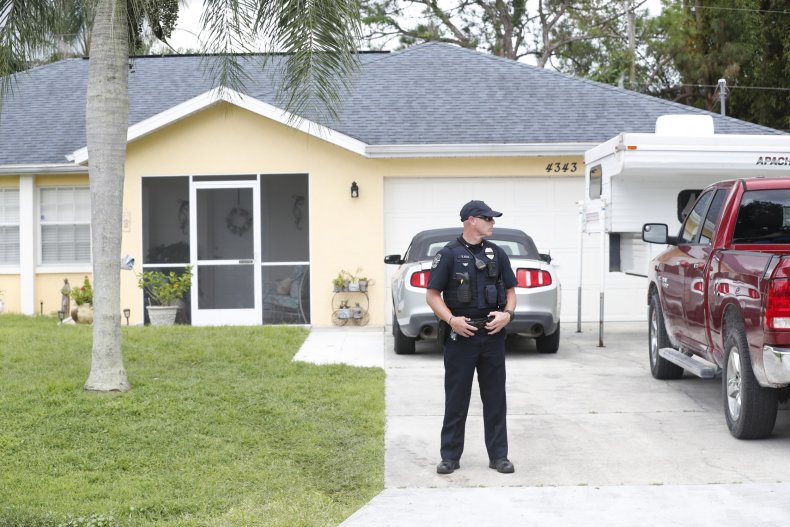 On Monday night, Chapman alleged that he received information that Laundrie instead fled to Fort De Soto park with his parents after he returned home. The reality TV star claimed that Laundrie and his parents, Roberta and Chris, entered the park on September 6, but that only two people left the park on September 8—leaving room for theories that Laundrie could still be located in the area.
"They were registered, went through the gate. They're on camera. They were here," Chapman told Fox News on Monday evening. "We think at least if he's not here right now, we are sure he was caught on camera as he went in the gate—that he was here for sure. Not over in the swamp."
"Allegedly, what we're hearing, is two people left on the 8th. Three people came in on the 6th, and two people left on the 8th. I think he's been here for sure," Chapman added.
Fort De Soto Park is a vast wilderness area located about 75 miles away from the Laundries' home on Wabasso Avenue in North Port. With more than 1,130-acres, the park is the largest in the Pinellas County Park System and contains five interconnected islands.
Laundrie and Petito have both previously visited the park in February, with Petito posting a photo of their trip on social media. The couple later posted a review of the park on the travel website The Dyrt, describing it as a "really nice campground, beautiful area with many hikes and easy walks, the beach, historic sites, really nice camp store and well maintained sites!."
Following Chapman's allegations, a spokesperson from the Pinellas Sheriff's Office told the Tampa Bay Times that police were not "not aware of any confirmed sightings of Brian" and were not conducting an investigation in Fort De Soto.
Laundrie's parents have vehemently denied any knowledge of or involvement in their son's disappearance.
"The speculation by the public and some in the press that the parents assisted Brian in leaving the family home or in avoiding arrest on a warrant that was issued after Brian had already been missing for several days is just wrong," Bertolino previously said in a statement.
Anyone with information on Laundrie's whereabouts is asked to contact the FBI at 1-800-CALL-FBI or 303-629-7171.
Newsweek has contacted the FBI for an update on the Petito case.