Brian Mast Says Joe Biden, Kamala Harris Would Rather Have 'Army of the Woke'
GOP Florida Rep. Brian Mast hit out at tweets sent by President Joe Biden and Vice President Kamala Harris over Memorial Day weekend, claiming the pair would rather have an "army of the woke."
Harris came under fire after posting a tweet on Saturday alongside a smiling photo of herself that said simply: "Enjoy the long weekend."
The president posted a similar message on his Twitter account alongside a photo with an ice cream, telling Americans: "Stay cool this weekend, folks."
In an appearance on Fox & Friends on Sunday morning, Mast, a decorated veteran who served in the U.S. Army for more than 12 years and lost both his legs while deployed in Afghanistan, was asked about those tweets.
"I think it's a far cry from incredible words and speeches that I've heard from people like Ronald Reagan, right?" Mast replied.
"For those who think that there are no more heroes in this world, they just don't know where to look. You go to the sloping hills of Arlington Cemetery and the row upon row of plain white markers labeled with crosses or stars of David. Those are, each one of them, a memorial to the heroes in this world."
Mast added that Biden's and Harris's tweets "are a far cry from the patriotism I've seen out of others."
Early on Sunday morning, Harris did tweet: "Throughout our history our service men and women have risked everything to defend our freedoms and our country. As we prepare to honor them on Memorial Day, we remember their service and their sacrifice."
Later on Sunday, Biden delivered remarks at a Memorial Day service in New Castle, Delaware.
"As a nation, we must always remember," the president said. "We must remember the price that was paid for our liberties. We must remember the debt we owe those who have paid it, and the families left behind."
But Mast hit out at the Biden administration over the "Rolling to Remember" motorcycle rally honoring veterans.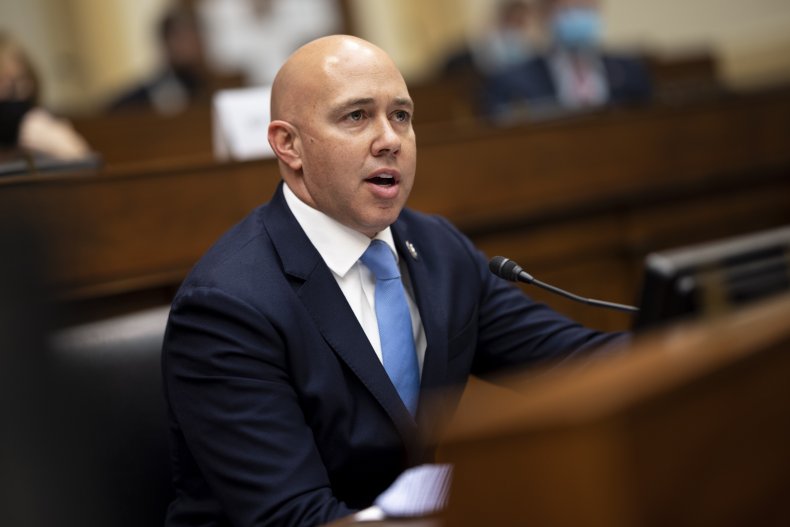 Earlier this month, Mast had urged Biden to step in after the Department of Defense denied the use of the Pentagon's parking lot to stage a rallying point for the annual event due to COVID-19.
AMVETS, the veteran's group hosting the event, announced this year's rally would instead be staged at the RFK Stadium's parking lot in Washington, D.C.
Mast suggested the Biden administration tried to cancel the long-running Memorial Day event because "they see a lot of the culture just as pawns."
"And that's a really painful thing to say," he added. "I think this White House sees many of those in service, and they'd rather see an army of the woke than an army of the imperfect bada**es that we served alongside," Mast said.
"And I would take one of them over an army of the woke, and I think there's a resentment in that. Truly, that's how I feel about the situation."