Brian Williams is the latest MSNBC talent to announce an exit from their current show. The veteran news anchor will be leaving MSNBC News and his show The 11th Hour with Brian Williams (which airs weeknights at 11 p.m. ET) at the end of his current contract in December.
The news of Williams' departure follows the announcement earlier this year that The Rachel Maddow Show (which airs weeknights at 9 p.m. ET) will be drawing to a close sometime next year, CNN reported in August.
Who Will Replace Brian Williams and Rachel Maddow?
According to TVNewser, among the most obvious choices to replace Williams would be Ali Velshi, a "Swiss army knife" style, multi-talented MSNBC veteran who has occasionally stepped in for Williams over the years.
Currently hosting weekend mornings on MSNBC, Velshi also contributes to the network's election night coverage and covers major events from the field.
According to TVNewswer, another strong candidate for Williams' 11 p.m. slot could be Steve Kornacki, who was among Williams' top substitute hosts last year. His expertise in all election-related coverage could be vital on a nightly basis ahead of the 2022 midterm elections.
Mehdi Hasan, who is the main substitute anchor for MSNBC's 8 p.m. weekday slot on the show All In With Chris Hayes, is another possible replacement for Williams.
While relatively still new to the news division of NBCUniversal, Hasan has been respected among media figures for his hard-hitting style of questioning, according to TVNewser.
As for Maddow's 9 p.m. slot, back in August CNN counted Velshi among her likely replacements, as Maddow's current primary fill-in host, along with Ari Melber and Nicolle Wallace.
Melber is currently the host of The Beat with Ari Melber (airing weekdays at 6 p.m. ET) and is MSNBC's chief legal correspondent.
Wallace has become a popular MSNBC personality over the years following her exit from ABC's The View. She currently hosts Deadline: White House, which airs from 4 to 6 p.m. ET, and is one of MSNBC's most-watched programs, according to TVNewser.
She has also been a regular contributor on the network's Morning Joe show with Joe Scarborough.
However, TVNewswer says Wallace reportedly isn't keen on hosting a 9 p.m. show as she would like to spend the evenings with her son.
Scarborough as well as Mika Brzezinski, a co-host of Morning Joe, could also be on the table to take Maddow's prime time slot. The Insider reported Wednesday that both have been "holding conversations about what's next for them."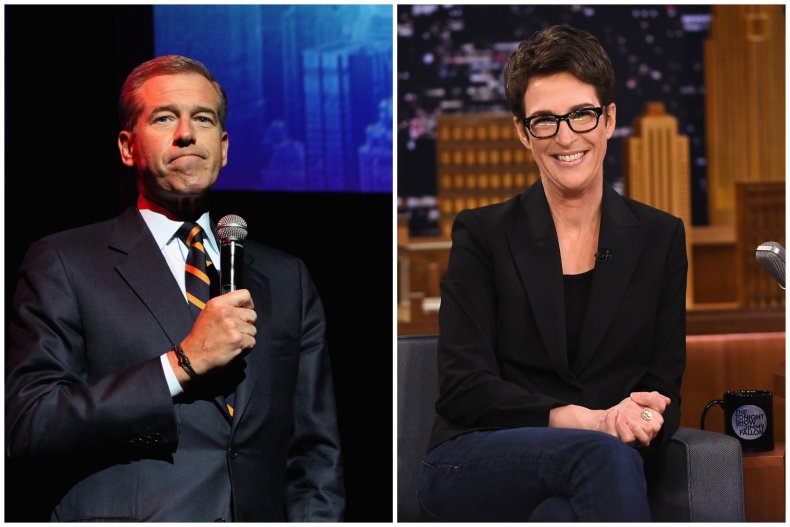 What Will Williams and Maddow Do Next?
Announcing his departure on The 11th Hour, Williams said he would be spending time with his family and loved ones following his exit. However, he did not suggest he would be retiring at this point.
The New York Post reported Williams is not supposed to be negotiating with other employers while still under his current contract. But some informal discussions with other networks and streaming services have reportedly taken place, according to unnamed sources.
According to the Post, one unnamed source said "everybody has reached out [to Williams], including ABC."
Poynter as well as the Post reported a role at CNN could also be in the cards for Williams.
Poynter also reported Thursday that Maddow recently signed a contract extension with NBC News but is expected to step away from her nightly program for other projects.
Back in August, the Hollywood Reporter and the Daily Beast reported that Maddow signed a new multi-year deal with MSNBC.
According to the Daily Beast, Maddow's new contract would allow her more opportunities to develop other projects, such as podcasts and documentaries, across NBCUniversal's news and entertainment divisions.
Newsweek has contacted MSNBC for comment.