Bride and 28 Guests Get Food Poisoning at Wedding, Ruining Disney Honeymoon
It was supposed to be the culmination of what had been the best day of their lives.
But for newly married British couple Emma and Stuart Seaton, their dream honeymoon ended up being nothing short of a nightmare after the bride contracted food poisoning.
And she wasn't alone: 28 of the guests who attended their wedding at The Manor at Bickley in Bromley, London, reported feeling ill with similar symptoms.
According to the CDC, one in six Americans (48 million people) suffer from food poisoning or foodborne illness every year. Food poisoning occurs when infectious organisms such as bacteria, parasites or viruses, or toxins contaminate food during production.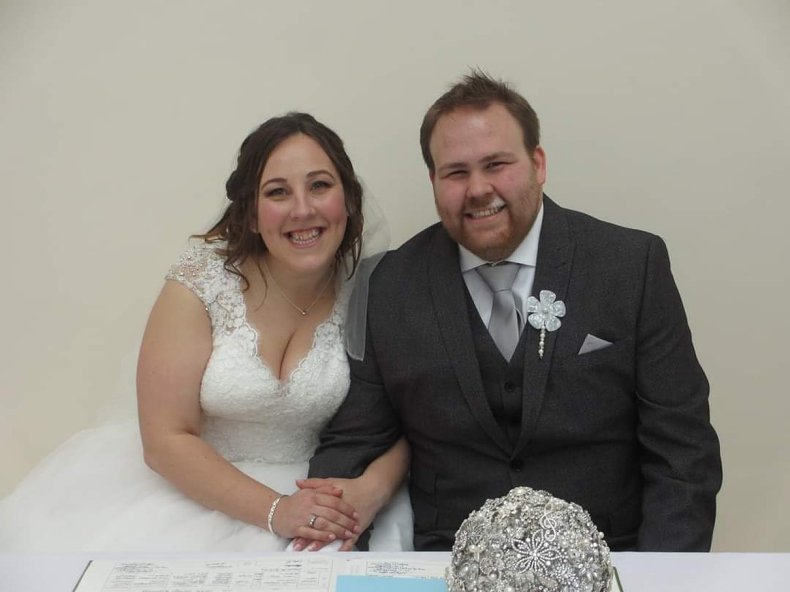 Contamination can also be the result of food being incorrectly handled or cooked. The symptoms are severe, ranging from headaches and fever to dehydration, diarrhea and painful stomach cramps.
To suffer as a result of food poisoning is difficult enough, but to do so during what is supposed to be one of the happiest times of your life is almost unimaginable.
When Emma, 34, and Stuart, 35, picked the location for their wedding reception on March 30, 2018, they did so after two years of planning and having heard positive things about the venue.
The plan was to board a flight bound for Los Angeles, just two days after the ceremony, with a jam-packed Honeymoon itinerary ahead that included a trip to Disneyland California, a Hawaiian cruise, and a few days in L.A.
However, while on the flight to California, Emma began to experience irregular feelings in her stomach that soon developed into fever and diarrhea.
As the honeymoon progressed, these health issues continued with Emma also going on to suffer from headaches, dehydration, disrupted sleep, weight loss and painful stomach cramps.
The problems persisted throughout their trip, leaving the couple unable to enjoy the holiday they had planned for so long, with Emma requiring access to a bathroom roughly every 20 minutes and not able to use public transport due to her increasingly uncomfortable state.
This forced them to spend more on being transported around in taxis, while during much of the trip they were receiving messages from wedding guests informing them they too had fallen ill. Of the 180 wedding guests who attended, 28 reported feeling ill.
When they returned home, Emma and Stuart enlisted the services of law firm Leigh Day who brought a legal case on behalf of the couple and several wedding guests against the venue.
A Public Health England report subsequently concluded there had been an outbreak of campylobacter among the guests at The Manor at Bickley that day, most likely caused by a chicken liver pâté served at the reception.
According to the CDC, campylobacter infection, or campylobacteriosis, is "the most common bacterial cause of diarrheal illness in the U.S.," with around 20 cases per 100,000 people reported every year.
Leigh Day lawyers Angela Bruno and Jennifer Ellis, who are part of the firm's food safety team, were able to secure a settlement for the couple and the 28 guests who suffered food poisoning, but the legacy of their experience lives on.
Emma has battled with feelings of depression and chronic anxiety linked to her experience, while her memories of her wedding have been soured as a result.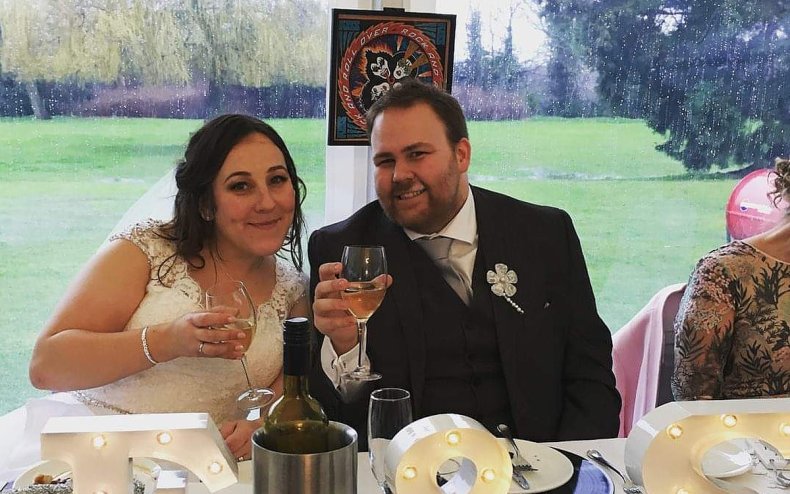 "What was supposed to be one of the best memories of our lives was devastatingly tarnished by the severe food poisoning myself and almost 30 of our wedding guests experienced," she said.
"Stuart and I had been dreaming of our perfect wedding and honeymoon for years and we invested a lot of time, money, and emotional labor into making it a reality.
"What could have been a magical time for us at the beginning of married life turned into a nightmare. I was too unwell to enjoy our honeymoon together and Stuart had to look after me the whole time. I cannot even look back on my wedding day with fond memories as they have all been overshadowed by the harrowing ordeal caused by the food poisoning."
Emma said what added to the stress was the knowledge that friends and family were also suffering as a result of the food poisoning, an experience she described as "unbearable."
She also recalled the feeling of "realization that this is how people would remember our special day."
"We struggled to get any acknowledgement from the wedding venue, and we were left feeling isolated and in the dark," she added. "The accumulation of all the stress has taken its toll on me long-term and still impacts me to this day."
The Manor at Bickley has received over 300 reviews on TripAdvisor, with the overall rating being 3.5 out of 5.
Newsweek has contacted the Seatons and The Manor at Bickley for comment.