Video of Couple Turning Backyard Into 'Dream' Wedding Venue Charms Internet
A TikTok post showing how a newlywed couple turned a backyard into their own private wedding venue has taken the Internet by storm.
Lindsey and Tyler Dobson are owners of the TikTok account by the username of floridaflipsters, which has over 520,000 followers. Based in St. Petersburg, Florida, the young couple has been together for almost 4 years and share a passion for giving second life to discarded furniture and real estate.
On February 23, the couple uploaded a TikTok timelapse of the two-month project they undertook last year to build a private venue in their backyard, which they used to host their own 50-guest wedding—including both the ceremony and reception.
The video was captioned: "When you and your partner are a team and somehow manage to create your dream backyard wedding in under 60 days". Since it was published, the post garnered almost 600,000 views and 30,000 likes.
Speaking to Newsweek, Lindsey and Tyler shared that they had originally booked a local venue to host their big day. However, after having a "nightmare experience" with the venue, the couple opted for a more "unique, laid back and intimate" backyard wedding once they purchased their dream home.
"We moved into our new home in late August and had our wedding the first weekend in November," the couple told Newsweek. "Looking back it's funny because we can't believe we even ever considered an alternative. It ended up being better than any venue we toured, at a fraction of the cost."
Both Lindsey and Tyler received a stream of supportive comments from followers congratulating them on their recent nuptials. "Congratulations to you both, and many years of happiness and blessings", wrote one commenter.
There were also a number of more long-standing followers that have observed their journey as a couple. "Watched your whole journey & it was truly beautiful and amazing the transformations you guys did together!" shared a user.
Other TikTok users praised the couple for their project, highlighting the long-term benefits that their new backyard will bring. One user pointed out: "And you get to live with all the lovely improvements for years to come!!"
"Imagine looking out to the back yard and reliving that beautiful day, not to mention how much $ you saved!", wrote another. Lindsey and Tyler agree: "Every time we hang out in our backyard, we get to remember our wedding day. Not many people get to say that!"
According to Statista, the average wedding cost in the United States in 2019 was as high as $33,900, with venues accounting for the highest single cost at an average of $10,500. However, with inflation rates continuing to rise, many newlyweds may be looking to ways of how they can cut costs and better manage their budgets.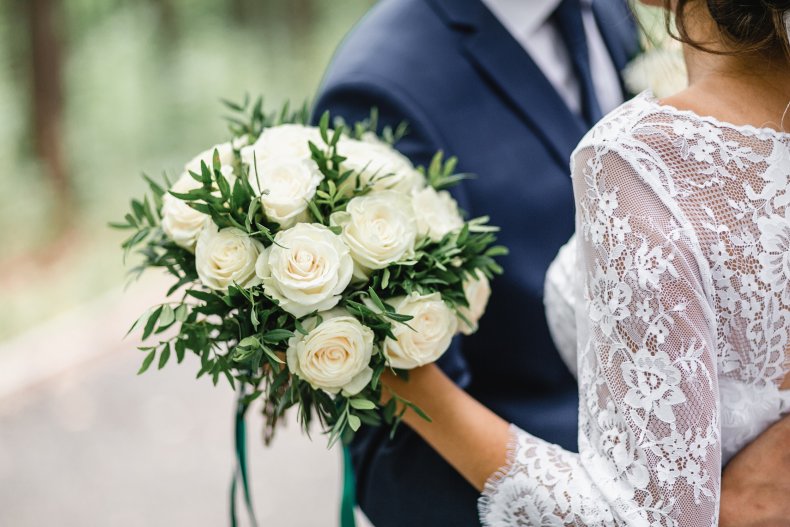 "Spending thousands of dollars on a wedding venue is not at all necessary and just brings added stress financially," Lindsey and Tyler shared. "When you do a backyard wedding, you are much more likely to stick to your budget and you feel more at ease being in your own space."
"There is also an immense amount of pride you get to share with your spouse having accomplished putting together such a special day that is uniquely your own," they said. "We took a team approach and tackled almost every project together."
Although the couple mentioned that the process of putting together a backyard wedding in just 60 days was intense, they have no regrets. "We put a lot of physical and emotional stress on ourselves, but we wouldn't change it for the world."
As is the case with regular weddings, the Dobsons also recommend booking all your major vendors as soon as you can in order to give yourself enough time to focus on the decor. "We opted to build our own arch and we even built all of our tables for the reception dinner," the couple said.
"Hopefully the fact that we could accomplish a backyard wedding [in such a short timeline] can inspire someone that they can do it as well!" they shared. "One thing to note is that we did have tons of help from our friends and family the day of the wedding. Make sure you aren't acting as a host on your wedding - you deserve to just relish in the moment."
Newsweek previously wrote about an influencer who shared her secrets on how to throw a wedding with over 100 guests for under $10,000. Her top tips on cutting down on wedding costs involved purchasing flowers and cake from Sam's Club and ordering food from a local pizza shop.