Prices in the U.S. continue to rise, with Americans feeling the extra costs at grocery stores and gas pumps, as an inflation gauge rose 6.4 percent in February compared with a year ago.
The U.S. Commerce Department's figure, released Thursday, shows the largest year-to-year rise in inflation in over 40 years. The surge in inflation will cost households, on average, an extra $5,200 this year, or an additional $433 each month. Higher prices for food and energy account for nearly half of that total, CBS reported. With oil prices surging after the start of Russia's assault on Ukraine last month, Americans began paying over $4 for a gallon of gas, according to AAA.
As prices at the grocery store have spiked, along with food shortages and supply chain problems, Americans have seen the impact when shopping for food. Meat prices have risen 16 percent from a year ago, beef prices jumped 20.9 percent, and wheat prices have gone up 70 percent in the last month. Overall, consumer inflation in the U.S. increased by 7.9 percent in the 12 months that ended in February, the biggest jump since 1982.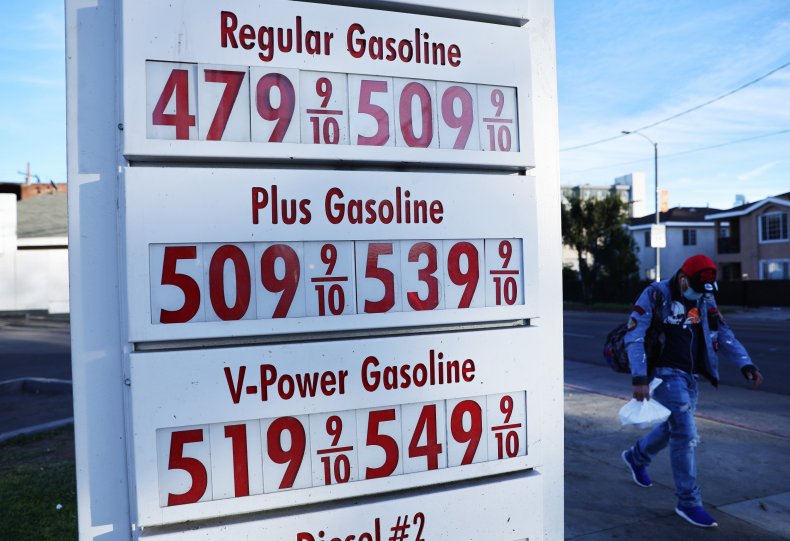 Excluding the higher prices for food and energy, core inflation increased 5.4 percent in February from the year before. The higher prices took a toll on consumer spending, which increased only 0.2 percent in February, compared with 2.7 percent in January. Personal income increased to just 0.5 percent in February, with disposable income increasing 0.3 percent, according to the data.
In a statement earlier this month, President Joe Biden said the inflation rise is a "reminder that Americans' budgets are being stretched by price increases and families are starting to feel the impacts of Putin's price hike."
He added, "As I have said from the start, there will be costs at home as we impose crippling sanctions in response to Putin's unprovoked war, but Americans can know this: the costs we are imposing on Putin and his cronies are far more devastating than the costs we are facing."
Not surprisingly, a recent poll found that Americans' top concern is inflation. A poll by Quinnipiac University said 30 percent of Americans believe rising costs were the most important issue in the country, while 14 percent said Russia's invasion of Ukraine was more important.
Asked about how Biden is running the economy, 58 percent said they disapproved, while just 34 percent approved. Additionally, when asked about who was responsible for the most recent spike in gas prices, 41 percent said it was the Biden administration, 24 percent said it was the war in Ukraine and sanctions against Russia, and 24 percent said oil companies.
Since Russia invaded Ukraine on February 24, oil prices steadily climbed for weeks but have since stabilized. However, it doesn't seem that prices at the pump will be dropping significantly anytime soon. The national average for a gallon of gas is $4.33, up 0.61 cents from a month ago, according to AAA.
Update 3/31/22, 10:53 a.m. ET: This story was updated with additional information and background.