Inflation Tops Americans' Priority List Over Russia-Ukraine War: Poll
As the Russia-Ukraine war enters its fifth week, a new poll showed Americans are most concerned about rising prices.
Quinnipiac University found that 30 percent of U.S. adults listed inflation as the most urgent issue facing the country today, compared with 14 percent who said the same about Russia's full-scale invasion of Ukraine.
Republicans were more likely than Democrats to list inflation as the top issue, while more Democrats said the conflict abroad was the nation's most urgent matter.
While inflation and the war top the list of Americans' concerns, President Joe Biden's approval rating on both is underwater. Biden's overall poll numbers declined over the course of his first year as he's tackled several ongoing crises.
When it comes to the economy, just 34 percent of Americans approve of the job Biden is doing compared with 58 percent who disapprove. The Consumer Price Index rose by 7.9 percent through February, the highest rate in 40 years.
On handling the Russia-Ukraine war, Biden has 44 percent approval and 45 percent disapproval.
Russia's invasion of Ukraine began on February 24 as Russian President Vladimir Putin's forces entered the Eastern European nation from three fronts. The attack has prompted a refugee crisis as at least 4 million people have fled the region. The United Nations human rights office said Sunday the civilian death toll in Ukraine has climbed to 1,119.
The U.S. and its European allies have united to impose economic sanctions on Russia, including the nation's largest financial institutions, wealthiest oligarchs and even Putin himself.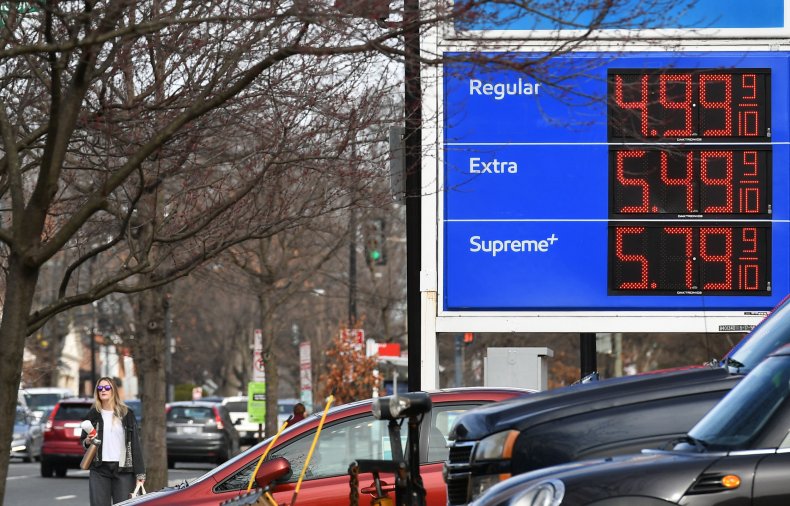 The Biden administration has also stopped importing Russian oil, despite rising prices at the gas pump.
The national average for a gallon of gas on Wednesday was $4.236, according to the American Automobile Association (AAA). That's a fractional decrease from last week's $4.237 per gallon but still more than 60 cents higher than last month's average price.
Americans gave the Biden administration the most blame for rising gas prices: 41 percent of respondents said the administration's economic policies were the most responsible for costs at the pump.
Republicans have argued that Biden's temporary freeze on new drilling leases and other initiatives centered on clean energy have exacerbated the crisis by hurting the country's ability to produce its own oil and gas. White House officials and industry experts have rebuffed that stance.
Oil companies and the Russia-Ukraine war each received 25 percent of the blame in the new survey.
Quinnipiac University polled 1,462 U.S. adults from March 24 to March 28. The survey has a margin of error of plus or minus 2.7 percentage points.