Have Biden Administration Policies Reduced U.S. Oil Production?
The White House's energy agenda is under fire as gasoline tops $4.17 per gallon.
Republicans argue that President Joe Biden's temporary freeze on new drilling leases and other initiatives centered on clean energy have hurt the country's ability to produce its own oil and gas. Their criticism has ramped up as the conflict between Russia and Ukraine throws the global energy market into a tailspin, driving the price of crude oil up to $129 per barrel.
"You talk about weakness on the part of Joe Biden. He comes to office, and what does he do?" Representative Josh Hawley said at the Conservative Political Action Conference last month. "He shuts down American energy production and greenlights Russian energy production."
But administration officials and experts say that's not exactly the case.
"We've already seen domestic production ramp up," Alan Zibel, a research director at Public Citizen, told Newsweek.
Zibel noted that production "fell off a cliff" in the spring of 2020 due to the coronavirus pandemic but has been gradually coming back since, under both former president Donald Trump and Biden.
Natural gas marketed production increased 2.2 percent in 2021, according to the U.S. Energy Information Administration (EIA). While crude oil production fell slightly in December 2021 compared to November 2021, the EIA has predicted U.S. production of crude oil will rise to average 12 million barrels per day in 2022 and then to a record-high of 13 million barrels per day in 2023.
"It's simply not true that my administration or policies are holding back domestic energy production," Biden told reporters on Tuesday. "That's simply not true."
Conservatives and members of the energy industry have specifically hit the administration for pausing new federal oil and gas leases and permits.
Early in his presidency, Biden signed an executive order directing the Interior secretary to halt new leases and begin a thorough review of existing permits for fossil fuel development. But 13 GOP state attorneys general sued and a federal judge in Louisiana blocked the order.
Then last month, the administration said it was again delaying decisions on new oil and gas leases after another legal battle resulted in a judge blocking officials from using higher cost estimates of climate change when making rules for polluting industries.
"Our members believe that the administration's attack on American oil and natural gas, starting with Day 1 has been relentless," Dan Naatz, executive vice president of the Independent Petroleum Association of America, told Newsweek. "They really had the goal of shackling the industry with increased taxes, increased regulations and limiting access on federal lands both onshore and offshore to allow our members to get out and operate."
But Zibel said it's important to note the difference between new leases for drilling on public lands and existing production. Most drilling in the U.S. takes place on state or private land, which hasn't been restricted by the administration's policies.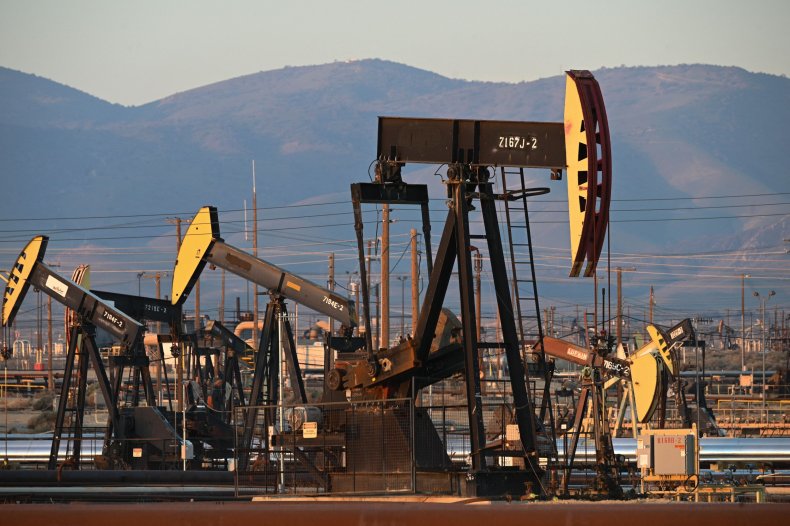 Brett Hartl, the government affairs director at the Center for Biological Diversity, also noted more drilling permits were approved in the first year of Biden's presidency than during his predecessor's first 365 days. The center found the Biden administration approved 3,557 permits for oil and gas drilling on public lands last year, outpacing the Trump administration's first-year total of 2,658.
"As an environmentalist, I wish the administration would crack down on fossil fuel drilling much, much more," Hartl told Newsweek. "I think in the long run, it's super harmful. But it's just not factually accurate for the industry to complain, 'We're so helpless' when they've been given a huge green light over the last year and they're sitting on thousands and thousands of permits to drill. What are they waiting for?"
White House press secretary Jen Psaki has also pointed to unused permits as the administration faces criticism for its energy policies. According to the latest data set from the Bureau of Land Management, there were 9,173 approved permits to drill as of December 31, 2021.
"There are 9,000 approved drilling permits that are not being used," Psaki told reporters Monday. "So the suggestion that we are not allowing companies to drill is inaccurate. The suggestion that that is what is hindering or preventing gas prices to come down is inaccurate."
Naatz, from the Independent Petroleum Association of America, also said that further driving up U.S. oil drilling wouldn't have an "immediate effect" on gas prices.
Biden warned Tuesday that prices could get even higher after announcing a ban on Russian oil imports. The sanction, which had broad support from both sides of the aisle, comes as Vladimir Putin continues to move further into Ukraine.
"Since Putin began his military buildup on Ukrainian borders, just since then, the price of the gas at the pump in America went up 75 cents," Biden said Tuesday. "And with this action, it's going to go up further."
For more information on the war in Ukraine, visit our live blog.