Bride Charged As Wedding Guests Allegedly Eat Cannabis-Laced Food
A Florida bride and her wedding caterer have been charged after several guests fell ill after having eaten food allegedly laced with cannabis.
Danya Glenny, 42, from Longwood, and Joycelyn Bryant, 31, of Joycelyn's Southern Kitchen, from Orlando, have been charged with tampering, negligence and delivery of marijuana.
It follows on from reports of an incident at Glenny's wedding reception at Springs Clubhouse on 400 Woodbridge Road, Longwood on Saturday, February 19, in which several guests contacted the emergency services after falling ill.
According to a report from the Seminole County Sheriff's Office, the investigation was sparked after a male guest called 911 to request an ambulance as he "was feeling weird."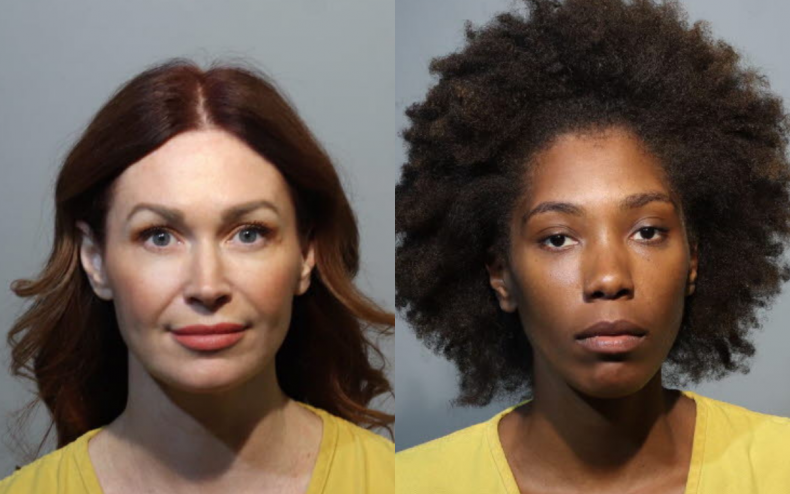 The man went on to explain that though he had consumed food and wine at the event he felt like he "had drugs inside him."
Upon arrival at the Springs Clubhouse, officers found multiple guests from the wedding party of up to 50 people were reporting feeling unwell, with one man telling them "he felt high."
Several other guests, meanwhile, were complaining of "stomach pains and vomiting" according to the report with officers from the Seminole County Fire Department tasked with assessing those affected to see if they required more treatment at South Seminole Hospital.
The report indicates that "at least one" guest required further treatment in hospital.
According to Healthline.com, some of the more common side effects of eating cannabis can be dry mouth, sleepiness, and changes in visual perception.
A woman claiming to be among the wedding party alleged told police at the scene that the food served had been "laced with marijuana" while another man reported feeling "high/stoned."
The sheriff's office later questioned Glenny and another individual to try and ascertain whether they had "consented to or requested any of the food contain cannabis products."
They told officers they did not. No catering staff were available to speak to deputies at the time. However, officers were able to collect "multiple food items" for "evidence and testing purposes."
Miranda Cady, who attended the wedding, detailed the seriousness of the situation to WFTV9, explaining: "I think people thought they were having heart attacks."
"We're all just enjoying and celebrating our friend's success on the dance floor, having fun catching the bouquet," she told the news provider.
"I just started feeling a little bit dizzy, just kind of like the room was spinning a little bit and things were distorted."
According to arrest warrant affidavits obtained by lawandcrime.com, during a subsequent investigation into the incident Cady told deputies that before eating anything she had asked Bryant if there was marijuana in the food.
Bryant allegedly "giggled and shook her head yes." When asked again by Cady if "this was for real" Bryant is alleged to have once again said "yes."
Still skeptical of her response, Cady went on to eat at the wedding, explaining to deputies that "if she believed that there had been marijuana in the food, she would not have eaten it."
The affidavit states that when Cady later realized she had consumed marijuana, she confronted Glenny on the dance floor at the wedding.
She alleges that she asked the bride if marijuana had been put in the olive oil served to guests and that Glenny allegedly "shook her head yes and acted excited."
According to the affidavit, Cady also claims to have seen Bryant removing "a green substance" from a bowl and placing it into smaller dishes that later contained olive oil served to guests.
The affidavit describes several other guests experiencing strange symptoms during the wedding reception.
One guest told the authorities he "felt tingly, his heart started to race, and [he] was having crazy thoughts," while a female guest recalled feeling "numb" and "helpless" and that "her mind was playing strange things in her head."
Another suffered paranoia and became convinced her son-in-law had passed away and that her family was withholding this information from her.
She was later taken to hospital where, according to the affidavit, she became "loud and unruly and had to be given something to calm down."
Another guest, meanwhile, told police he was "so drugged that he was having difficulty operating his cellphone to order an Uber."
The affidavit states that all of the guests at the wedding who reported feeling unwell were tested for cannabis with the results coming back as positive.
None of those interviewed by police said they had consented to consuming cannabis and said they would support any prosecution.
Following the conclusion of the investigation, Glenny and Bryant were charged on three counts of tampering, negligence and delivery of marijuana.
They turned themselves in to the Seminole County Sheriff's Office jail facility on Monday evening on the active warrants, and have since bonded out.
Glenny and Bryant are due to be arraigned on June 7.
Glenny is a chief marketing technologist and the founder of Fervorworks, a company which, according to its Instagram page specializes in "research-led, empathy-based frameworks to r(e)humanize business."
The Seminole County Sheriff's Office has declined to make any further comment at this time.
Newsweek has contacted Glenny and Cady for comment.
Update 04/21/22 at 5:40 a.m. ET. This article was updated with additional information from the arrest warrant affidavit.