Bride Finds Dress Stained in Blood After Run-In With Leeches on Wedding Day
An Australian woman revealed in a now-viral video that her wedding dress was left bloodstained following an unexpected run-in with leeches.
The video was posted to TikTok last week by Madalyn Wise, who wrote: "There's always something that doesn't go quite right at your wedding, right?" The post has amassed over 20 million views and thousands of comments from horrified viewers, many of whom said the video "unlocked a new fear" of leeches for them.
"What we discovered underneath my dress a few minutes after our first dance," the video's text overlay read.
The video opens with footage from Wise's first dance with her husband. After a few moments, the footage is interrupted by a photo of Wise's dress—the back of which is covered in blood. From the shot, it's apparent the source of the blood is Wise's leg.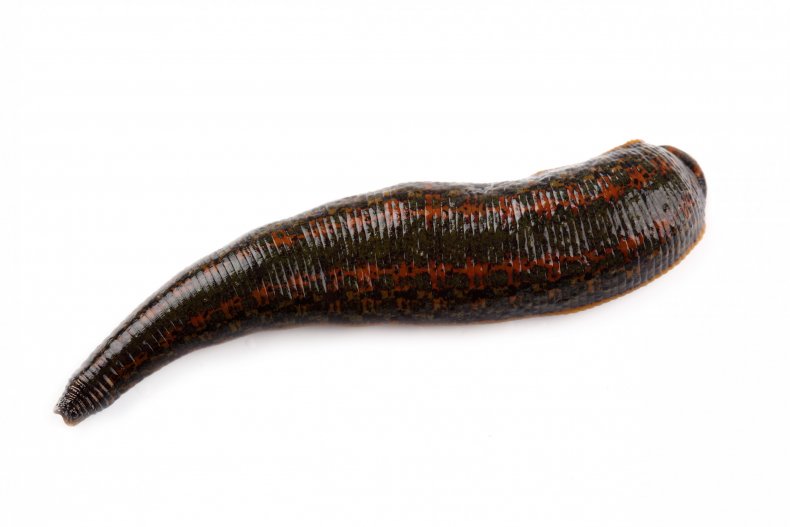 "It was a leech," the text overlay continued.
In the next frame, Wise shares a video of the fat leech slithering around, followed by a picture of the parasite wrapped inside a paper towel.
Finally, the video ends with a photo of Wise's bandaged leg.
"Wedding night [shenanigans]," the text overlay concluded.
In a separate video posted the following day, Wise explained that after her new mother-in-law escorted her quickly off the dance for and said, "There's blood," she thought she had started her period early from the stress of the wedding. But when her dress was lifted, she found not one, but three leeches underneath her dress.
"There was one underneath my foot, one in the pit of my knee—like, the armpit of my knee—and there was another one just crawling up my leg," Wise shared.
She went on to say that she believes the leeches attached themselves to her during a photoshoot amid "really long, sludgy grass"—three hours before she noticed.
"I was the only one at the wedding who had this leech issue," Wise recalled. "None of my guests had any leeches on them, none of the staff...no one had a leech but me."
Thankfully, her wedding coordinator managed to sponge the stain out of Wise's dress.
"We ended up finishing the night just dancing and mingling with guests and I was showing everyone my bandaged leg," she said.
TikTokers Taken Aback
Considering the leeches were attached to Wise's leg for several hours, viewers couldn't help but wonder—how did she not notice?
According to Healthline, leeches' saliva contains "analgesic properties that numb the area where it attaches."
"This means you may not even feel the leech before you see it on you," the website explained.
To safely remove a leech, Healthline advised individuals to first locate its head and mouth, then use one hand to "gently pull [the] skin under the leech until it's taut."
Once that's been done, "gently slide a fingernail under the leech's mouth to separate it from your skin," and "flick the leech away" before it can reattach.
"You'll see a lot of bleeding when you remove the leech. Clean the wound and then use a sterile bandage to cover it. Change the bandage frequently for the first few hours until bleeding stops," Healthline advised.
Many leech bites are "harmless." Still, viewers were left with an uneasy feeling after watching Wise's videos.
"New fear unlocked," wrote MyPerspective.
"Suddenly my whole body feels itchy," said River.
"This makes me feel deeply uncomfortable," commented jane4bert.
Chloe added: "I don't want a wedding outside anymore..."
Newsweek has reached out to Madalyn Wise for comment.
Other wedding stories to go viral recently include that of a couple who spent their wedding day searching for their lost dog, that of a woman who was vilified by her family for drinking a half-gallon of milk at her sister's wedding, and that of a bride who called out her cousin's fiancé for her "inappropriate" behavior during her wedding,