Bride and Groom Tracksuits at Wedding Reception Leave the Internet Divided
A bride and groom have gone viral after deciding to ditch their formal attire for something a little more comfortable during their wedding reception.
The unnamed newlyweds decided to don tracksuits for the evening festivities in a move that has sparked intense debate on Instagram.
Their unconventional approach was highlighted by wedding videographer Sarah Gonzalez of Wildwood Films, who shared footage of the happy couple enjoying the evening in their sweats to social media.
The bride opted for an all-white crop top, tracksuit pants and trainers combo finished off with a white veil while the groom was decked out in a black hoodie and matching black tracksuit pants.
Gonzalez's post, which can be viewed here, proved popular, racking up more than 734,000 likes on Instagram with the videographer tipping the look as the "coming trend" for weddings over the next 12 months.
"I love when couples say screw tradition and find unique and fun ways to show their personalities on their wedding day and start new trends of their own," she wrote via wildwoodfilms on Instagram.
"I predict sweat suits will be an up and coming trend this year and I am HERE FOR IT."
But while Gonzalez appeared sold on the idea, others appeared decidedly unsure.
Writing in the comments section, ascorpioo said: "If I'm paying over $1000 for a gown, I'm wearing it until I die."
Cherryblossom_18_ was similarly unsure, commenting: "I like this but I feel I can't justify it if I I'm gonna spend SO much money on a dress and then don't ever were it for a full day."
A third, writing under the handle queen_elizabeth, meanwhile described the couple's choice of attire as her "worst nightmare."
"I have a Pinterest board with a few hundred pictures of potential wedding dresses and I'm not even engaged yet," she said. "I'm looking forward to being a princess soooo much."
Hiimaume branded the couple's decision to don sweats while guests remain in fancy clothes "inconsiderate" while squigglycarrot argued that "you only get one day to wear the most beautiful expensive dress you will ever wear."
Despite the negative responses the approach garnered, there were still plenty who felt the tracksuit look was an inspired choice.
"I hope this trend catches," kiellalawrence wrote.
"Yes! I wanna bring back the velour tracksuits like Britney Spears did when she married Kevin [Federline]," lydiadeyleglam agreed.
Tbbonz also expressed support for the look for helping to "normalize wearing whatever we want at weddings."
"No one wants to spend thousands on a dress they only wear once," they added.
Kashedraa meanwhile argued that while they would "rather dress up" it was about the couple being "comfortable" with "whatever makes them happy" on their wedding day.
Jennyheister117 concurred, describing the look as "cute and comfortable."
The look may be dividing people on social media but demand is reportedly up for more casual bridal attire designed for wear during wedding receptions.
Etsy trend expert Dayna Isom Johnson recently told Glamour that "brides are focusing on what really matters and opting for attire that makes them feel like themselves on their big day."
"On Etsy we've seen increased interest in casual bridal wear like wedding jumpsuits, short dresses, and even beach wedding dresses."
Gonzalez told Newsweek she was "shocked" at the number of negative comments her post attracted and said she wished society "could normalize letting a bride wear what she wants on her wedding day without criticism or negativity."
"I always encourage my couples to do things that feel most authentic to them as a couple and not to feel pressure to do something just because of tradition," she said.
"There's a time and place for tradition, but I don't believe in doing things if they have no meaning to you personally. I also don't believe in not doing something just to please others. I say to my couples, create your own traditions!"
She added that the tracksuit couple ended up having "the most fun after they changed" and "tore up the dance floor" for the rest of the night.
The choice of wedding attire remains a source of much discussion on social media. One wedding guest recently sparked consternation online after wearing a printed white dress to the ceremony.
In another instance, one bridesmaid vented her frustration at the spiraling costs associated with her friend's wedding.
Her biggest issue centered on the bride's insistence that they wear matching dresses regardless of the expense for those involved.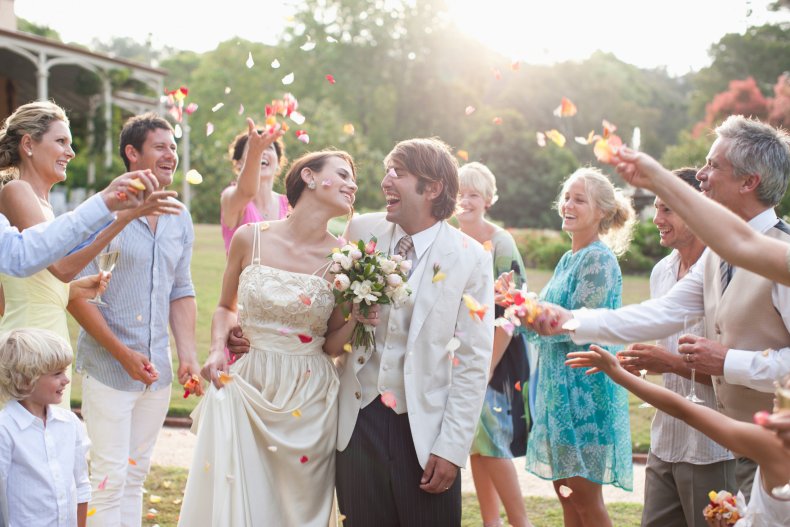 UPDATE 9/30/21, 12:11 p.m. ET: This article was updated to include comment from Sarah Gonzalez.