Bridesmaid Slams 'Spiralling Cost' of Wedding As Bride Demands Matching Dressing Gowns
A wedding is, hopefully, a once-in-a-lifetime event, and those planning it want it to be special. For some couples celebrating their union means no expense is spared but resentment can arise when this attitude is also expected to extend to others.
This is exactly what happened to one woman, who was asked to be a bridesmaid and took to Mumsnet to share her frustration at the hidden costs involved, prompting over 100 replies.
Posting to the discussion-based site an account by the name BleshRed revealed on September 20 she "did not realise quite how expensive" being a bridesmaid would be.
The woman explained that while the bride did purchase their dresses, "she's demanded specific shoes and told us to buy them ourselves."
"Gave us 48 hours and then added us to a WhatsApp group to call out who has and hasn't bought them."
BleshRed went on to reveal, in the post which can be read here, that the wedding was in December so she doesn't understand the time pressure.
However, the shoes are not the only item she has had to fork out for: "The paying for lunch on her dress fitting day (bridesmaids wanted us all to split it).
"The huge spiralling cost of the hen do [bachelorette party]. The travelling and accommodation costs for the wedding itself. The expectation of money for her wedding gift itself."
The final straw for the disgruntled bridesmaid is that she was contacted by the chief bridesmaid who said: "The bride wants us all in bloody matching dressing gowns for the morning to have our makeup done.
"In the (frankly horrible) colour of the bridesmaid dresses with something stitched on the back about the wedding date. I will NEVER wear that again. I really don't want to buy one..."
There is currently an increased demand for weddings, as many people had to postpone their marriages due to the coronavirus pandemic.
In 2021, Weddingstats.org estimates the average cost to be between $29,000 and $31,000, depending on size and location.
However, this amount is expected to increase over the next few years as vendors try to recover from the financial losses they have suffered over 2020 and 2021.
BleshRed asked the forum if she was being unreasonable and many people took to the comments section to share their opinions.
FlyingScott wrote: "Draw a line under all this nonsense. If she wants them for you she'll have to buy them. Who does dressing gowns anyway? I'd be wearing a T-shirt and a pair of joggers."
Shouldistop agreed, adding: "If she wants specific things for her wedding then she has to pay for them."
Twillow offered some solutions, typing: "If they're not shoes you are going to wear again - no. Those tacky dressing gowns can be got really cheap on wish type sites. What do the other bridesmaids think? Can you make something up about an emergency that has used up all your spare cash? Can you even just drop out?"
LivingLaVidaBabyShower opined: "I really don't understand why women put their alleged friends through this sh*t....
"I'd just find some vaguely plausible reason and step down and if you want to be nice/attempt to salvage the friendsh*t (not a typo) offer to pay for the gross dress. From experience this is only going to get worse (ie more expensive)."
Blushred then replied to this, revealing: "I'd actually love I drop out but I can't really as the bride is my sister."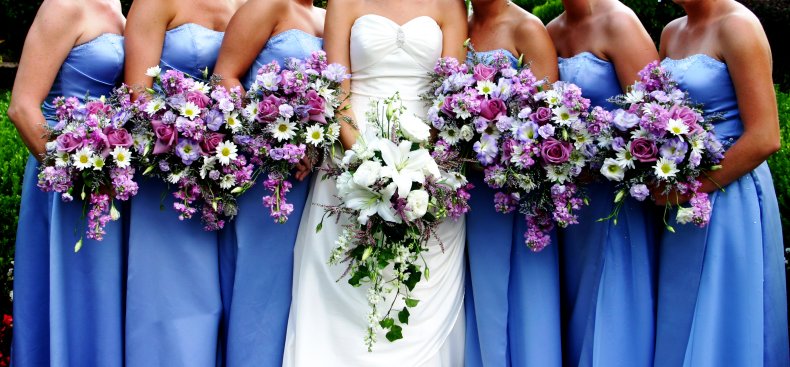 Update 9/30/21: This article was updated to provide more information about the current state of the wedding industry.