Bride Stops Wedding After Realizing She's Missing Half Her Dress
A bride left her guests in stunned silence after halting the ceremony just as the vows were about to be read out.
However, she had a very good reason why she wanted to stop proceedings in their tracks: half of her wedding dress was missing.
It's the sort of story that's likely to induce nightmares among any bride-to-be out there. Yet Dubai-based newlywed Becky Jefferies ended up handling her wedding wardrobe malfunction with seemingly effortless style and grace.
So much so, in fact, she decided to share footage of the mishap to TikTok, captioned "me in the middle of my wedding ceremony realizing I'd made a terrible mistake" with the resulting clip accumulating over 27 million views.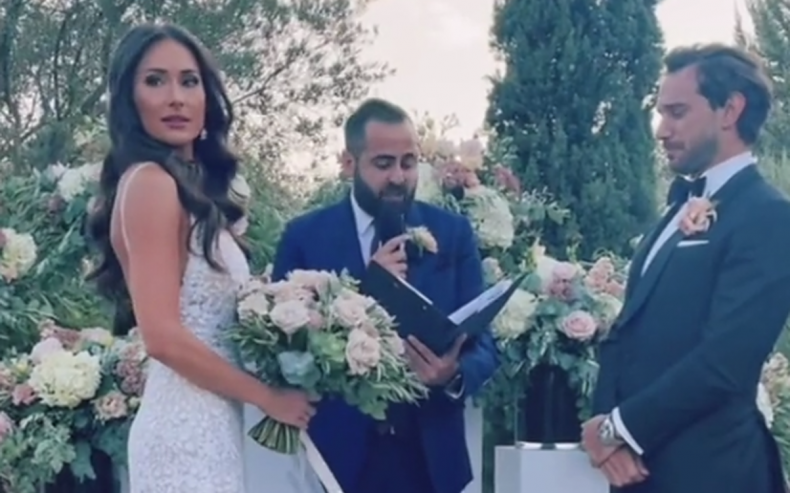 When it comes to weddings, there is a tendency for nervous couples to sweat the small stuff.
"Too often we see couples get so wrapped up in the details that the focus shifts from the celebration of a marriage to a fixation on the 'stuff' of a wedding," Maria Baer and Kelly Seizert, the co-owners of Washington D.C.-based wedding planning and production firm Ritzy Bee Events, told MarthaStewart.com.
"It's hard to have fun and be present in this once-in-a-lifetime moment if you're worried the peonies in the centerpieces are one Pantone shade off."
Yet, for Jefferies, those "details" went a bit further than something like the wedding playlist or a mix-up with the reception seating arrangements.
As the video she shared to social media shows, as she and her fiance Sherif Fayed were about to begin saying their vows, she suddenly realized the back part of her wedding dress was missing.
Just as they were told "you may now say your vows" she decided to intervene, asking that they "pause for a moment" before taking hold of a nearby microphone to explain the situation to her guests.
"I just realized when I got to the end of the aisle that I'm missing half of my dress," she said. The announcement drew laughter and possibly a little relief from those in attendance. "Maybe I could put it on now?" she asks, with her question prompting a resounding "yes" from her guests.
She goes on to reveal that just two nights earlier she had had a dream that she did exactly this.
Eventually, the missing part of her dress was located and attached to her waist, in a development that drew applause from the assembled guests. "Okay, we can resume," she declared as the happy couple finally moved on to saying their vows.
Writing in the comments section accompanying the clip, Jefferies explained that the mistake was a result of everyone being in a rush to get into their places when they got to the venue.
"When my girls and I arrived at the wedding, our planner hurried them to go sit down and it all happened in a flash," she said. "I had to run straight from the car to the aisle when I arrived: happened way too fast for me to realize!"
Despite this minor hiccup, the rest of the day went off without a hitch and while the mistake may have had Jefferies understandably panicked at the time, her efforts drew praise among those watching on social media.
Wedding Aesthetics Yay! commented: "you handled this so well," with longorrrriiia writing: "And this folks is a CONFIDENT WOMAN." A minority were critical. MrsPB37 said: "Not the best priorities but hey he obviously knows what he's getting in to."
Elsewhere, there was some sympathy for the groom with Obay Alattar commenting: "Bro got his whole relationship days flashed-back at him for a sec." W5f4 agreed, noting it looked like he "freaked out."
Others watching the clip also seemed to initially assume the worst, with brrreezzyy admitting "I really thought u meant marrying the guy was the mistake."
Despite the naysayers, plenty were appreciative of Jefferies' forthright approach. "I LOVE that she didn't apologize," BeepBloopBlob said. "It's her day and she confidently took control of the moment."
Newsweek has contacted Jefferies for comment.