Bride Urged to Elope to Escape Future Mother-in-law: 'Started a War'
A prospective bride tired of her future mother-in-law's meddling ways has turned to Mumsnet for advice, with users urging the couple to elope.
In her post to the parenting site's Am I Being Unreasonable? (AIBU) forum, user Autumnflakes explained her wedding is scheduled for summer 2023. However, her soon-to-be mother-in-law is putting a damper on her dream ceremony with her controlling behavior.
"[My mother-in-law is] constantly disagreeing with everything we decide and being extremely difficult," she wrote.
"She feels she should be a decision maker. She thinks she should be involved in meetings with the venue/suppliers etc, [and] we're not accepting a penny off her either!"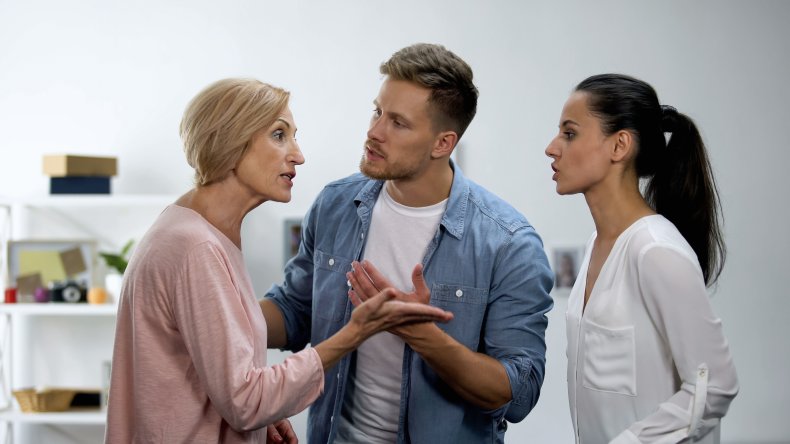 The future mother-in-law first "started [the] war" after she wasn't invited to Autumnflakes' bachelorette party, as "all other guests [were in their] late 20s/early 30s and she's in her mid 70s!"
"It's been one thing after the other," she continued.
"I only wanted my mum and best friend for wedding dress shopping. We [weren't] inviting her cousins who we had never met.
"My partner didn't involve her with the proposal or use the ring she wanted him to use, etc, etc."
To try and assert her dominance, the fiancé's mom has been threatening not to attend the wedding, as has his father.
The poster is also pregnant with her first child, and is concerned about the additional stress her in-laws are putting on her and the baby.
"Myself and my partner are extremely stressed," she said. "My family has recommended that we postpone the wedding for the sake of protecting the baby.
"We both still want to get married but this summer wedding just seems tainted."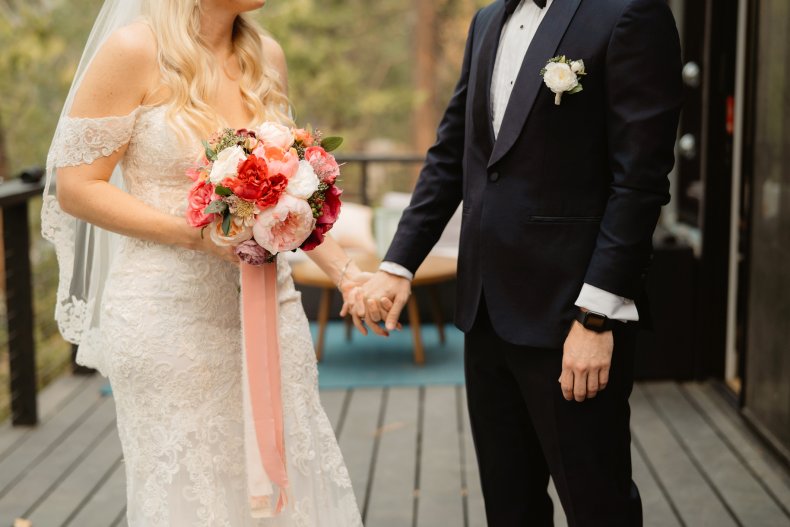 Both the poster and her fiancé want to elope, but his parents would cut off contact if they did so.
"I love the idea of eloping, very romantic, the day is just about us and we get married without all the faff," Autumnflakes said.
"Partner keeps saying he'd love to elope but it's disrespectful and quite rightly he'll be disowned.
"Is it disrespectful to elope?"
Why Are More Couples Eloping?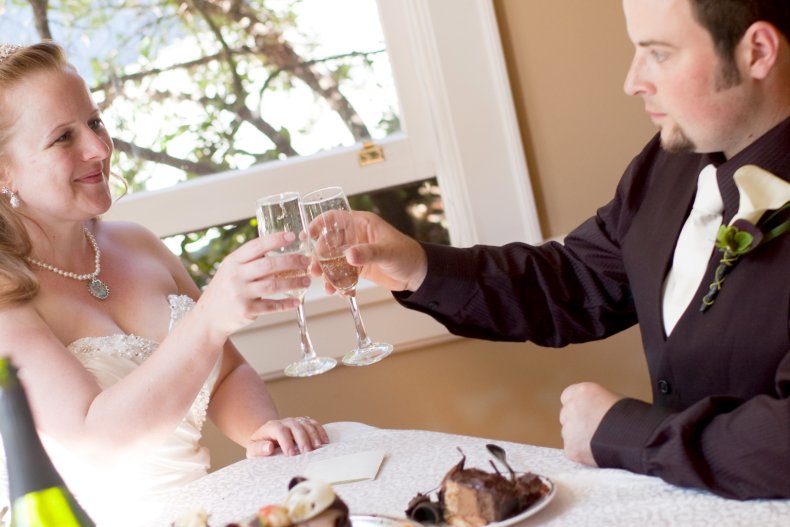 A 2021 study conducted by OnePoll and Stillwhite.com found that more couples were interested in eloping post-COVID.
Surveying 2,000 married American women, researchers discovered that newly-weds had been especially about costs when planning their wedding.
Not surprising, since research by Zola.com found that the average American wedding will cost $29,000 in 2023—over $4,000 more than 2019.
Six in ten participants said they had considered eloping just to save money, but cutting costs isn't the only reason couples consider this route, with even celeb couples like Sophie Turner and Joe Jonas opting for surprise ceremonies.
"At the heart of it, a wedding is about the two people committing to each other," Ellie Durbin, wedding planner and founder of The Aisle Assistant, told Newsweek.
"Eloping is not disrespectful if that's what the couple feels is right for them. That choice reflects the couple's wishes and in many cases has nothing to do with anyone else."
Nevertheless, family might feel hurt or slighted by a couple's decision to elope, especially if the parents have been looking forward to their child's wedding day as a parenting right of passage.
"[In these instances], a micro wedding with just parents and siblings would bridge the gap (along with a nice honeymoon to decompress afterward)," Durbin said.
'You'll Be Doing Things On Your Own Terms'
Mumsnet users agreed it wasn't "disrespectful" for the couple to elope, with Sirzy telling the poster to "do what feels right."
"You can always have a big family party when the baby is here to celebrate everything," they suggested.
"It's about the commitment not a show," agreed LlynTegid.
"You'll be doing things on your own terms and that's a great start to your own family," said Redebs, another poster.
"[The mother-in-law] is way over stepping the boundaries here," wrote TaraMock.
"Go for it. I wish we had," commented Exeterrose. "I spent my whole wedding day keeping four separated parents apart."
"Well I don't think you can win any which way you do it," said Notonthestairs.
While stealthninhamum wrote: "If she is always this bad then perhaps being disowned isn't a bad thing.
"You don't want the emotional blackmail and bullying when you have [your baby]."
Newsweek was not able to verify the details of the case.
Has a wedding come between your relationship with a loved one? Let us know via life@newsweek.com. We can ask experts for advice, and your story could be featured on Newsweek.