Bride Plays Hilarious Wedding Day Prank on Groom During First Look
A groom was left close to tears after his bride pulled an unexpected surprise during what was supposed to be his "first look" at her in her wedding dress.
Something of a popular trend in modern wedding culture, a first look sees the happy couple do away with the old tradition of not seeing each other until the bride is walking down the aisle, with couples meeting privately on the morning of their big day. It's a chance for the pair to enjoy a happy moment together and also pose for a picture or short video chronicling their reactions.
Speaking from years of experience, wedding photographer Jonathan Connolly believes it's a great way to help calm any nerves the bride or groom may be having ahead of the ceremony.
"Doing a First Look will give you peace of mind knowing that your significant other will be there for you to help calm those nerves," he explained on his website. "Time and time again we see the stress fly away just after the bride sees the groom for the first time. It's almost like a weight is lifted off their shoulder and the rest of the wedding day activities are a breeze."
However, one bride decided to take things in a slightly different direction for her groom's first look, with the results leaving everyone in stitches.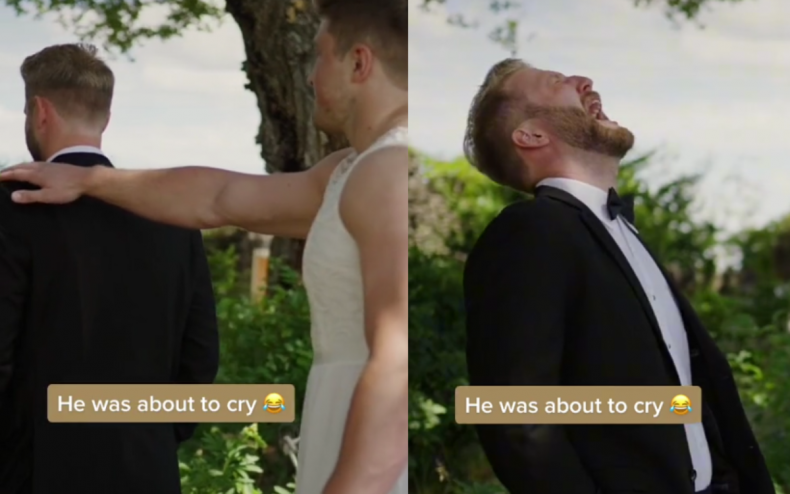 In a video shared to TikTok by Mezia Wedding Films, her hapless future husband can be seen standing looking off into the distance away from the camera, awaiting a tap on the shoulder that will signal his bride's arrival. Sure enough, the tap comes, but when he turned around to see the love of his life in her wedding gown, the groom instead found himself greeted by one of his close friends decked out in a dress of their own.
His reaction is priceless with the groom, who was already on the verge of tears, close to crying for altogether different reasons. "I was already about to cry!" he tells the friend as the pair share a hearty laugh together. His pal doesn't miss his chance to add to the hilarity of the situation, gesturing to the groom that "it was always us" in a show of true bromance. The groom begins laughing again, with the pair shaking hands before ending the clip in a warm embrace.
The clip has proven popular on social media, racking up 1.8 million views. Noah Koehoorn, the owner of Mezia Wedding Films, told Newsweek: "About 2 weeks before the wedding, the bride contacted me and said that she wanted to pull this prank on him. She had shown him a similar video months ago, and he had said he didn't want her to do something like that at their wedding, so she figured he wouldn't expect it at all, which he didn't!"
Despite the shock, Koehoorn reckoned the prank helped ease some of the tension the groom may have been feeling on the big day. "He kept laughing a little while after the camera cuts in the video, but he was probably chuckling about it for a couple hours after that when he'd talk with people about it," he said.
He said he doesn't know a lot about the bride and groom other than the fact he played college football at Eastern Washington University and now works as an accountant. His wife, meanwhile, studied speech language pathology at Washington State University, with the pair first meeting on a blind date.
In his experience, pranks like this are rare at weddings due to the often tight schedule of the big day, but this proved to be a memorable experience for all involved.
"This certainly was a memorable wedding moment for me," he said. "But there have been so many memorable moments at weddings I've filmed like the bride being driven to the aisle by her dad in a classic ford bronco, or when the groom can't contain his emotions at the first look with his bride. In this job you get to experience some really cool moments of joy and happiness."