Wholesome Video Showing First Look Between Bride's Parents Goes Viral
Some couples do a "first look" on their wedding day, but one viral video showed the sweet moment when the bride's parents participated in the popular tradition.
Wedding photographers Alex and Suzanne posted the video, which has been viewed more than 300,000 times, to their TikTok account @alexandsuzanne.
According to Brides Magazine, the first look gives couples the chance to spend some time together before the ceremony begins.
Wedding photographer Ashley Sawtelle told the publication that she "loved" having a first look at her own wedding.
"It gave us a moment before the day officially started to connect with one another and take a deep breath," she said.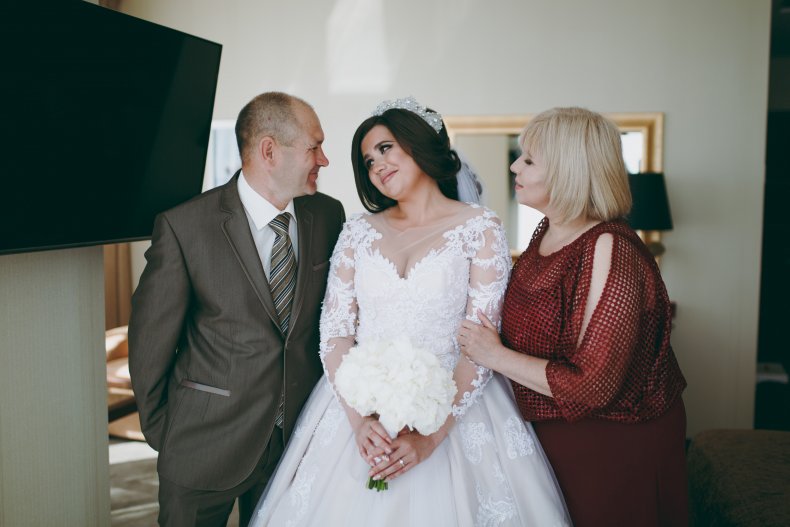 With Stephen Sanchez's Until I Found You playing in the background, the 14-second clip begins with the bride's mother walking up to her husband—the bride's father—and giving his shoulders a pat.
He turns around and a smile grows across his face before the two share a kiss and a hug.
"When the bride's parents (who are high school sweethearts) decide to do a first look," the video caption reads.
Alex and Suzanne told Newsweek in an email that this was the first time they did a first look between the parents of the couple getting married.
"The bride's dad had requested to not see his wife for the entire day, and so right before his first look with his daughter, he requested a first look with his wife," they explained. "It was so sweet."
And while the loving moment between the two was clear in the video, Alex and Suzanne said it was "even sweeter to see it in person."
"It's one of those moments you just want to put your camera down and let them enjoy their moment, but at the same time know they'll want to relive this moment over and over again," they said.
Alex and Suzanne also noted in the comments section that the couple has been together since they were 16 years old.
They said that the couple was emotional the entire wedding day because the bride is their only daughter.
"With how in love the mom and dad were, you would've thought it was their wedding day," Alex and Suzanne said. "They still look at each other with the same newlywed eyes that their daughter and her now-husband had that day."
The touching moment melted viewers' hearts who expressed their love for the video.
"Who's cutting onions," a viewer wondered.
Another TikTok user who said the couple in the video was their parents said the photographers did them "justice."
"This is so wholesome," a comment read.
Another viewer wrote, "I love the fact that y'all made it a true family celebration."
"They are truly in love," one TikTok user commented. "I see the love between them constantly and it's beautiful."
In addition to a first look between the bride's parents, the bride also arranged a first look with her father, which is seen in a second video, also shared by Alex and Suzanne.
Again, the bride's father smiled widely before he wrapped her in a hug.
Alex and Suzanne said they were "blown away" by the responses the video received.
"This moment brought tears to the eyes of complete strangers," they said. "It just makes us even more thankful for the job we have and the opportunity to capture these moments."
Many other sweet moments between couples have gone viral on the internet, including a video that shows a couple celebrating their 70th wedding anniversary.
Shelby Hoefling shared footage from the anniversary on what would have been the couple's 75th wedding anniversary. She noted her grandparents were married for 72 years before her grandfather died.
A bride's wedding entrance with her mother went viral on Reddit, as it showed a recreation of the bride's childhood moments she shared with her mother.
Another viral moment involved a photo of a potato chip wall at a wedding that was widely circulated on Twitter.
Update 4/14/22, 4:48 p.m. ET: This story has been updated with additional information and background.