Tear-Jerking Clip Shows Couple Renewing Vows for Their 70-Year Anniversary
A video of an elderly couple celebrating their 70-year wedding anniversary has captivated thousands of viewers, who watched the love story reach a bittersweet end.
The couple's granddaughter, Shelby Hoefling, shared their touching story in a TikTok video garnering over 130,000 views. She explained that her "Nanny" and "GrandJack" married on April 12, 1947, making today their 75-year anniversary. Footage from their 70-year anniversary showed the couple holding a ceremony to renew their vows.
"You know, I'm gonna say no," GrandJack joked before the service, as he donned his military jacket decked with ribbons and the two stars of a major general.
The next clips showed the couple getting into a car—he in full uniform with a walker, she with coiffed red hair, pearl earrings and a pearl necklace that draped in her ivory lace blouse, which topped an ivory calf-length skirt and satin heels.
A crowd of smiling family and friends awaited the couple's arrival for their ceremony. Bagpipes played in the background as the major general was assisted up a set of stairs.
"Here's to us, my love," Nanny declared onstage after they renewed their vows. "May we live 100 years. May I live 100 years, less one day."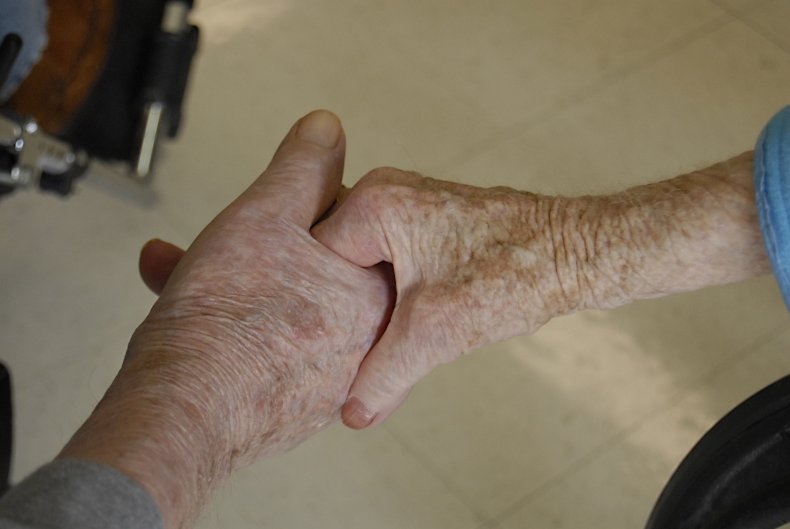 Hoefling revealed that her grandparents were married a total of 72 years before her grandfather died three years ago. In the viral video, she wished her "role models" a happy 75-year anniversary, adding that her grandmother "doesn't go a day without loving him just as she vowed she would 'love him all the days of her life.'"
Hoefling told Newsweek that her grandfather's tenure in the Army took him away from home for long stretches of time while her grandmother was raising children.
"I truly believe that their love is what got them through so much," she said. "I think their love is what helped them to live as long as they did. My GrandJack passed away at 92 and my Nanny turns 97 this year."
Marriage statistics in the United States show that long-lasting relationships are a thing to be cherished. Statistics from Law Info find:
First marriages in the United States last an average of seven years and almost half of all marriages end in divorce.
Second marriages have a 60 percent chance of ending.
Third marriages have a 73 percent chance of ending in divorce, with the odds increasing alongside the number of marriages a person has.
Most people divorce at age 30 and the highest age range for divorce is 25-39.
The rarity was not lost on Hoefling's viewers, some of whom said they were left in tears at her grandparents' love story, outlasting even her grandfather's life.
"Who's chopping onions!?!" asked the top comment.
Other commenters said they were "sobbing," "screaming" and "hysterically crying." One user said she had "just ruined fresh makeup."
"Imagine renewing your vows after 70 years together," said one awestruck viewer. "You've literally been through it, done it, loved it all. Happy anniversary you two!"
Others reminisced on the romance their own grandparents had cherished.
"When my grandmother passed, my grandfather mourned so greatly that he would place her urn next to him in bed because he couldn't sleep without her," one commenter said.
"My grandparents were like this," added another. "Born in '30 met in '36 in school and inseparable till death in 2009."
Hoefling said that her grandmother looks back fondly on footage from the 70-year wedding anniversary, even though half of her heart is gone. "You can tell that she misses him so much every single day, but she is a positive person," she told Newsweek.
Update 4/14/22, 12:41 p.m. ET: This story has been updated with a new video.