Bridgerton looks set to be Netflix's next big hit, with viewers already starting to binge the Regency romantic drama from super-producer Shonda Rhimes. Particularly, fans have been drawn to the up and downs of the romance between society belle Daphne Bridgerton (played by Phoebe Dynevor) and the troubled Duke of Hastings Simon Basset (Regé-Jean Page). Though there are clear romantic sparks between them for their first meeting, their love has many complications along the way, leaving fans worried what the future has in store for the couple.
Do Daphne and Simon end up together in Bridgerton?
WARNING: The following contains spoilers for the entirety of Bridgerton on Netflix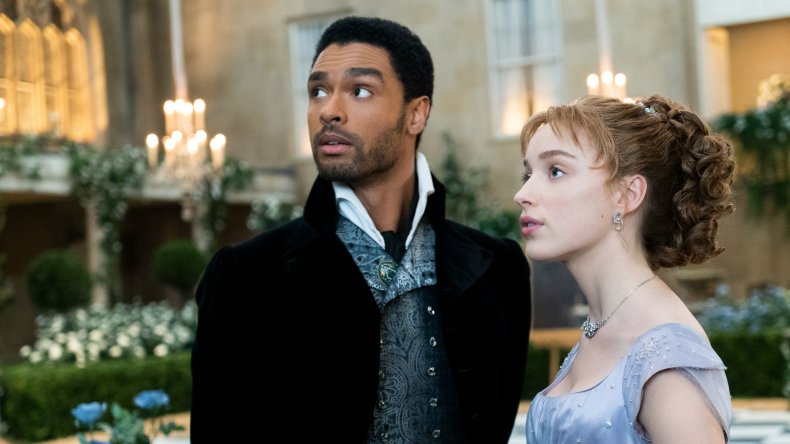 Like every good romance, Daphne and Simon eventually get their happy ending, but it is far from smooth sailing for them to get there.
The pair eventually get married in Season 1 of that Netflix show, but it seems that this marriage is doomed to failure – a particular problem in the Regency period, where very few marriages ended in divorce, and almost no divorces were granted to wives. In fact, between 1670 and 1857, only four divorces were granted to women in England.
Though divorce was difficult to get and was socially unacceptable during the time in which Bridgerton is set, Daphne and Simon's marriage seems to be all but over by Episode 7, when the pair agree to live separately after the end of the social season.
Mostly, the thing that is keeping them apart is their differing views on children – namely, that Daphne wants them while Simon does not. We learn that this is because the Duke had made a vow never to have children, mostly as the ultimate insult to his father – no child means no heir, bringing the Basset line to an end.
However, in the finale of the Netflix show, he realises that his love for Daphne (and desire to not be alone) is stronger than the hatred he has for his father, and Simon agrees to try to have a child with his wife. Bridgerton then ends with the pair of them welcoming their first child, a boy who is one day due to become the next Duke of Hastings.
After this rocky start to their marriage, the books reveal that Daphne and Simon stay together for good.
However, this does not mean that they will in the Bridgerton series. Each of the books that the show is based on, by romance author Julia Quinn, focuses on a different member of the Bridgerton family, meaning that Daphne and Simon go from being main to supporting characters. The Netflix series, however, may choose to continue to focus on the Duke and Duchess of Hastings if the show gets more seasons, which means that their marriage in the TV show may hit problems that their counterparts on the TV did not.
Bridgerton is streaming now on Netflix.